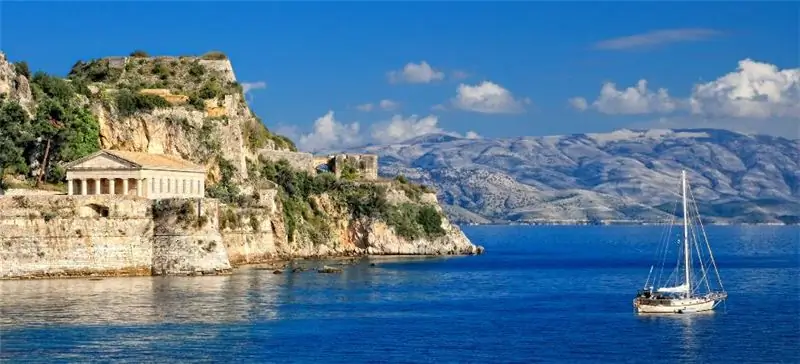 The Greek island of Corfu has long been considered an elite destination for the wealthiest travelers. But times are changing, more and more beautiful corners of our planet are becoming available to the mass tourist.
Experts from the tour operator Ambotis Holidays told how great it is to relax in Corfu in 2018 without hitting your wallet.
How to get there
The flight program to Corfu in 2018 is just perfect. Plus, there is a choice between two airlines.
Greek Aegean Airlines flies from Domodedovo airport on Wednesdays and Saturdays.
11:35 DME - 14:35 CFU
15:25 CFU - 18:30 DME
UTair flights are operated from Vnukovo Airport on Wednesdays and Saturdays.
10:35 VKO A - 13:55 CFU
14:55 CFU - 18:15 VKO A
Where to stay?
MESSONGHI BEACH 3 * (+)
Messonghi Beach Hotel 3 * (+) is located on the southeast coast, next to its own isolated sandy and pebble beach. The entrance to the sea is very shallow, comfortable for families with children. However, do not think that this option is only for them. The hotel operates on the All Inclusive system.
Pizza, salads, ice cream, fruit - right on the beach. And that's just for a snack. Want rave reviews and loyal customers who will come back to you in a year? Offer them a trip to Messonghi Beach in Corfu at the best prices from the tour operator Ambotis Holidays.
Cozy rooms, animation for children, water slides, a beach within walking distance and All Inclusive. And all this at a reasonable price. This is not often seen in Corfu. And it is about such a vacation that most of the clients of travel agencies dream. It is not surprising that 79% of tourists who once visited Messonghi Beach 3 * recommend it to their friends. And 35% of guests return here again during the year - the tour operator Ambotis Holidays gives its statistics.
BELVEDERE CORFU 3 *
If you need a simpler option, then pay attention to Belvedere Corfu 3 * located 3 km from the village of Benitses. This is a small - only 170 rooms - a cozy hotel that was built back in 1986, and in 2011 it was completely renovated. Despite the fact that this is a "three-ruble note", the level of service is at an altitude here: all conditions have been created for guests to feel as comfortable as possible. This is evidenced by the fact that umbrellas and sun loungers on the beach are provided free of charge. Agree, this is a rarity for hotels of this level.
On the territory of the Belvedere 3 * hotel there is an outdoor pool with a bar, and the beautiful summer terraces of the restaurant are located directly overlooking the azure Ionian Sea. The multilingual staff of the hotel and the 24-hour reception are always at your service.
GRANDE MARE HOTEL & WELLNESS 4 *
The Grande Mare 4 * hotel is recommended for a quiet family vacation and for couples who would like to relax from the hustle and bustle of the big city. The standard rooms of this hotel are one spacious open-plan bedroom and can accommodate up to 2 adults and two children.
Benitses is well suited for a relaxing holiday with children. The local beach is awarded a Blue Flag every year for its cleanliness. Picturesque natural landscapes with lush vegetation, mountain views will definitely appeal to everyone.
Among the new services of the hotel is a swimming pool with water slides, where for a small fee you can get a lot of pleasure without leaving the water park.
The hotel operates on the All Inclusive system:
• Breakfast buffet style 07.00-10.00
• Morning snacks 11.30-12.30
• Lunch buffet 13.30-15.00
• Dinner buffet style 19.00-21.30
• Drinks with meals: local beer, local wine, soft drinks and water
Things to do?
Attach to the relics of St. Spyridon
The Church of St. Spyridon is the symbol of the island of Corfu. Every day, a line of those wishing to venerate the relics of the saint gathers near the church.
Relax on one of the beaches of the Paleokastritsa resort
Located in the northwest of the island, 25 km from the capital, it is still famous for its pristine Blue Flag beaches. It is believed that the climate here is the most favorable for a resort holiday. Since the beginning of May, some daredevils have dared to open the bathing season.
Taste kumquat liqueur
As the greenest island, Corfu strikes with a variety of flora. In addition to lemons and oranges, local farmers have another citrus fruit - kumquat. The famous liqueur is made from it.
Appreciate Italian charm
Corfu is a universal resort. A special charm gives this resort the influence of Italian culture. The island's capital, the ancient city of Kerkyra, was inscribed on the UNESCO World Heritage List. Baroque architecture, narrow streets and graceful arches. This beauty is worth admiring until the summer is over.
For even more reasons to go to Corfu before summer is over, visit the tour operator's website.