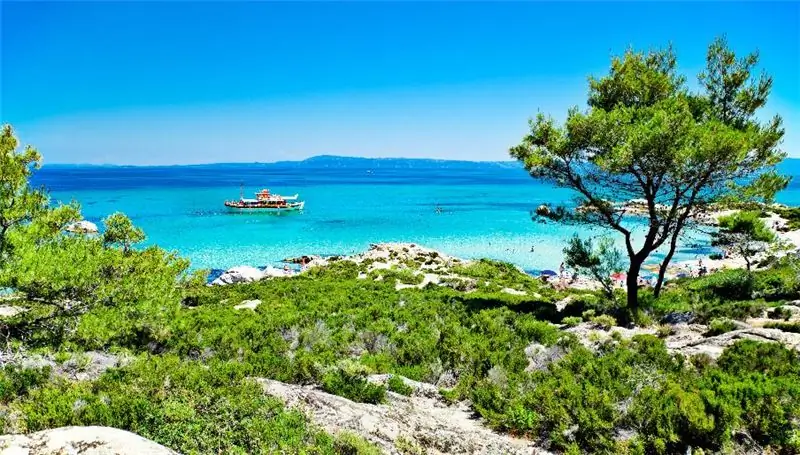 The hotel chains Xenios and Elinotel in Halkidiki, which are managed by the tour operator Ambotis Holidays, are a guarantee of quality holidays in Greece. It is not the first year that they have received dozens of flattering reviews and high ratings. They are distinguished by a reasonable price, impeccable service and comfort. Tourists love the location, food and great beaches. Let's tell you more about each of these hotels.
Apartments: make yourself at home
XENIOS FAROS APARTMENTS (KASSANDRA)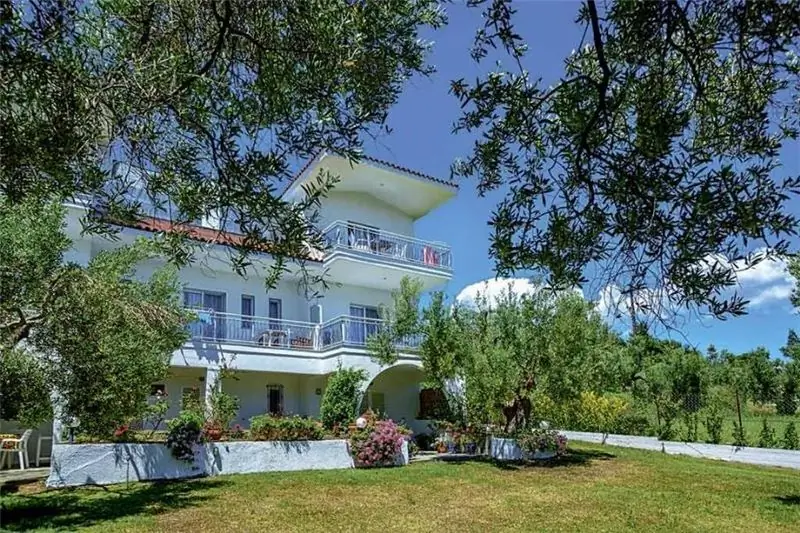 XENIOS FAROS APARTMENTS
The cozy Faros Apartments are located in the small fishing village of Possidi, just a few meters from the sea. Spacious studios and apartments are perfect for a comfortable family vacation in Greece.
The apartments have everything you need for a comfortable stay, large rooms, beautiful balconies overlooking the sea. Beach and shop two minutes walk. You can also find a lot of taverns and restaurants nearby.
All apartments have balconies with garden or sea views. A barbecue picnic can be arranged in the garden. In the lobby there is a TV set and an internet corner for our guests; wireless internet can be used free of charge without leaving your room.
Guests have the opportunity to choose the type of food: half board, program "/>
Hotels 3 *: quality exceeds the price
XENIOS LOUTRA BEACH 3 * (KASSANDRA)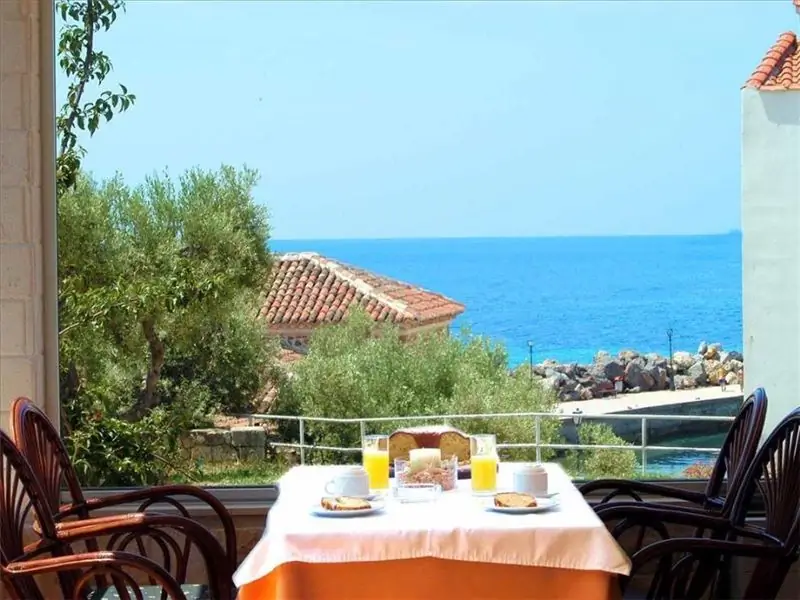 XENIOS LOUTRA BEACH
A unique opportunity to combine spa treatments and accommodation in the very center of the village of Loutra, where shops, taverns and mini-markets are within walking distance. Thermal springs are just 300 m from the hotel, sand and pebble beach is 50 m.
In the rooms:
Individual air conditioning
Satellite television
Balcony or terrace
Mini fridge
Safe
Telephone
Shower
Hair dryer
Wi-Fi is available free of charge. Sauna, hammam, laundry - for an additional fee.
XENIOS LOUTRA VILLAGE APARTMENTS 3 * (KASSANDRA)
XENIOS LOUTRA VILLAGE APARTMENTS
A complex of apartments located in a quiet location in the village of Loutra on the Halkidiki peninsula, away from the busy resorts. Food type - HB.
A holiday in the village of Loutra will allow you to combine relaxation and privacy in the Spa-center and the active nightlife of neighboring resorts.
Guests of the hotel will love the modern Spa-center, which is famous for its healing waters and offers indoor and outdoor pools with thermal water, saunas, jacuzzi and hammam. The village is surrounded by pine trees and mountains, which is a great opportunity for alternative types of tourism.
The village of Loutra is an ideal climbing destination. In addition, water sports and horse riding are popular here. To recommend: for an economical family and youth holiday.
XENIOS PORT MARINA 3 * (KASSANDRA)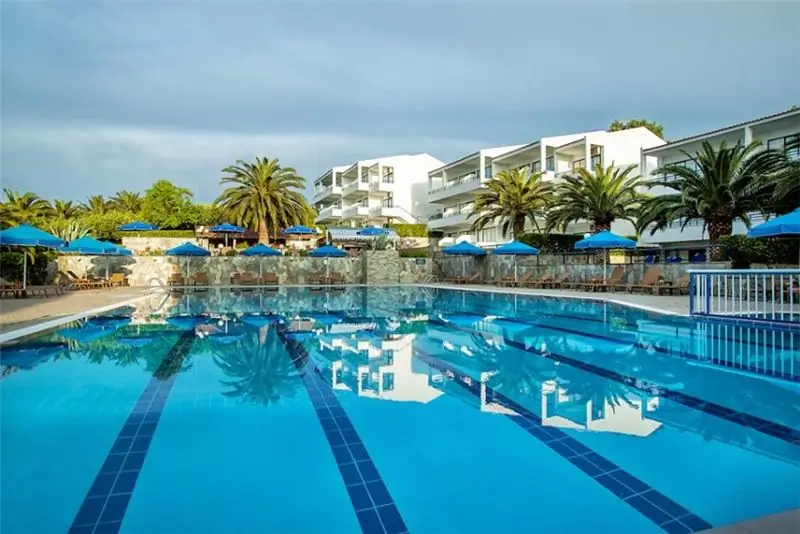 XENIOS PORT MARINA
The hotel provides a wonderful opportunity to immerse yourself in the atmosphere of a Greek village. Recommended for families with children. Located next to the most famous beaches in Greece - Glarokavos, Blue Fish. The nearest one is 300 meters away. There is a free shuttle bus from the hotel to the beach every hour. Food types: HB PLUS (breakfast and dinner + soft drinks), FB, AI. There is a free gym on site. The rooms have a kitchenette. Who to recommend: budget tourists, for families, including those with children, as well as young people.
ELINOTEL POLIS HANIOTI 3 * (KASSANDRA)
ELINOTEL POLIS HANIOTI
This is one of the most popular options for an economical, but at the same time, quality vacation. Located within walking distance from the beach and the lively center of Hanioti village. The beach is municipal, sandy, fully equipped. Elinotel Polis guests can choose a meal program: HB-half board (breakfast and dinner), all inclusive (breakfast, lunch, dinner, as well as coffee, tea, wine, beer, ouzo, water, soft drinks and ice cream)
Recommended for: youth groups.
XENIOS DOLPHIN BEACH 3 * (KASSANDRA)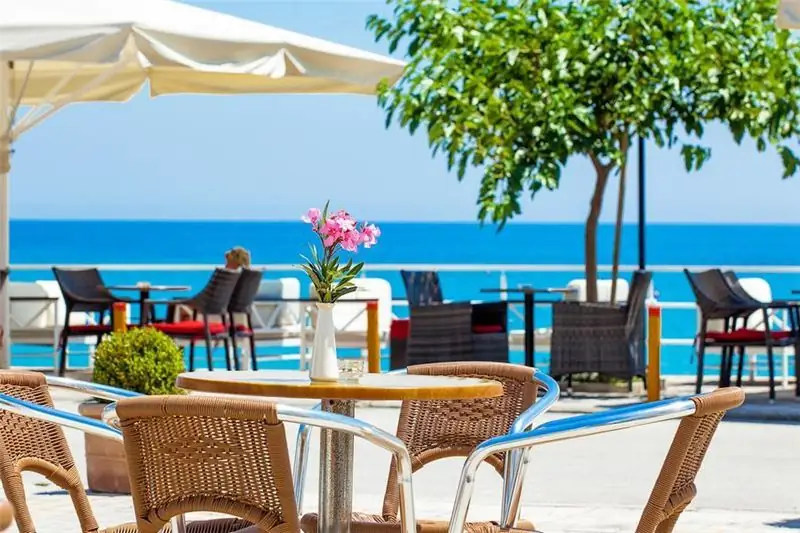 XENIOS DOLPHIN BEACH
Xenios Dolphin Beach Hotel is located in the beautiful and picturesque village of Possidi on the Kassandra Peninsula, 16 km from the village of Kallithea. The charm of this place will impress you and inspire you to explore the long sandy beaches, dense forests and the surrounding traditional villages.
For a truly relaxing holiday, the All Inclusive system is the perfect solution! No need to worry about food, drinks and entertainment, here at the hotel we have taken care of everything.
Full board with breakfast, lunch and dinner.
Various local alcoholic, non-alcoholic drinks and coffee.
Theme nights 2 times a week.
Ice cream for dinner.
Sun loungers and umbrellas on the beach and by the pool.
Entertaining event once a week.
4 * hotels: more for less money
XENIOS POSSIDI PARADISE 4 * (KASSANDRA)
XENIOS POSSIDI PARADISE
The hotel is located on the first line with a magnificent view of Mount Olympus and the azure waters of the Aegean Sea. The hotel is surrounded by mountains and pine groves and offers its guests magnificent views of the Kassandra Peninsula. It is an oasis of solitude, silence and relaxation, where nothing and no one will disturb you.
The sandy beach awarded with the EU Blue Flag is across the road. Food types: HB Plus (breakfast and dinner + soft drinks), FB, AI.
Xenios Possidi Paradise pays special attention to its little guests and does everything possible to make them feel genuinely cared for and treated. For young guests, there is a children's pool, highchairs in the restaurant.
Whom to recommend: solo travelers or for a relaxing stay on site.
XENIOS THEOXENIA 4 * (ATHOS)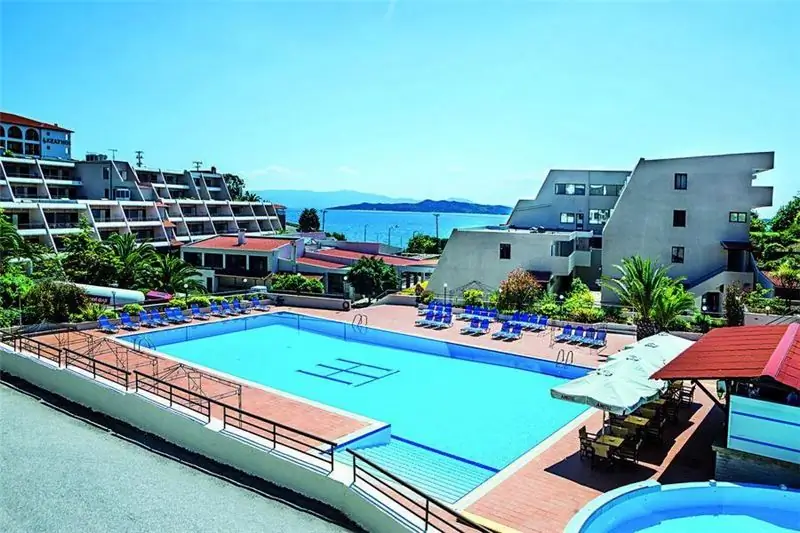 XENIOS THEOXENIA
An option for a favorable price-quality ratio. Located on the Athos peninsula, not far from the monastic republic of Holy Mount Athos, on the shores of the Aegean Sea. An atmosphere of tranquility, tranquility and a magnificent beach guarantee a wonderful holiday.
An underground passage leads to the sandy beach of Ouranoupoli, marked with the EU Blue Flag. Sun loungers and umbrellas are provided free of charge, beach towels are subject to a deposit. Meal type: HB PLUS (breakfast and dinner + soft drinks). The hotel is just 4 kilometers from the town of Ouranoupoli with a large number of cafes, taverns with fresh seafood and bars.
To recommend: tourists who prefer a relaxing family vacation.
5 * hotels: for the most demanding and sophisticated
ELINOTEL APOLAMARE 5 * (KASSANDRA)
ELINOTEL APOLAMARE
An exquisite boutique hotel that looks like a real palace. Located in the resort village of Hanioti, all shops, taverns and cafes will be available to tourists. Power type - Ultra AI.
Each of the 86 comfortable rooms and elegant suites has its own flavor and is individually designed. The rooms are equipped with modern appliances and luxury furniture, which provide maximum comfort during your stay. Each room has a refrigerator, air conditioning, hairdryer, mirror, shower or bath, electronic safe, telephone, TV.
The elegant El Greco restaurant is located on the ground floor overlooking the hotel's courtyard and offers a wide range of buffet meals. Themed evenings are held here every day of the week. For example, on Tuesdays, Italian delicacies are served, and on Wednesdays, you can taste Russian cuisine.
From 09:00 am to 01:00 am the pool bar is open, where guests are offered branded alcoholic and non-alcoholic cocktails, freshly squeezed juices.
For lovers of nightlife and clubs, the hotel has the Elite Club Bar. There is everything here to truly feel the beauty of nightlife in Greece: great music, karaoke, a variety of alcoholic and non-alcoholic cocktails, a roomy dance floor, a great atmosphere.
Trying to please every customer, Elinotel Apolamare never ceases to amaze guests with the widest selection of themed and musical evenings. Younger guests will be delighted with the entertainment programs, a special children's menu and a children's pool.
To recommend: for young people and families.
XENIOS ANASTASIA RESORT & SPA 5 * (KASSANDRA)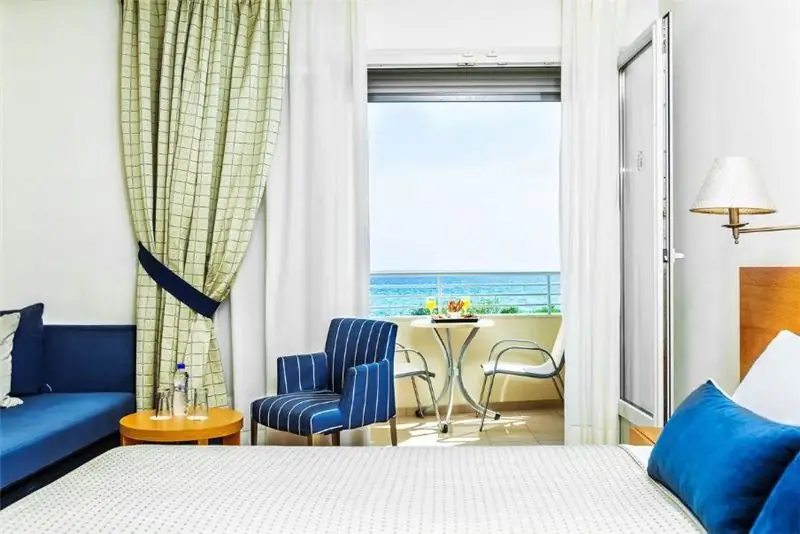 XENIOS ANASTASIA RESORT & SPA
A modern hotel with a large green area and its own olive grove. Its interior and landscape was created by the famous designer Philippe Starck in cooperation with the Italian House of Arts B&B. This is a good combination of price and high quality of a 5 * hotel. Power types: HB PLUS, FB, ULTRA AI. The restaurant serves a variety of Mediterranean, Greek and international cuisine.
Guests can choose a room overlooking the azure endless sea or enjoy the panorama of the emerald pine-covered mountains. All rooms have marble bathroom, toiletries, Wi-Fi Internet (free), safe, hairdryer, flat screen TV, satellite TV, telephone, air conditioning, refrigerator, minibar with local soft drinks, wine, beer and water (replenished every day for UAI guests), balcony or veranda.
It is so easy to keep fit at Xenios Anastasia Resort & SPA: the hotel has two tennis courts and a gym, which is open from 9:00 am to 9:00 pm.
Amenities such as a heated jacuzzi, swimming pool, sauna, hammam, massage, beauty salon will help you relax and bring pleasant moments of bliss. The hotel has a mini club and a Holiday Time animation program.
Fun educational games, creative adventures, exciting contests and competitions. The program was developed by specialists-organizers of children's and family vacations. Every child will be able to try himself in the role of an artist, actor or dancer at the children's evening disco.
Whom to recommend: for a relaxing family vacation, including those with small children.
Photo