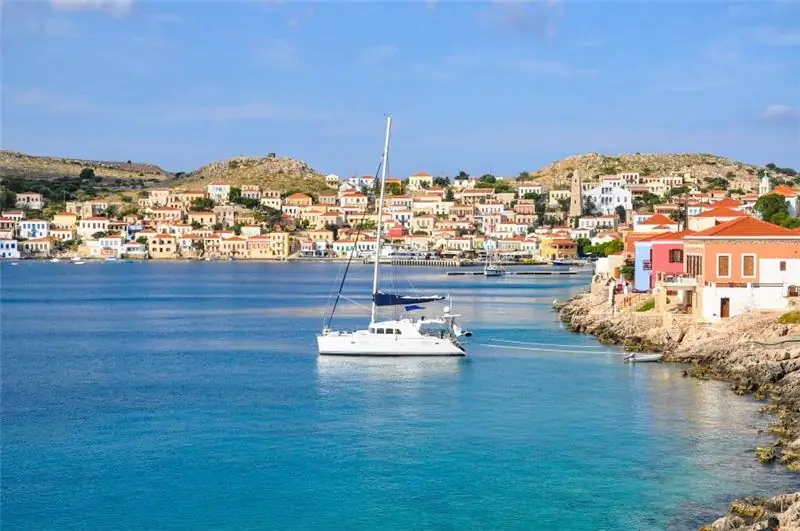 In the period of active early booking of summer holidays, you should hurry up with the choice of a hotel or apartment in Crete - popular accommodation facilities are sorted out like hot cakes. In order not to be mistaken with the option and to choose a hotel within walking distance from the beach with an excellent price-quality ratio, the experts of the tour operator Ambotis Holidays recommend using the checked list.
IRINI STUDIOS 3 * (STALIDA)
IRINI STUDIOS 3 *
Irini Studios is a cozy mini-hotel in Stalis, next to a nice sandy beach, surrounded by taverns, bars and shops. Clean and tidy rooms, a private pool with a bar, location at the same time in the center of resort life, but far from noisy entertainment attract those who appreciate the coziness and comfort of a Greek resort.
Tours in July - from 14,900 rubles.
BELVEDERE CRETE 3 * (AGIA PELAGEA)
BELVEDERE CRETE
Belvedere Hotel is located in one of the most picturesque locations in Crete, the village of Agia Pelagia. Surrounded by pomegranate and olive orchards, spacious and peaceful, it is ideal for families. On the territory of the hotel, tourists are offered a bunk pool and a restaurant with home cooking (breakfasts, dinners).
Within walking distance from Belvedere one of the best sandy beaches on the island - Agia Pelagia. The bay is closed from the wind, which means there are no waves, which makes swimming with children as safe as possible. Also for the convenience of tourists, in the immediate vicinity of the complex there are shops, restaurants and taverns.
Tours in July - from 21,500 rubles.
CRONOS BEACH APARTMENTS 3 * (BALI)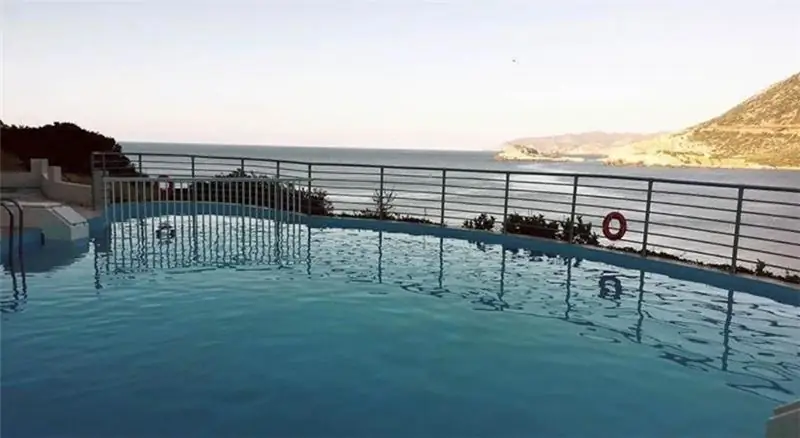 CRONOS BEACH APARTMENTS
Cronos can rightfully be considered the hotel with the best views in Bali. Absolutely all hotel rooms offer a panoramic view of the Cretan coast. The pool on the terrace located above the cliff will also pleasantly surprise guests. It is a very romantic place to meet sunrises and sunsets. Moreover, starting this year, breakfast is included in the accommodation service at Cronos.
A beautiful sandy beach is located just 50m from the apartments. Guests of the hotel can also always relax in the shade of the gazebos located at sea level.
Tours in July - from 20 100 rubles.
SOFIAS HOUSE 3 * (KOKKINI HANI)
SOFIAS HOUSE
Sofia's House is an elegant new hotel in the popular resort of Kokini Hani, opened after renovation in 2017. None of its visitors will be left indifferent by the interior, made in the traditional Mediterranean style. A pleasant picture awaits guests on the street - they have a large clean pool with a bar at their disposal.
Breakfast is included in the price. At the same time, next to Sofia's House there are many taverns, restaurants, as well as interesting tourist places - the fishing village-resort of Kokini Hani. To the beach from the hotel - 5-7 minutes of a leisurely walk.
Tours in July - from 17 600 rubles.
GOLDEN GRAIN SUITES 4 * (KOKKINI HANI)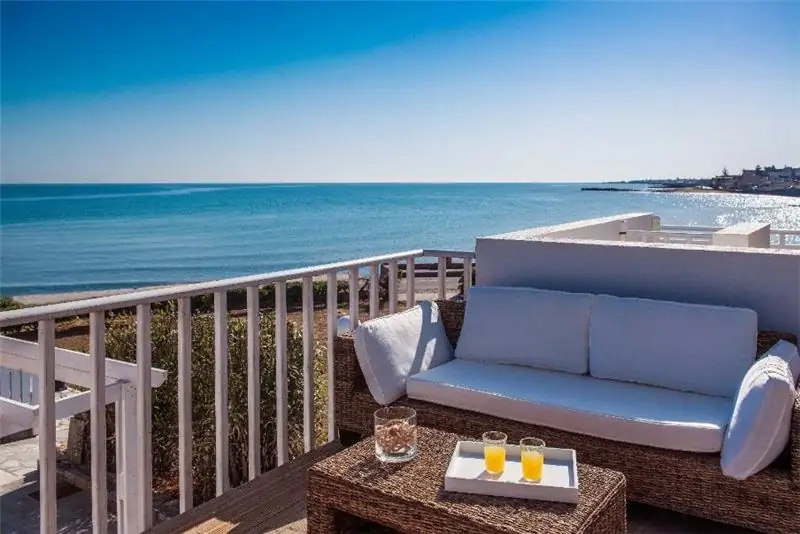 GOLDEN GRAIN SUITES
Golden Grain suites is a stylish new boutique hotel opened in 2016 in the tranquil area of Kokini Hani. Located on the first line by the sea and is practically a private bay - the hotel has its own beach bar and solid wooden sun loungers. Golden Grain suites have a total of 10 rooms of different types with the ability to accommodate up to 5 people. For a surcharge, you can connect to Ultra AI in the neighboring hotel Knossos Beach 5 *.
Tours in July - from 19 900 rubles.
IRILENA STUDIOS 3 * (GOURNES)
IRILENA STUDIOS
Aparthotel Irilena in Gournes is only known for its reception. It has everything for a comfortable stay - clean spacious rooms, an equipped kitchen with a dining room, a snack bar, a swimming pool, peace and quiet. It is even allowed here to relax with your pet. From the mountainous green area to the beach no more than 5 minutes. Also nearby Irilena Apartments is the famous Cretan Aquarium.
Tours in July - from 15 100 rubles.
KRI-KRI VILLAGE 3 * (GOURNES)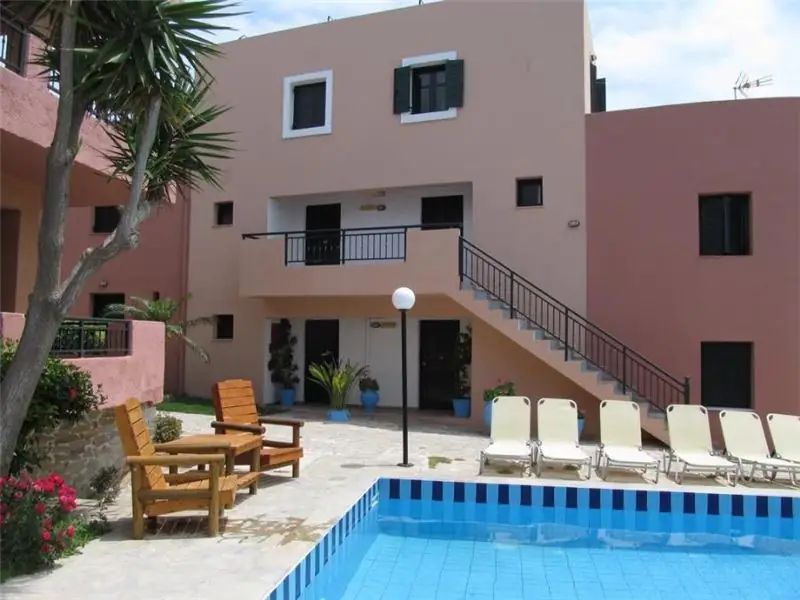 KRI-KRI VILLAGE
Apart-complex Kri-Kri Village is located near the village of Gournes, on the first line to the beach. All rooms are designed in a rustic style, but at the same time they are equipped with everything that a modern person needs: a kitchenette with fridge and dining area, air conditioning, TV and a private bathroom with shower. There are several duplex apartments for large families.
On the hotel's terrace, guests can sunbathe on the sun loungers by the pool or cool off in the bar. And if they get tired of a quiet rest - from Kri-Kri Village to the party Hersonissos is only 15 minutes away.
Tours in July - from 17 600 rubles.
ARTEMIS BAY 3 * (MALIA)
ARTEMIS BAY
Tourists highly appreciated this hotel for its new comfortable rooms, interesting, striking design, location and hospitality of the staff. Despite the fact that there are many clubs and discos in Malia, the hotel is in a calm and quiet place.
Artemis Bay has its own pool and parking for rented cars. Breakfasts, lunches and dinners (for those who booked them) are served right at the Pleasure Beach Bar, and that's a huge benefit too!
Tours in July - from 25 900 rubles.
PHILOXENIA MALIA 3 * (+) (MALIA)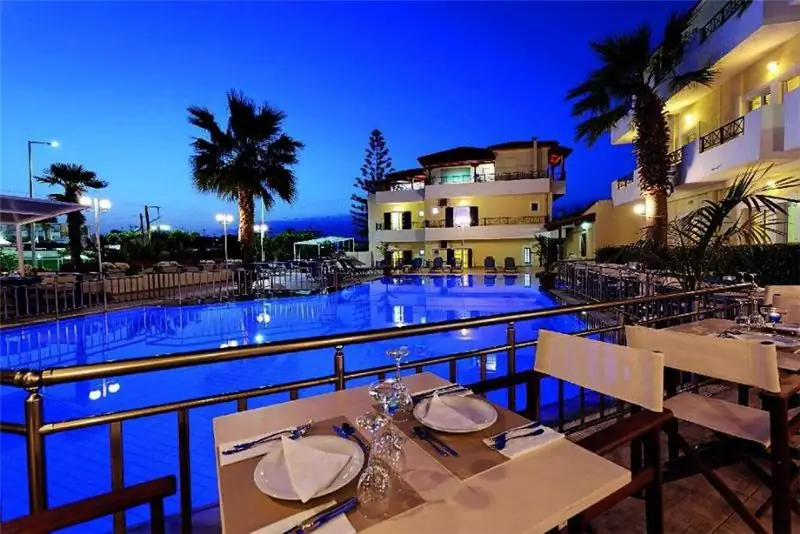 PHILOXENIA MALIA
For several years now, the Philoxenia Hotel, located in Malia, has been one of the most popular and returnable in the range of the tour operator. Just 150 meters from one of the best beaches in Crete, it will appeal to tourists with children, young people and everyone in general! Beautiful, cozy hotel territory, clean, well-groomed rooms, a swimming pool, a playground, and most importantly - amazing home hospitality and cuisine, really one of the best - that is what attracts guests.
Tours in July - from 27,700 rubles.
Photo