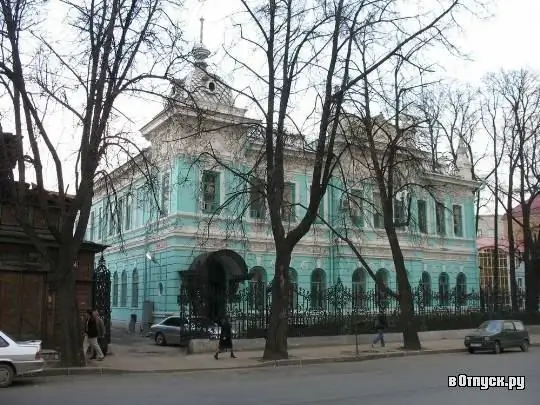 Description of the attraction
Okonishnikov's mansion is located on the street. Mushtari (in Soviet times - Komleva St.) in the central part of Kazan. The building was built in 1907 for the head of the Kazan district railways. Then the house was sold to the son of the manufacturer, the owner of several flour mills, the grain merchant - Mikhail Okonishnikov. The owner of the mansion, M. Okonishnikov, was a hereditary, honorary citizen of the city and a member of the board of trustees of a commercial school. The Okonishnikovs' flour mills were located not only in Kazan itself, there was also a mill in Pechishchi (built in 1895), and a coarse steam mill in the village of Kaymary, Kazan district.
Okonishnikov's mansion is an example of construction from the early 20th century. Presumably, the author of the project was K. S. Oleshkevich. The building is indented from the street. It is separated from the sidewalk of the street by a luxurious wrought-iron fence with a gate. In the plan, the building is rectangular, two-storied. The southeast corner is rounded. The building has two projections. Built of bricks and plastered outside. The entrance to the building is located on the main facade, but with an offset to the north-western part. The baroque fence was made by Cheboksin craftsmen. Cheboksinskaya forging adorns the building of the mansion itself.
Above the carved oak door is an elegant, artistically executed cast-iron canopy on brackets.
The building has a high trough roof of the entrance projection and an attic in the center of the main facade. On the ground floor there is a horizontal rustication imitating masonry in a fan over arched windows. The low base is highlighted by a profiled rod. The floors are separated by a wide entablature decorated with a stucco frieze. The upper part of the wall is richly decorated with a wide frieze with stucco wreaths. The attic and parapet posts are decorated with vases. There is a balustrade between them.
From the courtyard to the building there is a terrace with two staircases to the garden. The terrace is fenced with a balustrade. Second floor of a building with a veranda.
Okonishnikov's mansion is an architectural monument. The building was reconstructed from 2006 to 2008. 100 million rubles were allocated for the reconstruction. Then, on a new project, work went on from 2011 to 2012. Now the building houses the Writers' Union of Tatarstan.
Photo