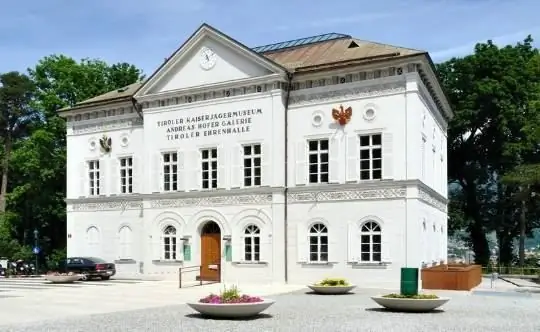 Description of the attraction
The military museum is located on the top of Mount Bergisel, not far from the large ski jump, where the Olympic flame was lit three times in history - the last time in 2002. The hill itself is 746 meters high. It is located at a distance of 2.5 kilometers south of the historic center of the city, but in the immediate vicinity there is a bus route and a railway.
The building of the military museum itself was built in 1878. It belonged to the imperial infantry detachment serving in the regular army known as the Kaiserjaeger. This imposing structure consists of two high floors and stands out for its graceful blue-green window shutters.
The location of the museum is interesting - not far from it there is also a monument to the national hero of Tyrol, Andreas Gofer, who raised an uprising against the Bavarian and French occupiers during the Napoleonic wars. This memorial was erected in 1893, and Emperor Franz Joseph I himself was present at the opening ceremony. A separate exhibition in the Kaiserjeeger Museum, called the Andreas Gofer Gallery, tells exactly about this period in the history of Austria.
In general, the museum collection is dedicated to military topics. Here are different types of uniforms, army insignia, weapons, many interesting documents and photographs. The museum also contains a complete collection of Tyrolean memory books, where the names of all those who died defending their native land are engraved.
It is worth noting that the underground floor of the Kaiserjeger Museum is connected with the more modern Museum "Panorama of Tyrol", famous, first of all, for the huge panorama of one of the battles for the independence of Tyrol, in which Andreas Gofer took part. And the balcony of the military museum offers a wonderful view of the city of Innsbruck itself.
Photo