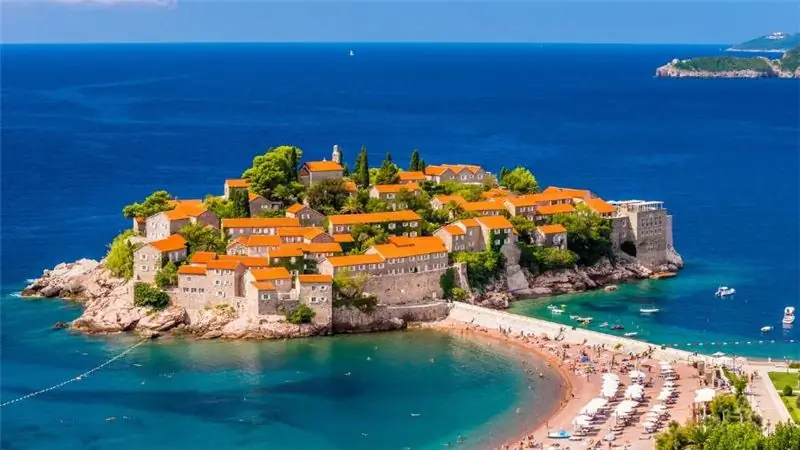 Accommodation
Transport
Nutrition
Excursions
Purchases
Montenegro, one of the countries that was part of Yugoslavia, is a great alternative to the more expensive and pretentious Spain, France and Italy. A Russian tourist does not need a visa to Montenegro, wonderful seaside resorts are abundant here, the cost of food, accommodation, entertainment in this state will be 2-3 times lower than in Western Europe, the language is clear, in cafes and restaurants they feed so that I want to immediately ask for political asylum. Add to all this inexpensive excursions and excellent opportunities for active pastime and you will understand why Montenegro is a favorite vacation spot for many of our compatriots.
Many tourists who come to Tivat, Budva, Bar or Ulcinj for the first time, even before the trip, ask those who have already been there, trying to find an answer to the question of how much money to take to Montenegro, what are the prices, what currency. Montenegro switched to the euro, which is quite convenient for visitors, since they do not have to waste time looking for exchangers. Therefore, we strongly recommend that you leave dollars and rubles at home, and go to Montenegro with euros.
The price level directly depends on the resort you choose. The most expensive holiday will be on the island of Sveti Stefan, where outsiders are not allowed, in Becici, where the country's best beaches are located, in Kotor, where huge sea liners dock. Budva has become a budget resort in recent years.
Accommodation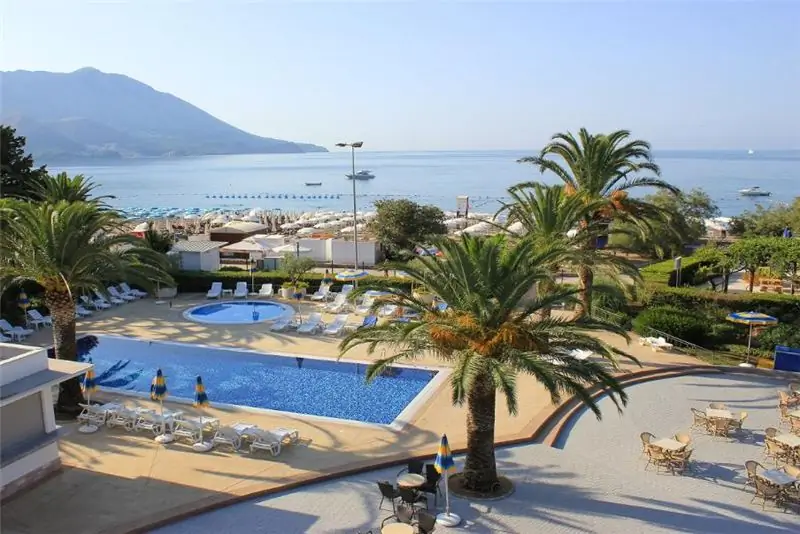 Compared to other European countries, prices for living in Montenegro are set very democratic. In the high season, that is, in the summer months, when the sea is warm and beach vacations are available, hotels and owners of private apartments raise the cost of living by 20-30%.
There are many housing options in Montenegro:
hostels. A place in a common room will cost 13-17 euros. There are also budget hotels where rooms are rented at prices ranging from 20 to 30 euros;
rooms in villas. Small, cramped, but air conditioned. Sometimes vacationers get a small bonus - a miniature balcony. The price of such housing varies from 25 to 30 euros per day;
guesthouses. The cost of living in them is 20-35 euros. When choosing a guesthouse, the rule applies: the cheaper, the worse the living conditions will be;
apartments. Apartments with excellent renovation and home appliances. They can be located both far from the sea, and very close. Experienced tourists choose apartments on the AirBnB website. In Budva, for an excellent studio apartment, they will ask for about 50-70 euros per day;
villas with pools, gardens, green lawns, designed for 8-10 people. Near the sea, such multi-storey mansions are located only in the expensive village of Rafailovichi. At the cheaper resorts, villas are rented away from the coast. In this case, it will be difficult to get to the beaches. The cost of renting luxury housing starts from 200 euros;
hotels. Three-star hotels are the standard choice of a traveler who comes to lie on the beach, swim in the gentle sea and go somewhere on an excursion. All the same, the tourist will spend little time in the hotel, so we recommend settling in an ordinary inexpensive room for 30-35 euros.
Transport
You can move around Montenegro by different types of transport:
on trains. The railway is laid from the Serbian Belgrade to the capital of the country, Podgorica, and further, on the coast, to Bar. Trains also run from Podgorica to Niksic. The fare will be 2-5 euros (this is within Montenegro, it will be more expensive to Serbia);
on buses that run both along the coast of the Adriatic Sea, connecting all local resorts, and inland. Tickets cost 2, 5-12 euros. For example, it is possible to travel from Ulcinj to Herceg Novi for 10, 5 euros. The bus runs for 3 hours and 30 minutes. From Ulcinj to Tivat, which is also located on the Adriatic coast and is considered a fairly popular resort, passengers will be taken for 9, 5 euros and 3 hours 27 minutes. The bus will cover the distance between Bar and Budva in 1 hour 35 minutes. The trip will cost 5 euros. From Herceg Novi to Podgorica, drive 3 hours 35 minutes. The ticket price is 8, 5 euros. Bus prices and travel options can be found at www.busradar.com;
on a rented car. The most convenient way to travel, as in this case a person does not depend on the public transport schedule. The rental price will range from 35 to 70 euros per day. Prices depend on the brand and condition of the selected car.
<! - AR1 Code It is advisable to rent a car in Montenegro before the trip. You will get the best price and save time: Find a car in Montenegro <! - AR1 Code End
In coastal cities, people also travel by boat. For example, from Budva to the island of St. Nicholas, where there are excellent beaches, there is a catamaran, a ticket for which will cost 3 euros. If you wish, you can rent a boat for a boat trip (20 euros per hour).
Nutrition
In Montenegro, there are fashionable restaurants, where famous chefs work, and budget traditional taverns, where the bulk of the people dine. For lunch in an elite restaurant, you will have to pay an average of 70-100 euros. This amount also includes expensive wine. The prices for a snack in simpler establishments are set at the level of 30-50 euros. In home cafes, where everything is run by some gossip who cooks according to family recipes, a dinner for two will cost 20-30 euros.
To find a cozy and affordable restaurant in the resorts of Montenegro, get away from the hiking trails or watch the locals. Go where they go for lunch.
Top 11 Montenegrin dishes
If you have rented an apartment with a kitchen for your vacation, you can cook for yourself. It is customary to go shopping here either to supermarkets, of which there are a lot, or to markets. In the markets, fruits and vegetables are fresh, but they are more expensive. Low prices are set in supermarkets of the Voli and IDEA chains. There are also small grocery shops, but it is unprofitable to buy goods there.
If you don't have time to sit in restaurants or just want to save money on food, you can completely get by with the assortment offered by street kiosks and cafes. Here you can find everything your heart desires: hamburgers, pizza, kebabs, kebabs, bureks, pastries. A slice of pizza or burek will cost 1-2 euros.
Another interesting (and tasty) food option is to buy marinated meat in a specialty store called mesara and immediately ask to cook it. The buyer only pays for the meat.
Excursions
In many cities around the world there are Free Walking Tours, during which the guide will show you the most interesting sights. There are such excursions (mainly in English) in Montenegro, for example, in Kotor. The peculiarity of such a tour is that the tourist decides for himself whether to tip the guide.
For paid excursions in Montenegro, you can allocate 100-200 euros. They are inexpensive. For example, a large country tour from the local travel agency MH Travel Agency will cost 35 euros per person. Its duration is 12 hours. The bus tour was developed in 2008 and is incredibly popular. It starts in Kotor, but sightseers can also join the group in Budva. The bus makes a stop at the island of Sveti Stefan, then the guests are shown the city of Virpazar and Skadar Lake, then a trip around the lake, a transfer to Cetinje, where a walking tour is offered, and a visit to the Njegos mausoleum in the Lovcen National Park. The bus will also slow down on the observation deck on the descent to Kotor.
Rafting along the Piva Canyon will cost 65 euros per person, a bus trip to Bosnia and Herzegovina - 40 euros, to Croatian Dubrovnik - the same, to the capital of Albania Tirana - the same 40 euros. Paragliding over Budva costs 65 euros, scuba diving - 44 euros, fishing from the shore - 85 euros, on the lake - 180 euros. You can rent a yacht for a trip for at least 350 euros.
Purchases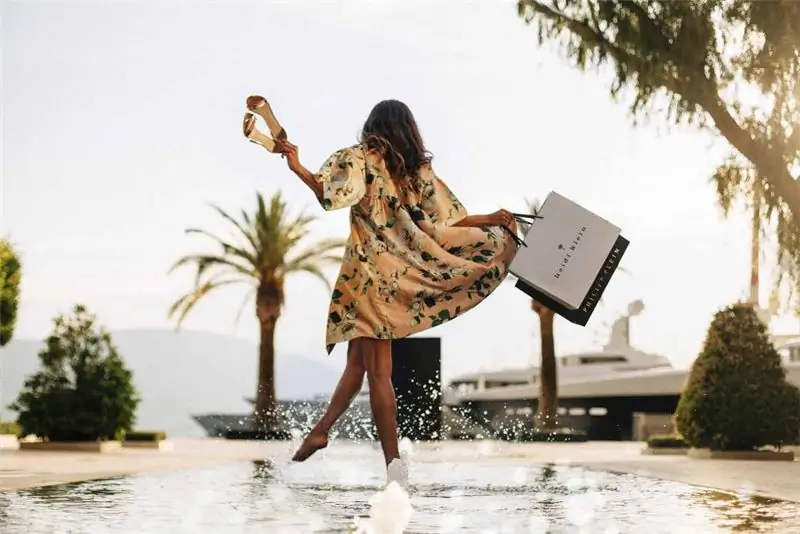 It is unlikely that you will be able to update your wardrobe in Montenegro. Local shops sell items made in Turkey or China. In Podgorica you can find Italian goods, along the coast there are points where you can find textiles from Serbia.
Souvenirs in Montenegro are standard: magnets with the symbols of resorts are sold for 1-2, 5 euros, T-shirts with city views are offered for 10-20 euros, keychains are for 1, 5-3, 5 euros. Better to spend money on edible gifts. Absolutely all friends will love prosciutto - slices of dried pork, reminiscent of jamon. 1 kilogram of this delicacy will cost 12-22 euros. Olive oil is also brought from Montenegro, which costs about 5-7 euros for 0.5 liters. Filled olives are sold for 3-5 euros. A bottle of Vranac Procorde wine, which is advertised as a drink that improves the work of the heart muscle, is priced at 7-9 euros.
What to bring from Montenegro
During sightseeing tours in Montenegro, which are conducted by local or foreign travel agencies, be prepared for the bus to slow down at selected souvenir shops, where you will be offered to buy wine, brandy, cheese, honey. In such places, instead of the original product, they can easily slip a fake, so buy edible souvenirs not in tourist places.
You can come to Montenegro by voucher or on your own. A tour for a week with a flight in Russian travel agencies will cost 300-460 euros. Tourists who choose this option should take a couple of hundred euros with them for souvenirs, meals and additional excursions to the tour. Transfer from the airport to the hotel and back is usually included in the price of the trip. Those who arrive in Montenegro on their own can significantly save both on plane tickets, if they buy them in advance, and on accommodation. Unpretentious tourists can cost 20 euros per day. The more demanding should allocate around 50-70 euros per day.
<! - TU1 Code The most reliable and inexpensive way to have a good rest in Montenegro is to buy a ready-made tour. This can be done without leaving home: Find tours in Montenegro <! - TU1 Code End
Do not forget that travelers who rent a private apartment or apartment in Montenegro must take care of paying the tourist tax on their own. It is approximately 1.5 euros per day and is charged from each tourist. Hotels do not load their guests with this, preferring to pay a fee to the treasury without their participation. Naturally, this amount is included in the room rate.
Photo