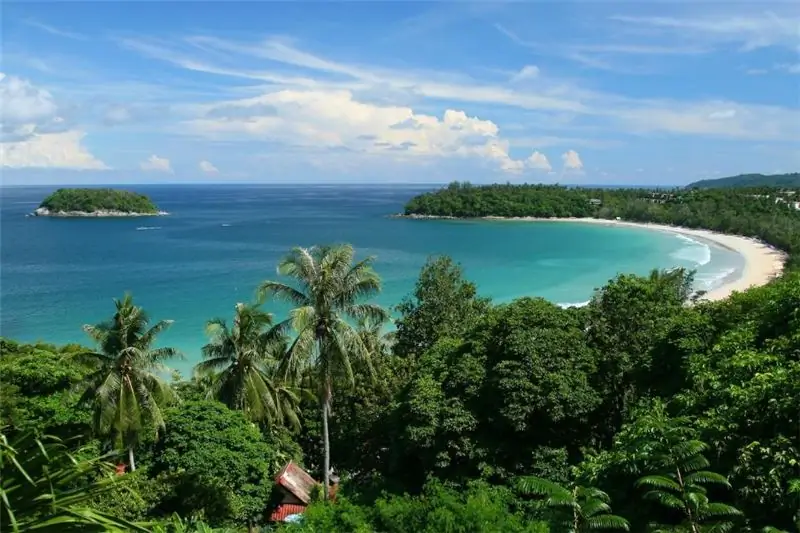 Cost of living
Entertainment on the island
Sea excursions
How much will the food cost
Fare prices
Gifts and souvenirs
Output
Phuket is an island in the Andaman Sea, a popular resort area in Thailand. The north and east coast of the island is occupied by mangrove forests. Phuket's most famous beaches are located on the south and west coast. These beaches are separated by dark cliffs protruding deep into the sea.
Phuket has its own airport, which accepts charter flights from different countries, including Russia. It is convenient and not very expensive to travel here, so there is usually no shortage of vacationers. Pleasant climate, many budget housing options, gentle sea, exotic cuisine - what else do you need for a great, memorable vacation?
Most tourists who decide to spend their holidays away from big cities and dusty offices are wondering how much money to take for Phuket? The travel budget depends on how the traveler is used to spending time. For many guests of the island, the beach at the hotel and meditative walks along the coast are enough. Others plan to travel all over Phuket in a week and visit the neighboring paradise islands, which requires additional costs for excursions and transfers. Some tourists are content with an unpretentious hostel, rightly believing that they will still only spend the night in it. Other travelers dream of getting everything out of life in general and vacation in particular, including a comfortable hotel. Let's calculate an approximate budget for a trip to Phuket.
Thai national currency is the baht. In 2018, 1 ruble is changed to 0.5 baht. That is, all prices in Phuket, indicated in baht, must be multiplied by 2. So you get the cost in rubles. For currency exchange, it is better to take dollars or euros with you. Rubles in banks and exchange offices will also be taken, but at an unfavorable rate. The dollar to baht ratio is 1:32.
Cost of living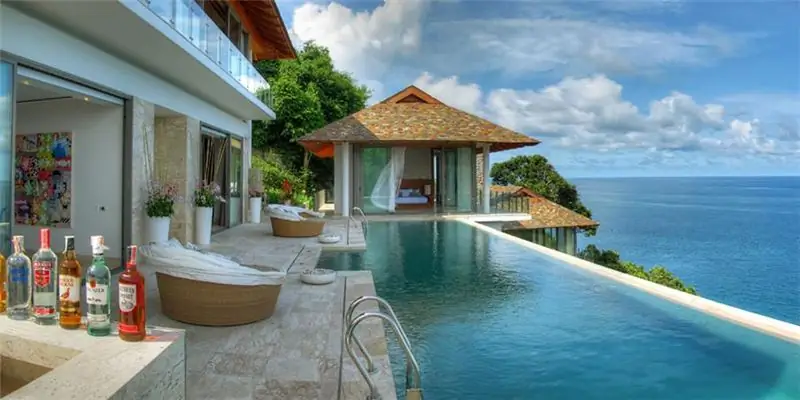 Despite the fact that many travel companies note an increase in demand for holidays in Phuket, which means an increase in hotel prices, this Thai island is still considered one of the most democratic and budgetary ones. Here you can find both elite, comfortable housing in all respects, and modest guesthouses. Judge for yourself:
a room in a two-star hotel in Phuket with breakfast included can be rented for $ 5-6 per day. These are hostels, but very decent, organized in a family style, for example, Bandai Poshtel in Phuket;
about 15-25 dollars will cost a separate double room in a two-star hotel. Recommended hotel "Nawaporn Place", located less than a kilometer from the Old Phuket;
three-star hotels offer rooms ranging from $ 27 to $ 40. Tourists say the Blue Carina Inn Hotel near Central Department Store ($ 30 per night), Xinlor House near Tai Hua Museum ($ 33 per person), Karnvela Phuket ($ 38 per day) and etc.;
accommodation in four-star hotels will cost about $ 40-45 per night. There are also more luxurious options, for example, the villa-hotel for six guests "The Lantern Marina Residences Phuket", marked with four stars, will cost $ 177 per night. It is beneficial to rent it if you are traveling in a large company. If desired, a room in a four-star hotel can be found for $ 25 per day;
There are few five-star hotels in Phuket. The cost of living in them varies from $ 80 to $ 120 per day. Excellent conditions are offered by The Nchantra Pool Suite Phuket ($ 119), The Westin Siray Bay Resort & Spa, Phuket ($ 113) and others.
Entertainment on the island
Phuket is famous not only for its beautiful beaches and breathtaking views. Here you can find many interesting places for a pleasant and informative pastime. Any tourist can go to the selected attraction on his own or buy a ready-made tour, in which he will be accompanied by a guide.
The fees for excursions and entrance tickets in Phuket are not large and are available to every vacationer. So, in the "Butterfly Garden", where you can feed beautiful moths of various species with slices of bananas, you can get it for 300 baht, in the "Aquarium", where bright, colorful fish and huge stingrays live, they let you in for 100 baht. A visit to the dolphinarium will cost 600 baht, the performance lasts 3 hours. For a seven-hour sightseeing tour of the island as part of an excursion group, they ask for only 750 baht.
One of the main tourist attractions in Phuket is elephant trekking. For 600 baht and three hours, you can take a walk on these lop-eared giants and even swim with them. Elephants march importantly through the jungle, and tourists sit in special baskets on their backs. You can chat with elephants, feed them, learn more about their habits in the Elephant Sanctuary. An excursion here will cost 3500 baht (the price includes elephant trekking).
Sea excursions
While in Phuket, you should not give up the boat trips that are offered by numerous travel agencies. We advise you to pay attention to the excursion to James Bond Island. The trip costs 1400 baht and lasts 8 hours. Tourists are shown the nearby islands of Ko Hong and Ko Panak, transported through picturesque lagoons overgrown with mangrove trees, and shown caves where bats live.
On Bond Island, which is officially called Khao Ping Kan, every tourist imagines himself on the set of Bondiana. There are souvenir kiosks for tourists here, but most visitors prefer not to choose gifts, but to photograph themselves against the background of the famous Khao Tapu rock sticking out of the water.
On the islands of Phi Phi, where you can also come from Phuket with an excursion, in the past they shot the film "The Beach". A day trip here will cost 1300 baht per person.
In 2 days, you can see 11 islands in the Andaman Sea. This tour costs 2900 baht. Men will love the idea of fishing on the high seas. For such a pleasure, local agencies ask 1200 baht.
How much will the food cost
The level of prices set for restaurants, beach bars, markets and supermarkets in Phuket depends on the proximity of these properties to tourist areas. Nearby there is a popular beach - pay for a cocktail three times more than on the next street, arrived in a remote village - have dinner for mere pennies.
How much money is spent on food:
for a lunch consisting of a first course, salad and beer in an inexpensive restaurant in the old part of Phuket Town, you will have to pay about 450 baht;
lunch at a market in the center of Phuket city (tom yam soup and a low-alcohol drink to it) costs 270 baht;
a one-course lunch and a drink in remote, non-touristy areas will cost 60 baht;
cocktail on a trendy beach - 300 baht;
exotic fruits on the market - 1 kg of papaya - 25 baht, lychee - about 60 baht, mango - from 30 to 70 baht, etc.;
a bottle of water - 16 baht;
seafood at Rawai market. Tourists choose the sea reptiles they like, buy them and take them to the nearest cafe, where they will prepare a "catch" for about 100 baht. For 1 kg of lobster octopus shrimp on the market they ask for 250-1800 baht.
For food, if the budget is limited, you can allocate 250 baht per day, but in this case you will have to live almost from hand to mouth. In order not to deny yourself the essentials, try Thai cuisine in not the most expensive restaurants, buy delicious fruits, allocate about 1000 baht for food per day per person.
Top 10 Thai dishes you must try
Fare prices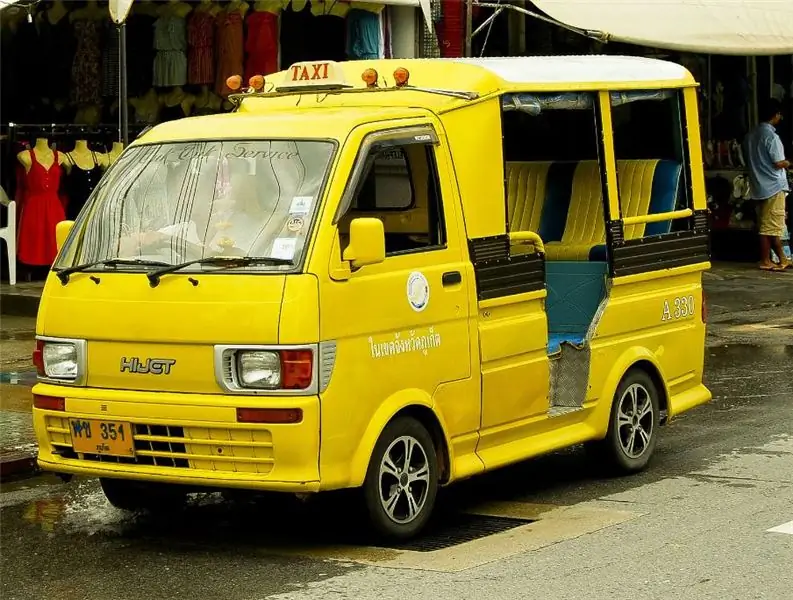 The lion's share of your budget will have to be spent on paying for travel around the island, unless, of course, you want to stay in your hotel all the time. It is more convenient and economical to travel around Phuket Town by a songteo truck, a ticket for which will cost 100 baht. Minibuses run to popular beaches from the airport. You can use them to drive up to your hotel for 180-200 baht.
There are also taxis on the island. It is almost impossible to bring down the price set by the driver, because there is always a demand for taxi cars. For one taxi ride, you will have to pay about 1,000 baht.
You can significantly save money without limiting yourself on moving around the island by renting a motorbike. International driving license is not required in rental offices. The main thing is not to forget to put on a helmet before the trip. Then the local police will have no questions for the guests of the resort. The cost of renting a scooter is 250 baht per day. 1 liter of gasoline in Phuket is sold for 40 baht. When deciding to rent a motorbike, remember that there are dangerous sections of the road on the island where you can lose control of your two-wheeled friend and get into an accident.
Gifts and souvenirs
What do people usually buy in Phuket? Cotton clothing at bargain prices. For example, T-shirts cost 150 baht, shirts 200, tank tops cost 90 baht, shorts about 100. Such prices can be found in numerous markets on the island and in shops.
Home tourists usually buy coconut oil. The cost of high quality oil ranges from 150 to 300 baht per bottle. It is better to look for it in pharmacies. It also sells local cosmetics made from coconut oil, bamboo, algae, etc. Face cream costs about 175-200 baht, face masks - 40 baht, toothpastes - 30 baht. An original souvenir is a medicinal alcohol solution containing a snake or a scorpion. These funds are sold in beautiful bottles and are quite expensive - about 2000 households. They need to be consumed little by little. According to local beliefs, this drink has a strengthening effect on the body.
Many tourists fill their suitcases with huge and aromatic local fruits: mango, papaya, pineapple. Fruits are inexpensive. Only durian fruit is banned from airplanes due to its specific smell. You can also buy a variety of spices and teas. A small box of tea costs between 150 and 300 baht. The most expensive are exotic varieties such as blue tea.
Local pearls are bought as a gift for the ladies. A pearl necklace will cost 2,100 baht, earrings - 1,000 baht.
Local silk is also highly valued, which is much cheaper here than at home. A silk scarf can be bought for 200 baht, a shirt for 1200 baht. There are also cuts for the dress on sale.
So…
For a normal vacation in Phuket, $ 400 per week is enough. This amount will allow you to eat at restaurants with average prices, buy several excursions, move freely around the island by public transport, and even buy souvenirs for friends. You can feel more at ease in Phuket if you have 1000 dollars at your disposal for 7 days.
Photo