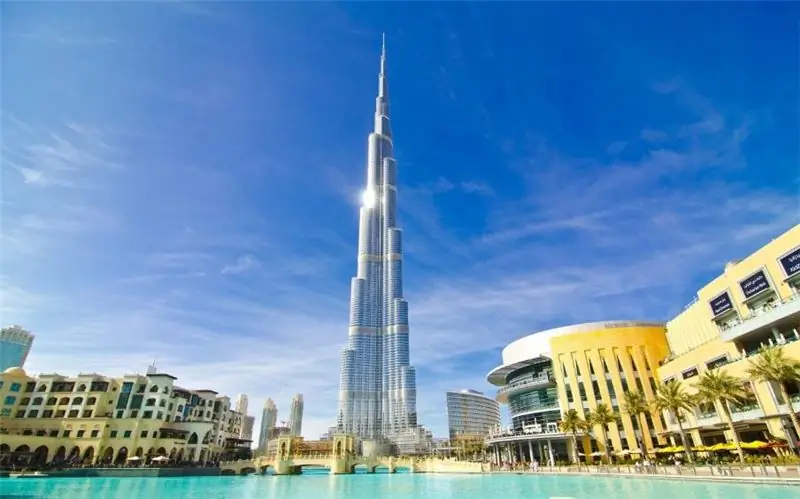 Cost of living
Food spending
Transport in Dubai
Things to do in Dubai
What to bring from Dubai?
Dubai is a city that is not overlooked by tourists from Russia and other countries. People come here for various reasons. Someone is tired of the dullness outside the window, and he wants to get his share of happiness in the form of the scorching sun, muted shades of the desert, the waters of the Persian Gulf, where you can swim. Other tourists dream of going shopping and leaving a certain amount of money in local malls. Still others want to see the magnificent Dubai buildings, which are growing every year. And each of these guests of the UAE is concerned about the question of how much money to take to Dubai?
To answer it, you need to understand how much a traveler is willing to spend on vacation. You can eat sandwiches, buy two magnets to remember the trip and explore the city on your own, without guides. Or you can indulge yourself in entertainment, go fishing and go to the oases in the desert, climb all the available observation decks (and this is not a cheap pleasure), buy gold jewelry for all the ladies you know and dine in the best restaurants in Dubai every day. Naturally, in the second case, you will need much more money to feel free.
The national currency of the United Arab Emirates is called the dirham. In 2020, for 1 dollar they give about 4 dirhams. Better to go to Dubai with dollars, not rubles.
Cost of living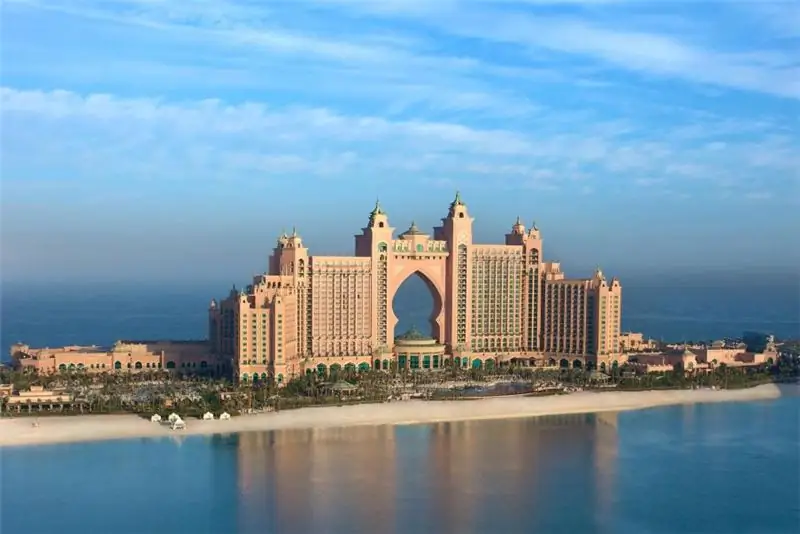 In Dubai, housing is not as expensive as one might think. In Paris or London, a hotel of the same level as in Dubai will cost much more.
Rooms in two-star hotels located in the Bur Dubai or Internet City area cost between $ 40 and $ 70 per night. The Bur Dubai area is absolutely safe. Mostly Europeans live here. It has excellent transport links to the city center, and the airport can be reached in just 15 minutes. The picturesque Internet City area, home to many global companies, is also ideal for living in Dubai.
Three-star hotels, which are located 3-10 km from the city center, offer rooms for $ 45-80. Some of them are also located in the already mentioned Bur Dubai area. In general, this part of the city is rich in hotels of various levels of service. There are even five-star hotels, such as the Grand Hyatt Dubai or Raffles Dubai, reminiscent of the Egyptian pyramid. Accommodation in them will cost 250-350 dollars per day.
Prices for a room in four-star hotels start at $ 70 and can go up to $ 150. In the area of Dubai Marina, where the most impressive buildings of the city are concentrated and the man-made island of Palm Jumeirah is located, there is an excellent hotel "Wyndham Dubai Marina", where you can rent a room for just $ 95 per night. The Atana Hotel is located in the prestigious Tecom neighborhoods (accommodation costs $ 67). In a small area of Downtown Dubai, where many of the city's famous tourist sites are located (Burj Khalifa with an observation deck, Dubai Mall, beautiful fountains), you can stay at the Manzil Downtown for $ 142 per day.
The cost of rooms in five-star hotels in Dubai starts at $ 160 and can reach incredible amounts of several thousand.
Food spending
Dubai hotels almost do not work on the "All Inclusive" system. The maximum that is offered to tourists is breakfast included in the room rate. This means that travelers will have to take care of their own lunches and dinners. Dining in Dubai can be expensive. Where can you eat in the city?
the most economical option is street take-out kiosks. Shawarma is very popular among residents and guests of Dubai. Its cost is 4-10 dirhams (1-2, 5 dollars). Street vendors have other dishes, such as pies with different fillings for 1-3 dirhams (less than a dollar), cheesecakes for 5 dirhams (1.2 dollars), fried chicken (15 dirhams) or half of it (8 dirhams), which in terms of dollars will be 4 and 2 dollars. The food seems to be inexpensive, but our compatriots are reluctant to buy it because of the large amount of unusual spices;
cooking departments in supermarkets. Here you can find about the same set of dishes as on the street from Arab or Indian traders, but in a more Europeanized form. So, in local supermarkets they sell slices of pizza for 2 dirhams (0.5 dollars), large sandwiches for 5 dirhams (1.2 dollars), buns for 1-2 dirhams (25-50 cents), etc.;
fast food cafes like McDonald's, which even offer business lunches at lunchtime. The cost of such a dinner is about 50 dirhams ($ 12.5). A cup of tea will cost 10-15 dirhams (2, 5-3, 75 dollars), coffee - about 20 dirhams (5 dollars), desserts - from 30 to 50 dirhams (7, 5-12, 5 dollars);
restaurants of various national cuisines. Dubai has cheap oriental establishments where you can dine for 60 dirhams ($ 15) per person, and fashionable French restaurants where the average bill is around 300 dirhams ($ 75).
Top 10 must-try dishes in the UAE
Transport in Dubai
Dubai city stretches along the coast of the Persian Gulf. Sometimes, even in the center, tourist sites are at a considerable distance from each other, which is very difficult to overcome on foot under the rays of the southern sun. In general, it is not customary to walk in Dubai. Most of the visitors travel by taxi or rented cars. The cost of renting a car will be about $ 40 per day, and you will additionally need to pay a deposit to the rental company in the amount of $ 500 to $ 1,000. Taxis are much cheaper - about $ 50 per week if you move around the city. One taxi ride will cost an average of $ 3. If you plan to take a taxi on your own on an excursion outside the city, then be prepared to shell out about $ 30.
The good news for budget travelers is that Dubai has a metro that makes it easy to get around the city. The cost of one metro ride is 2-7 dollars. Tickets for public transport in Dubai, including the metro, are not sold at the stations. All tourists pay with a 2 dirhams ($ 0.50) Red Nol Card. An amount is entered on it, which will be sufficient for 1-10 trips on one mode of transport. Funds are debited from the card at the exit from the metro.
There are also buses in Dubai. They are not very convenient for getting around the city, but they are irreplaceable if you want to travel from Dubai, for example, to neighboring Abu Dhabi.
Things to do in Dubai
There are several interesting places in Dubai that you can visit absolutely free. These include the singing fountains, the show of which attracts a huge number of spectators, the aquarium, which is located in the Dubai Mall, the Jumeirah Mosque, where visitors are allowed on Thursdays and Sundays at 10 am. However, Dubai offers many more great sights that you will have to buy a ticket to visit.
Top 10 attractions in Dubai
Where can you go in Dubai, and how much does it cost:
observation deck on the Burj Khalifa skyscraper. A ticket for it will cost 125 dirhams (more than $ 30);
water park "Wild Wadi" with unusual attractions. There are light slides for the little ones and scary water fun for teenagers. For the day in the water park, they ask for 275 dirhams (68 dollars);
1-hour boat trip on the Persian Gulf, which will allow you to see Dubai from the water. The walk costs AED 100 ($ 25) for two;
diving in the bay. Diving is possible without a special PADI certificate. True, in this case, novice divers are accompanied by an instructor. The cost of this entertainment is about 280 dirhams (70 dollars);
ski slope, built in the center of Dubai, in the "Mall of the Emirates". A ticket for the winter in the middle of summer costs 180 dirhams ($ 45).
And this is only entertainment in the city. But there are also out-of-town trips - on camels or jeeps to the desert, on buses to Sharjah, the Wadi Hulv valley, etc. Such organized excursions cost about $ 100 each. Therefore, if you want to get as much experience as possible from your vacation in Dubai, take about $ 400 with you on excursions.
What to bring from Dubai?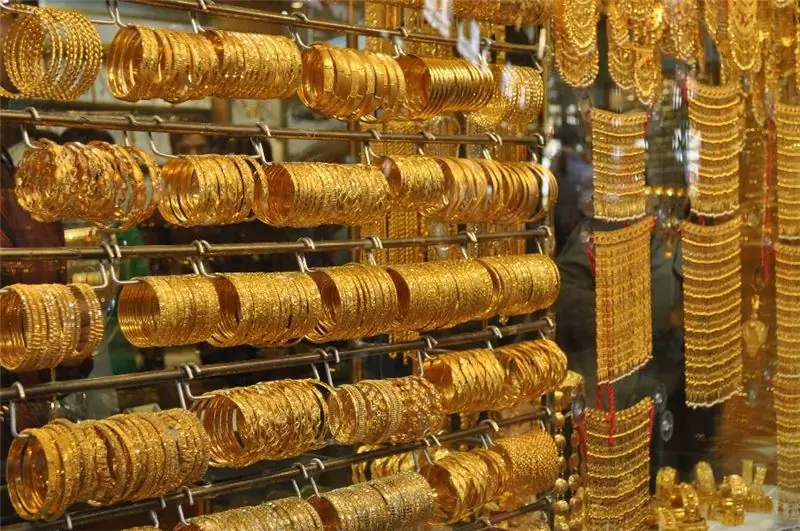 There are about 4 dozen huge shopping centers in Dubai, where people not only shop, but also meet, communicate, take a break from the heat of the day, go to cinemas, that is, spend time culturally. Such centers usually sell designer items, interior items, dishes, groceries and much more. For spices, nuts, herbs, incense in Dubai, it is customary to go to the specialized Deira market. Local crafts that can make good souvenirs. Sold in numerous galleries.
Russian women of fashion usually bring gold jewelry from Dubai. It is customary to choose them in the Gold Market, where the eyes are dazzled by the abundance of jewelry of various shapes and values. For 1 gram of gold of a high standard, they will take from $ 8 and more. You can buy a copy of watches of famous brands here for 500-600 dollars.
They also buy furs in Dubai. Mink coats are in special demand among tourists. They are sold in many places, but the largest selection of fur coats can be found in the shops in Baniyas Square. A fur coat costs about $ 3,000 here.
A handmade carpet will be an excellent purchase for your home. In Dubai, carpets made in different oriental countries are sold. A standard product made in a factory using machines will cost $ 200. Handmade carpets start at $ 300.
So how much does it cost to take with you to Dubai for a week? We recommend that you have a minimum of $ 1,000 at your disposal. This amount should be enough for the most interesting excursions, meals in normal restaurants, buying souvenirs and gifts.
Photo