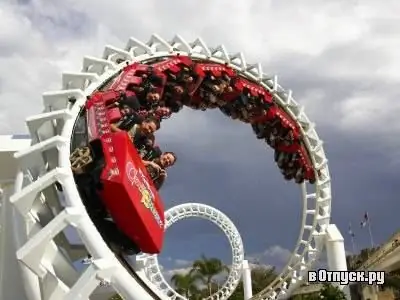 Description of the attraction
The Sea World amusement park on the Gold Coast of Queensland is a unique opportunity to visit one of the largest aquariums in Australia, get acquainted with marine mammals and ride water attractions. In addition to entertainment, one of the main tasks of the park is nature protection through educational programs, rescue and rehabilitation of sick and wounded animals, and caring for animals left without parents.
Sea World was founded in 1958 by Keith Williams. Originally, it was the venue for water skiing shows that combined entertainment, aqua ballet and rides. In 1971, water shows were staged elsewhere, and an artificial lake was dug in the park. A year later, dolphins were brought to the park, an exhibition of marine artifacts was organized, a model of the Endeavor ship was built and a swimming pool was built, and the park received a new name - Sea World. In 1989, the observation deck "Sky High Skyway" appeared, which offers a bird's eye view of the park. In 2004, the Shark Bay attraction was launched - a system of artificial lagoons, which allows you to observe the most real sharks, including the potentially dangerous tiger and bull sharks. Recently, a 96 m2 pool was opened in the park, where you can see chinstrap penguins. You can also see polar bears here - this is the only such place in Australia. Moreover, you can look at them both on the ground and under water and from the height of a special observation deck.
One of the favorite areas for kids of all ages is the Cove of the Shipwrecked, where they can climb the ramparts, climb the ropes and take part in an interactive naval battle. On the beach "Sesame Street" children will meet the heroes of their favorite cartoons in the live show "Bert and Ernie's Holiday Island" and several amusing attractions.
Older visitors should go on an expedition to rescue marine life on the Jet Rescue ride and ride a jet ski at a speed of 70 km / h along the dashingly twisted and tilted track. And then take a ride on the monorail railway, once the only one in Australia.
The Imagine Dolphin Show takes place at Dolphin Cave, the largest sandy lagoon ever built for such a purpose. The lagoon consists of 5 pools that hold 17 million liters of water! 2500 people can take part in the show at the same time. Another popular place for dolphin lovers is the kindergarten pool, where newly born dolphins live under the supervision of their mothers. At Stingray Reef, you can feed one of the 100 stingrays, one of the most understudied members of the ocean fauna.
Finally, the park offers catamarans, swim with dolphins, take a 5- or 30-minute helicopter tour, or take a whale watching cruise (although cruises only take place during the winter months when whales swim past the Gold Coast) …
Photo