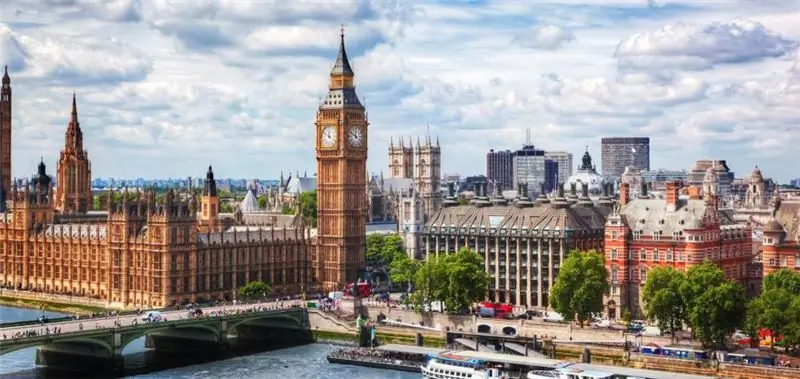 Accommodation
Nutrition
Transport
Museums and excursions
London is located in the south of Great Britain on the River Thames, 64 km from its confluence with the North Sea. By the number of inhabitants, the main settlement of the country is one of the largest urban agglomerations in the world. Greater London includes a suburban area within a 72 km radius of the city center. London has over 12 million inhabitants.
In fact, there are much more people in the British capital, since you should not forget about the numerous tourists who come here from all over the world, regardless of the season. There is something for everyone here: a magnificent collection of works of art presented in local museums, monuments associated with the British Crown, a business center made of glass and steel, green parks, which are more than in any capital of Europe.
London is a bustling metropolis with unimaginable crowds of people rushing somewhere. But every visitor to the capital of Great Britain can discover a different city. You just need to deviate from the popular tourist routes. Tourists who come to England for the first time are most interested in the question of how much money to take to London so as not to find themselves in the situation of D'Artagnan, who had funds "only for the way there".
The national currency of Great Britain is the pound sterling. In 2019, for 1 pound they ask for 85 rubles or $ 1.3. You can change money while still at home, before your trip to London. But in England, there will be no problems with the exchange of dollars or euros for pounds.
Accommodation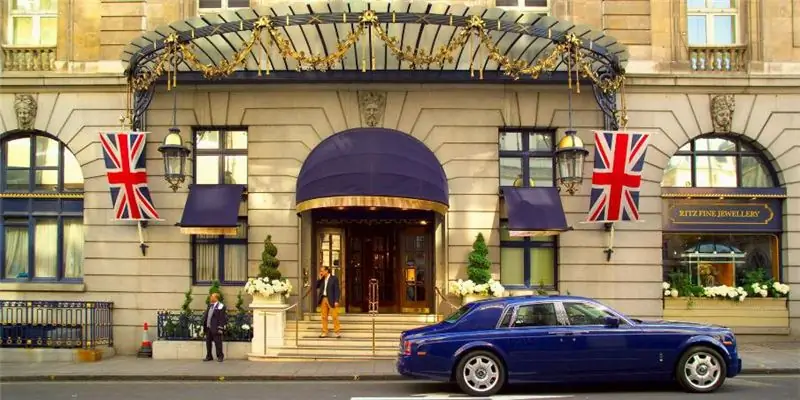 The cost of rooms in London hotels is influenced by many reasons: the proximity of hotels to the main tourist attractions, the availability of a subway near the hotel, the level of service, etc. In the capital of Great Britain, it makes no sense to choose a luxury hotel. A tourist is unlikely to spend much time in it. Some unassuming chain hotel with a minimum set of services is quite suitable for living. For example, in downtown London you can rent a room in a decent three-star hotel for 120-130 pounds per day.
When choosing a hotel, be guided by this amount, since the pricing in the British hotel business is lame. For example, the price of a three-star hotel varies from £ 45 (Best Western London Queens Crystal Palace in Norwood) to £ 170 and up. If you try really hard, you can find a four-star hotel where rooms are rented for 130 pounds, like in the DoubleTree By Hilton London Excel hotel, although usually the price for rooms in 4 star hotels starts at 150 pounds. Such price fluctuations are typical only for London hotels marked with 3-4 stars.
So, you can settle in London:
in hostels and hotels marked with 1-2 stars. Accommodation will cost up to £ 46. For example, for a place in a common room with double beds in the Green Rooms hostel in Wood Green, they will charge 24 pounds per person. A room at the two-star Earls Court Garden Hotel, located in Earls Court, will cost £ 46;
in 3-4 star hotels. The cost of living in them varies from 90 to 180 pounds. The three-star hotels ibis Styles London Excel (£ 112 a night), the Pembridge Palace Hotel in Westminster (£ 140) received good reviews;
in 5 star hotels. Rooms cost an average of £ 200-300. We recommend paying attention to the hotels "The Montcalm Marble Arch" (250 pounds per person per night) and "COMO Metropolitan London" (370 pounds), which are located in the Westminster area;
in apartments. It makes sense to shoot them if you come to London for at least a month. Two-room apartments in the center will cost £ 700-1600, on the outskirts - £ 600-1200.
Nutrition
Those who rented an apartment with a kitchen to live in London are lucky: they can cook whatever their heart desires, and not spend incredible amounts on food. To do this, they will have to buy groceries. And it is better to do this in large supermarkets: it is cheaper, and the goods there will be of better quality than in private shops near the house. Relatively cheap London supermarkets - Walmart, Tesco, Sainsbury. On average, one person will spend about £ 50 per week on groceries.
Those who cannot, because they live in a hotel, do not want or simply do not like to cook, are waiting for:
in fast food restaurants. Lunch in them is estimated at 4-10 pounds;
in self-service canteens. There are establishments in London where a plastic card is issued at the entrance. You take a tray, choose dishes, their list is put on the map. After lunch, at the exit, hand out the card to the cashier and pay for lunch. The prices are not high here. Great food for 18-20 pounds;
in pubs. A dinner consisting of a main course, drink and dessert will cost £ 20. It makes no sense to order a salad additionally, because the portions are huge here. Beer will cost 3.5 pounds;
in Chinese, Indian, Thai, Moroccan and other cafes specializing in national cuisine. Lunch in such establishments costs from 12 to 20 pounds. The cost of soups is from 5 to 8 pounds, meat dishes with a side dish cost from 12 pounds;
in relatively expensive fashionable restaurants. The average check in them is about 50-70 pounds.
Tourists who do not want to spend precious minutes of their vacation in London dining out have a snack on the go. Fortunately, there are enough places in the city where you can have a cup of coffee and eat a sandwich for 2-5 pounds. There are also kiosks in the city that sell kebabs (5-7 pounds per serving) or sushi (1-2 pounds per item). Any supermarket has a culinary department that sells salads, meat, side dishes. The cost of the dish is from 1.5 pounds.
Transport
To get around London by public transport, and every visitor has to do this, at least upon arrival, to get from the airport to his hotel, it is worth purchasing an Oyster Card for a few pounds (3 - for a tourist, 5 - for a British citizen). A certain amount of money should be immediately put on the card, for example, 30 pounds. The card can be used to pay for travel on city buses, trams, metro and water trams. A one-time ticket for travel on buses and trams costs 1.5 pounds, a daily ticket costs 4.5 pounds. The transportation system keeps track of how many times the card has been used during the day. If you have traveled on the buses four times, you will not be charged more than the cost of a day pass. In the evening, the money spent in excess of the amount of 4.5 pounds will be returned to the card.
Metro fares vary by distance and can go up to £ 6. Tourists usually ride the metro through zones 1 and 2, where a single ticket costs £ 4, 9, but thanks to the card, one trip will cost £ 2, 4.
Riding around London in the famous black taxis is not cheap. Taxi drivers in London make more money than programmers. It is very difficult to break into their closed world: you need to thoroughly know the city and be ready to take the inspector to any street he names during the exam. In this case, the use of the navigator is not allowed. A taxi ride, for example, from Heathrow Airport to the city center will cost £ 80.
The British themselves willingly ride bicycles around the city center. Cycling paths are not available everywhere in London. Where they are not there, it is allowed to go along the lane where buses run.
There are special sightseeing bus tours in London. This is a great opportunity to appreciate all the architectural splendor of London's famous streets. But travel on such a bus will be more expensive than on a regular one. Therefore, for sightseeing, we recommend that you take regular buses No. 9, 14, 15 and 22. The New Routemaster bus, shown in the James Bond film Skyfall, runs on routes No. 8, 9, 10, 11, 24, 38, 148 and 390.
Museums and excursions
In London, it is quite possible to visit about a dozen museums, and the most interesting, and not spend a single pound. No admission fees are charged to the British Museum, which houses many artifacts from around the world, including Egyptian finds and a statue from Easter Island, the Royal Air Force Museum, Victoria and Albert Museum, London Museum of Natural History, National Maritime. You can freely go to the National Gallery on Trafalgar Square.
What else is worth seeing besides the free museums? Visit the Tower for £ 25, St Paul's Cathedral for £ 18, London Zoo for £ 27, Windsor Castle for £ 21, Hampton Court Palace for £ 21. Ride a £ 30 Double Decker Tourist Bus Climb to the observation deck on the tallest building in London "The Shard", which can be translated as "Shard". The entrance ticket costs 30 pounds. You can save a lot on such expensive tickets if you buy a London Pass, which can be valid for 1, 2, 3, 6 or 10 days. One-day "London Pass" costs 75 pounds, two-day - 99. It is profitable to buy such a card if you plan to visit 3 or more places in one day, which require an entrance fee.
Should you book excursions around London? Many tourists feel more confident in their further walks around the city if, for a start, they will be shown and told everything as part of an organized sightseeing tour. Prices for group tours in the British capital with a Russian-speaking guide start at £ 20. Themed excursions are very interesting, for example, around the antiques markets, around spy or Russian London, around the places where the Harry Potter movie was filmed, etc. The cost of such excursions is 150-250 pounds, regardless of the number of tourists.
***
So that your vacation in London does not turn out to be spoiled by a lack of money, rely on an average of £ 100 per day per person. Naturally, an economical tourist who prefers to walk more, chooses free museums, refuses expensive purchases, and spends much less - about 50 pounds. In London, the rule is especially relevant: take as much money with you as possible. What you don't spend, bring home.
Photo