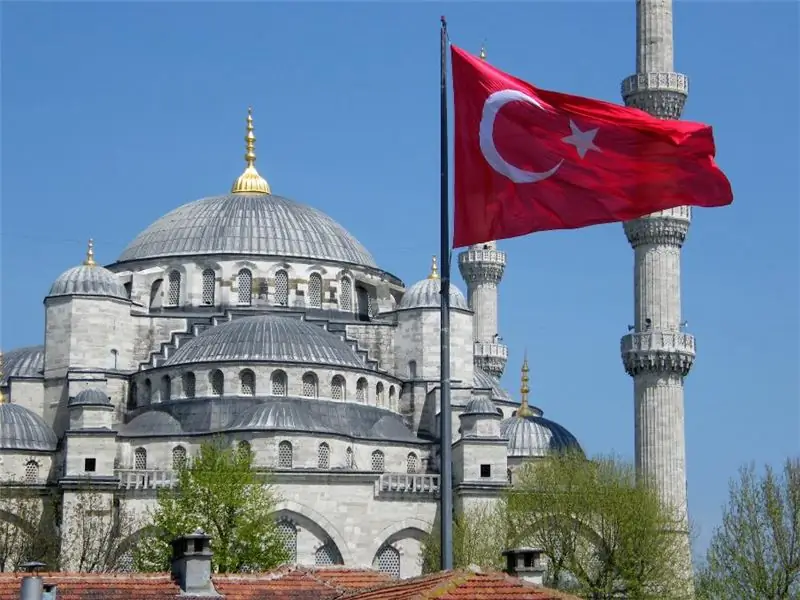 Hotels and hostels
Getting around Istanbul
Food cost
Excursion spending
Istanbul is able to surprise even those tourists who have been there more than once. What can we say about travelers who come to one of the most beautiful Turkish cities for the first time! The former have an advantage over the latter: they already know where to stay, which restaurant to go to, what to see, and how much money to take to Istanbul. Tourists who are just discovering the city on the shores of the Bosphorus, which is noisy and restless in the oriental way, but so attractive, often have a question: how much will be enough to not limit their spending on vacation.
Istanbul is an inexpensive city, although there are reviews on travel sites that suggest otherwise. All goods and services are paid with Turkish lira. In recent years, the exchange rate of the Turkish lira against other world currencies has seriously decreased, so the cost of accommodation, food and souvenirs has also dropped significantly.
It is better to go to Istanbul with dollars. Rubles are readily accepted for exchange only in the tourist regions of Turkey: in the resorts of the Mediterranean Sea.
Hotels and hostels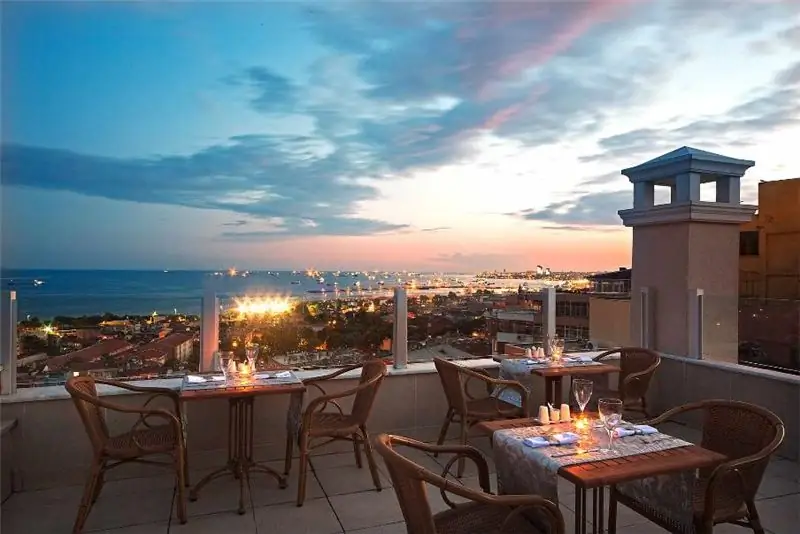 The maximum prices for accommodation in Istanbul are set in the summer, when most tourists come here. In spring, autumn and winter, housing prices go down.
In Istanbul, you can find both cheap hostels and expensive hotels. Hostels are mainly chosen by young people traveling light. Usually in hostels you can find rooms for six people. For example, a bed in such a room is rented for $ 15 in the budget hotels Cheers Lighthouse and Bucoleon by Cheers. Bunk beds are offered for a dollar less at Big Apple Hostel & Hotel.
The cost of living in two-star hotels in Istanbul for one person per day starts from $ 19 and can go up to $ 38. Tourists speak well of Hotel Akkus in the European part of Istanbul and Carvan hotel in the Old City.
Room prices in three-star Istanbul hotels range from $ 25 to $ 80. In the Taksim area there is an excellent three-star hotel "The Galataport Hotel". There are many interesting accommodation options in the center of Istanbul, for example, Blue House Hotel, Hotel Aslan Istanbul and many others.
Rooms in four-star hotels are rented for $ 45-80 per day. I would especially like to note the high service in the hotels "Holiday Inn Istanbul Old City", "Ramada Istanbul Grand Bazaar", "Park Dedeman Levent", marked with four stars.
There are also expensive five-star hotels in Istanbul. The cost of living in them starts from $ 60-70 and can reach $ 300-400 per night. The relatively cheap five-star hotels are Hotel Zurich Istanbul, Mövenpick Istanbul Hotel Golden Horn, Arts Hotel Istanbul. The former Sultan's palace now houses a fashionable five-star hotel "Ciragan Palace Kempinski Istambul", a room in which will cost $ 375.
Getting around Istanbul
It cannot be said that all the sights of Istanbul are concentrated in several quarters of the center. To get the most complete picture of the city, you will have to go around it up and down. Experienced tourists recommend immediately stock up on a plastic Istanbulcart card for 6 liras, on which you can put money to pay for travel. In almost any type of transport (with the exception of taxis and private buses), the card is applied to a reader installed near the driver or right at the bus stop, which removes the fare. The cost of one trip is 1.95 liras.
Types of transport popular with tourists in Istanbul:
city buses. Their network covers the whole of Istanbul. Several routes connect the European and Asian parts of the city through road bridges across the Bosphorus. City buses slow down at stops if passengers give a hand signal. This type of transport runs until 23.00;
Metrobuses are the same buses, but more comfortable. The fare for such modern transport is 2.4 lira. If a person passes one or two stops, then the cost of the ticket is partially compensated for the card;
dolmushi - minibuses that do not accept payment using Istanbulcart. They travel short distances and only leave after the cabin is full. The fare for dolmush is different, it is reported by the driver;
minibuses - more capacious than dolmushi, minibuses. It is also impossible to pay for a ticket with Istanbulcart;
trams. There are 6 tram lines in Istanbul. There are also old trams on Istiklal Boulevard and in the Asian part of Istanbul, in which tourists are happy to ride. The fare in them, as in other urban modes of transport, - 1, 95 lire;
underground. In Istanbul, the metro began to develop at the end of the last century. There are not many stations here, but all of them are located very well - in crowded tourist places. A metro ticket will cost 1, 95 liras if you pay with an Istanbulcart card;
funiculars. There are two funiculars in Istanbul. One connects the two districts - Karakoy and Beyoglu, the second - the coastal Kabatas with Beyoglu. You can pay for travel with Istanbulcart card;
ferries are a very popular form of transport in Istanbul. Ferries carry passengers across the Bosphorus and take guests and residents of Istanbul to the picturesque Princes' Islands. If there is no Istanbulcart, then a ferry ticket will cost 4 lira.
For getting around Istanbul, you can set aside about 50-70 lira per week per person.
Food cost
It is impossible to stay hungry in Istanbul! There are cafes and restaurants for every taste and budget. These establishments can be categorized as follows:
restaurants of Turkish cuisine. Expensive and pretentious. But the food in them is quite tasty. In order not to be alone with a huge check, it is better to study the menu with prices before ordering food. Quite good establishments designed for tourists are located in the area of Istiklal Street. The cost of dishes in them will be higher than average. Fish restaurants are to be found near the waterfront, for example, in the Karakoy area. One serving of fried fish will cost 20 liras ($ 3, 6) and more. You can buy seafood from the local fish market and take it to a nearby restaurant where it will be prepared for you for a small fee. Kebabs and other meat dishes are served everywhere in Istanbul. Locals recommend trying them at the Taksim Bahcıvan restaurant. Dinner in it will cost about 30-40 liras (5, 4-7, 2 dollars);
a cafe. There are Starbucks coffee shops in Istanbul, but it is better to try Turkish coffee (from 6 lira) and tea (from 1.5 lira) in local establishments. Tourists love the Istanbul pastry shops with a rich history. Sweets and drinks are sold here. You can buy them to take away, or you can taste them right there at the table. Desserts will cost 8-10 liras ($ 1.45-1.8);
street kiosks. The cheapest, but very tasty and hearty food is sold from street vendors. Here you can buy a kebab for less than $ 1 (lamb or chicken with vegetables and spices in lavash), for 15 liras ($ 2, 7), buy a kumpir - a dish of potatoes, for 8 liras ($ 1, 45), find a balyk ekmek - a flat cake with fried fish, etc. Ice cream on the street costs 5 lira (90 cents).
To save money, many tourists buy groceries in supermarkets and cook for themselves. In shopping malls, you can also find edible souvenirs at home at low prices. For example, tea (10.5 lira ($ 1.9) for a half-kilogram pack), coffee (1.8 lira (32 cents) for 100 g), sweets (5-20 lira ($ 0.9-3.6)).
Excursion spending
Istanbul is the city where you can save a lot on excursions. To see Istanbul, it is not necessary to hire guides and sign up for expensive educational tours. It is enough just to walk the streets, go out to the embankments, find domes and minarets with a glance, suddenly find yourself in wide squares or get lost among the narrow shopping arcade of eastern bazaars. Sooner or later, you will find yourself near local attractions, the entrance to which is not always paid. So, to see the Blue Mosque from the inside, you do not need to purchase entrance tickets.
All locals recommend taking the elevator or walking to the observation deck in the Galata Tower. This pleasure is worth 25 liras (4.5 dollars). 60 lira ($ 10.9) will be charged for the entrance to Hagia Sophia and Topkapi Palace.
Knowledgeable tourists in Istanbul purchase the Istanbul Tourist Pass, which is valid for 2 (588 lira ($ 107)) or 7 (880 lira ($ 160)) days. It gives you the right to visit 12 museums, drive to the hotel from the airport for free, take a boat ride on the Bosphorus, go to the hammam at no extra charge, etc.
In Istanbul, as in many cities in the world, there are tourist buses that make stops at all significant sights. A ticket for a bus tour with the ability to get off at any tourist facility, and then take another bus and go further costs about 220 lira ($ 40). Bosphorus cruises are much cheaper. You can find walks lasting 2 hours and for 20 lira ($ 4).
The cost of a visit to a well-known popular hammam, for example, Ayasofya Hurrem Sultan, will be about 440 lira ($ 80). Therefore, it is better to look for hammams for local residents. The entrance ticket to such establishments costs 35 liras (6, 3 dollars).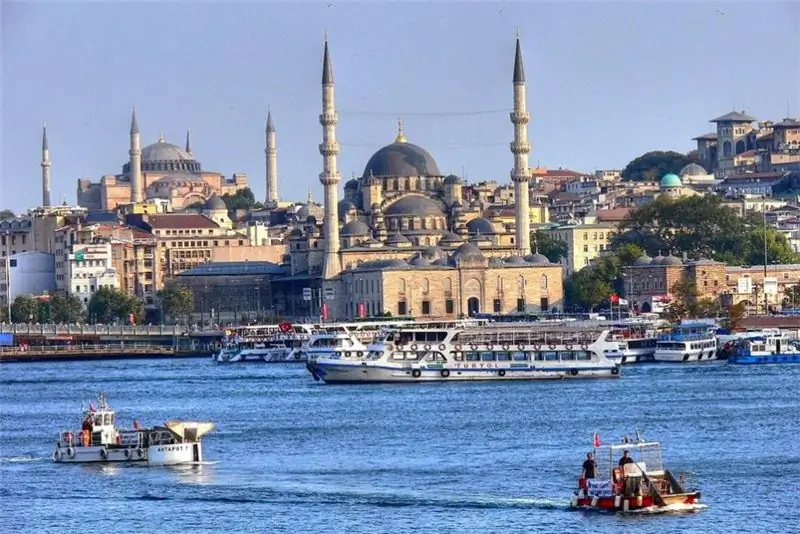 Going to Istanbul for a week, take about 180-200 dollars (1000-1100 Turkish lira) with you. These funds will be enough for free movement around Istanbul, going to restaurants and modest shopping. For more serious purchases, stock up on about the same amount. In principle, 150 dollars (825 lira) may be enough for one person for a seven-day trip to Istanbul if he eats street food and walks more. The cost of living is not included in this amount.
Photo