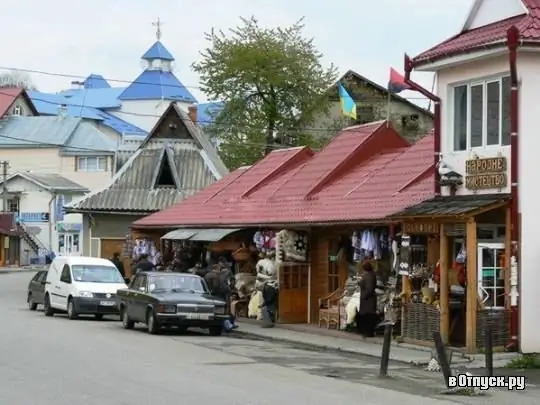 Description of the attraction
An interesting attraction of the old Carpathian town of Kosovo is the famous Kosovar Bazaar, which has become famous not only throughout the country, but also abroad. This phenomenon, unique for Ukraine, attracts many tourists and has not lost its popularity for many years.
Kosiv is the capital of folk art of the Carpathian mountaineers, which is famous for the most talented craftsmen. Crafts of Carpathian craftsmen have long been in great demand and arouse great interest among the guests of the Hutsul region.
The Kosovo Bazaar is the largest traditional Hutsul fair in the Carpathian region, where you can buy a whole range of all kinds of beautiful household and souvenir products made of wood, wool, leather, metal and ceramics, while the prices for all goods sold here, which were created by the hands of Hutsul craftsmen, significantly lower in comparison with other fairs.
Horse harness, highly artistic carving, musical instruments, wicker baskets, woven shirts, sleeveless jackets, embroidered towels, spindles, hats, carpets, beadwork (gerdans), ceramics - all this can be purchased at the Kosovo Fair. Ceramics, which are presented in the widest variety at the bazaar, are especially famous - whistles, stanchions, bells, krinki, kumanzi, tiles, makitras, tiles, Easter eggs, decorative plates, plyskantsi and much, much more.
For residents and guests of the city, the Kosovo Bazaar opens once a week - on Saturday. It is located on the eastern outskirts of Kosovo on Cheremshiny Street. The bazaar starts working from the very early morning (6-7 hours).
Due to its beauty and abundance of products, the Kosovar Bazaar has become a popular attraction in the Carpathians.
Photo