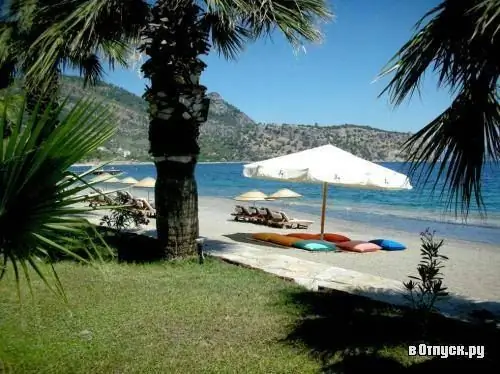 Description of the attraction
Picturesque Kumlubuk is located twenty five kilometers from the center of Marmaris and is known for its beauty. This town is a turquoise paradise located in the southern part of the bay of the same name. It is notable for the fact that there is no massive development and there are only a few restaurants. Especially wonderful is the azure sea. In summer in Kumlubuk, yachts with lovers of sea trips on board stop for a short rest.
The sea in Kumlubuk is so transparent that you can see fish at a depth of five meters. This city is famous for its healing springs, the waters of which are very useful for diseases of the gastrointestinal tract.
Kumlubük boasts one of the best beaches in the area. The famous Ismeler Beach stretches along the coastline, bordered by a boulevard with numerous restaurants, bars and hotels. The resort has several wonderful open-air fish restaurants and trendy tourist attractions. Here you can sample a variety of the freshest seafood dishes and enjoy delicious snacks and local fried fish.
If you want to fish, the local fishermen can arrange for you a real sea fishing for a fee.
Those who want to see the surroundings have the opportunity to go on a boat trip on a yacht, during which you can reach the village of Kilisebelen, which offers a majestic panorama of the Dalaman Valley. The tranquil bays and scattering of islands on the north side of the peninsula are ideal for those seeking seclusion from the hustle and bustle of the world.