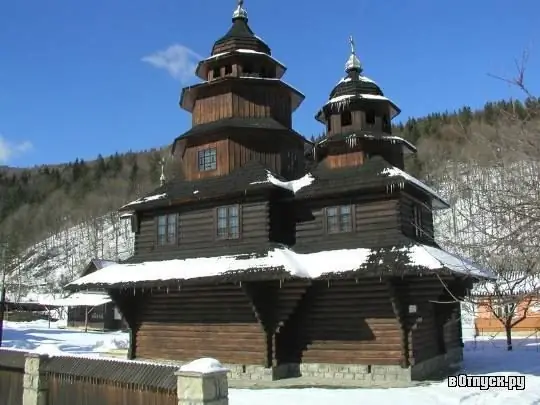 Description of the attraction
One of the most remarkable structures in the resort town of Yaremche in Ivano-Frankivsk region is the multi-tiered wooden Elias Church of the 20th century in the village of Dora (outskirts of the city).
The Church of the Holy Prophet Elijah was built in 1937 by a local craftsman Ivan Yavorsky. The architectural ensemble is made in the original folk Hutsul style and is located on the territory of the Studi Monastery. The temple was built on a plot donated to the Studites in the 1930s by the spouses Ilya and Ivan Kokorudza. To these patron saints: the holy prophet Elijah and St. John the Baptist, the Studites dedicated their temple and monastery.
In Galicia in the post-war years, repressions began against the Ukrainian and Greek Catholic clergy. As a result of these events, the monastery was abolished, and local residents took the monks into their homes. Several times, on the instructions of the local authorities, they tried to dismantle the church of the Holy Prophet Elijah, but thanks to good religious traditions, the monastery was never destroyed. None of the local residents agreed to take part in such a sacrilege. In early 1990, the temple was nevertheless returned to the Studites, who restored it, after which the shrine began its new church life.
Elias Church was built of wood and without a single carnation. A unique oval-shaped iconostasis is installed in the interior of the temple. The ornament of the icons is created by burning and decorated with carvings.
Photo