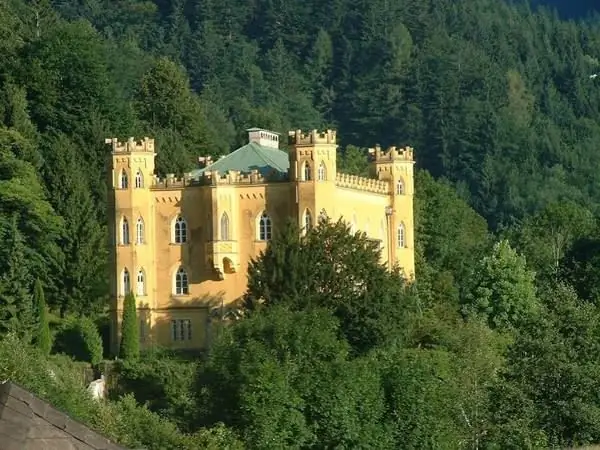 Description of the attraction
The majestic Hüttenstein Castle is located in the village of Vinl, a few kilometers from the city of St. Gilgen. It was built on a small hill located on Lake Krotensee, between the two lakes Mondsee and Wolfgangsee. Interestingly, the Crotensee Lake is private and belongs to the current owners of Hüttenstein Castle. There is a small area on the lake intended for the recreation of local residents. Swimming in the lake is prohibited, you can only sunbathe on the shore.
Not far from the present Hüttenstein castle, you can find the remains of a fortress built in 1329 for King Frederick III. The modern castle appeared in the middle of the 16th century. A few years after its construction, the owners, and they were the family of a local judge, discovered numerous damage to its structure. In 1608, the castle was abandoned again as its owners moved to nearby St. Gilgen. The archive was kept here for some time. In 1747, the brick castle consisted of four living rooms, two bedrooms, a kitchen, a basement, and prison cells. In those days, wood craftsmen lived here.
At the end of the 18th century, the city authorities of St. Gilgen wanted to demolish Hüttenstein Castle in order to use its stones to construct other important city buildings. However, the structure somehow survived. In the 19th century, the palace passed from hand to hand. It was owned by Field Marshal von Wrede, who gave the castle its present appearance, Francis Lichtenstein, director of the Romanian National Bank Dimeter Ritter von Frank and many others.
The neo-Gothic castle is decorated with four octagonal corner towers, which rise one floor above the main building. To the north of the main palace in the middle of the 19th century, a two-story building was erected, where the servants were housed. On the gate leading to the castle, you can see the large letters "R" and "W", which are the initials of the current owner of the palace, Robert Wimmer.
Photo