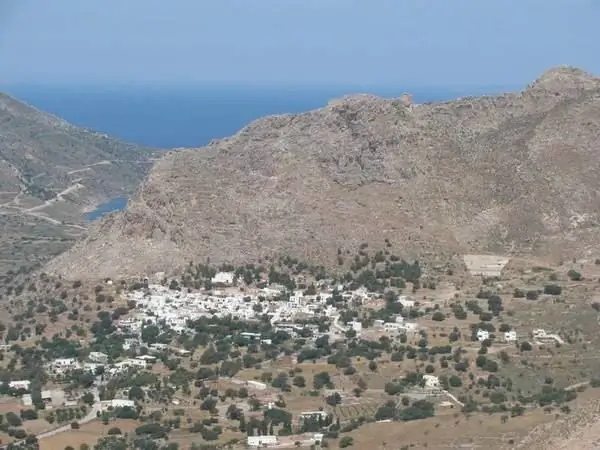 Description of the attraction
In the northwestern part of the Greek island of Tilos, about 7 km from the port of Livadia, at the foot of the steep rocky hill of Agios Stefanos, on top of which lie the ruins of a medieval fortress, built in the 15th century by the knights of the Order of St. John, is the administrative center of the island - Megalo Horrie. This is a small charming town with small snow-white houses built in the architectural style traditional for the region, beautiful old churches and labyrinths of narrow winding streets.
You will have a lot of pleasure walking through the streets of this old city and enjoying its special unique flavor. You should definitely look into the churches of Taxiarchis, Agia Triada and Panagia Theotokis, as well as a small but very entertaining museum located in the city hall, which displays the remains of a dwarf elephant found on the island of Tilos in the Harcadio cave, which are of great interest to paleontologists.
Then you can go to the castle of the Knights Hospitallers, which for several centuries served as a reliable refuge for the inhabitants of the island. True, the path is not short (the road to the top of the hill will take about 45 minutes) and rather difficult, but the fantastic panoramic views of the island and the Aegean Sea from its top are undoubtedly worth it.
About 6.5 km northeast of Megalo Horje on a picturesque hill, at an altitude of 450 meters above sea level, is one of the main attractions of the island, which is definitely worth a visit - the monastery of St. Panteleimon, founded in the 15th century and received its name is in honor of the patron saint of the island. However, the monastery of Agios Andonios, located just 2.5 km west of Megalo Chorye, deserves special attention.
Photo