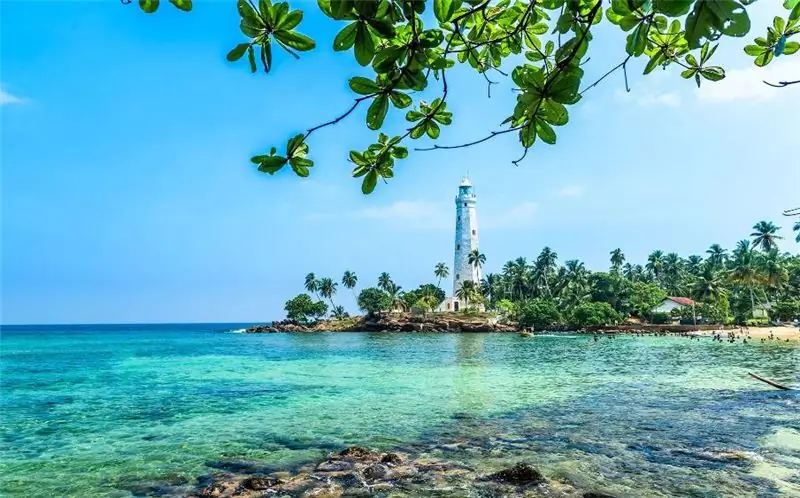 Accommodation
Transport
Nutrition
sights
Purchases
An island of first-class beaches, ancient sites and extraordinary natural beauty, Sri Lanka attracts tourists of all ages and interests - from divers and surfers to lovers of historical antiquities or exotic nature.
Enjoyment of a great beach vacation should be complete, without unwanted surprises and calculations, whether there is enough money for the rest of the vacation. For which you need to plan how much to take with you on a trip.
The local currency is rupees, but not Indian, but Sri Lankan. It is better to exchange dollars for them, the rate is 180 rupees to one dollar. You can carry euros, and even, more recently, rubles. The exchange rate of rubles will be unprofitable, dollars are more reliable. Unlike other Asian countries, in Sri Lanka it is better to change money upon arrival at the airport. The rate is acceptable, the main plus is that they exchange quickly, unlike banks, where you have to spend at least an hour. You can change money at hotels, tourist spots and even shops, but these options are not reliable. Of course, there are a lot of ATMs on the island, they all accept our bank cards, just don't forget about the commission for withdrawing money. But the card will still come in handy - for paying for purchases, especially in supermarkets.
Tours to Sri Lanka cannot be called budget, as well as air tickets. But in general, the rest is considered affordable. For the all-inclusive package tour, expenses are planned only for excursions and shopping. Any other travel variations add corresponding cost items.
Accommodation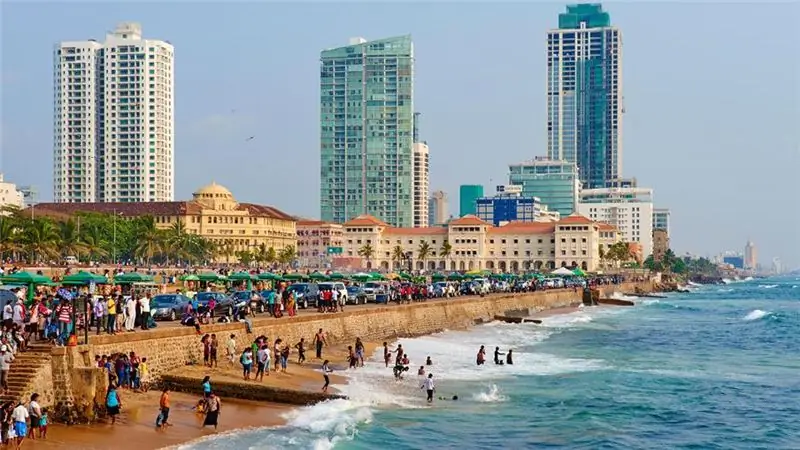 Compared to European countries, the cost of living seems low, but comparison of this figure with neighboring Asian countries will not be in favor of the island. Renting more or less acceptable housing starts at $ 20 per day.
Hotel prices increase from late December to late March, as well as in July and August. This is the high season when the island becomes a popular tourist destination. In low season, with early booking, it is possible to stay in Hikkaduwa and Negombo hotels for $ 15.
As usual, the longer the stay, the lower the price of the room. With a short vacation, you will have to pay more, the Sri Lankans do not even hide that it is not profitable for them and do not bargain.
On average, a standard double room in a 3-4-star hotel with breakfast can cost from $ 40 to $ 70 per night.
If you are planning a "wintering" or just a long stay, it is better to rent an apartment or a house. Renting a good home starts at $ 250 per month, depending on the location. Plus monthly utility bills, they usually amount to about $ 70-80, as well as the cost of the Internet.
A very budget option is to rent a room. Here, the recommendation of friends who have already visited Sri Lanka will be useful. You can rent a hotel room, and then start looking for accommodation. A decent room from local residents can cost up to $ 25 per night.
Transport
Transfer from the main international airport of the island, in the vicinity of Colombo, to the hotel will depend on the remoteness of the resort and the equipment of the taxi. The nearest Wadduwa can be reached in an air-conditioned car for a little over five thousand rupees, or $ 30. Taxi travel to the rest of the coastal towns can be calculated. To the farthest, Trincomalee, the transfer will cost from $ 80 to $ 90. The car is designed for three to five people, the cost is divided for all passengers. Transfer by taxi without air conditioning will cost 3-6 dollars cheaper. There are also private carriers that offer prices one third lower than the official ones.
A more budgetary way is to get to your holiday destination by public transport, that is, by train or bus. Rail transport is the most popular on the island. A suitable option, in terms of quality and price ratio, is second class travel on express trains. No air conditioning but otherwise quite comfortable. The only drawback is that tickets, as in Russian electric trains, are sold without specifying a place, and there is a risk of standing up all the way. You can, of course, go in first class - with the specified location, air conditioning, wi-fi and beautiful interiors, but the cost will be appropriate. From Colombo Airport to Wadduwa, a trip in a second class carriage will cost 30 Lankan rupees. By bus - 40 rupees.
Buses are considered the main city transport on the island. But a taxi ride in Sri Lanka within the city will come out inexpensively - from one hundred local rupees. New to the island are small budget taxis with a capacity of no more than two passengers. The trip on them will be 25-30% cheaper. Another inexpensive alternative to taxis is the so-called tuk-tuk, motor scooters with a cab.
The freedom of movement is given by renting bicycles or scooters. The rent of the first will be $ 2-3 per day, scooters - $ 10-11.
Car rental will depend on the prestige of the brand - from $ 40 to $ 100 per day. If you want to rent a car with a driver, you will have to add about 40% to the cost. The average price per liter of gasoline will be about a dollar. It is worth adding to this the cost of paid parking near popular attractions, possible fines, as well as a deposit (deposit), which will be returned to you only when you leave the country.
Nutrition
The island's culinary traditions are similar to neighboring India and other Asian countries: the predominance of rice, vegetables and seafood. The usual Asian variety of street food is not here, and the prices are higher. But no one will remain hungry, regardless of financial solvency.
Budget travelers can dine on traditional curry rice. A wide variety of ingredients are added to this mixed rice dish: fish, seafood, chicken, vegetables, hot curry sauce and crunchy tortillas. The portions are large, ranging from one and a half to four dollars. There are few eateries for local residents - they traditionally eat here at home. Cafes and restaurants are designed for tourists. The average bill for two in a cafe will be $ 8-10. In a restaurant, especially in a tourist place - up to $ 15.
A serving of shrimp or squid will cost $ 4-6.
Grilled tuna - up to $ 7 per serving.
Cottu, also known as roti, is a fairly popular local dish consisting of slices of coconut flatbread with sauteed vegetables and cheese or chicken, and costs between $ 2 and $ 4.
Another dish called roti is filled pancakes. Its cost depends on the filling - from 1 to 3 dollars. In the Roti chain of snack bars, these pancakes can be both a main course and a dessert.
Traditional soups Tom Yam and Tom Ka Gai cost $ 4.
Light chicken or tomato soup - $ 2.
The Sri Lankan omelet does not provide milk, but vegetables are added to it in abundance. The cost is $ 2.
Freshly squeezed juices in a restaurant will cost from $ 1 to $ 3.
Coffee is only a dollar, but not strong at all.
If you are renting a house or apartment, you can support local traditions and cook on your own. In stores, prices are fixed, in contrast to markets.
Beef is practically not used in the country for religious reasons. The most expensive will be pork - from 6 to 8 dollars per kilogram.
Chicken breasts or legs - $ 2 to $ 3. A whole chilled chicken will cost $ 2 per kilo.
Cheese - from 1 to 3 dollars per package of 200-300 grams.
Milk - a dollar per liter.
Buffalo milk yogurt, 0.5 liters - one and a half dollars.
A dozen chicken eggs will cost a dollar and a half.
As elsewhere in Asia, bottled water will be a separate expense item. In Sri Lanka, the cost of a "poltorashka" will be 60 cents, with a capacity of 0.5 liters - about 30 cents.
It is better to buy fish and seafood at night fish markets - guaranteed quality and freshness of products. Local chocolates and juices are tasteless and expensive. It is better to take this opportunity and buy inexpensive and delicious exotic fruits.
If breakfasts are considered included in the cost of living in all hotels and guesthouses, for 10 days of stay on the island, about $ 130 is spent on the most economical food for two (without alcohol).
Top 10 Sri Lankan dishes
sights
There are many historical and natural attractions on the island. If the goal is to see them all, there will be no time for a beach holiday. Therefore, it is worth choosing the main ones that cannot be missed.
A sightseeing tour of the country's largest city, Colombo, with a visit to pagodas, Hindu temples and Muslim shrines costs 35 dollars per person.
To see the last capital of the independent state of the Sinhalese, Kandy, to admire Adam's Peak, a sacred mountain near Kandy, you will need to pay $ 45 for the trip.
The eighth wonder of the world, Sigiriya, the mountain and the ancient city of the same name, are included in the UNESCO World Heritage List. Their visit costs from $ 30.
With children, you can go to the Colombo Zoo, watch the elephant show there. It will cost about $ 20.
Purchases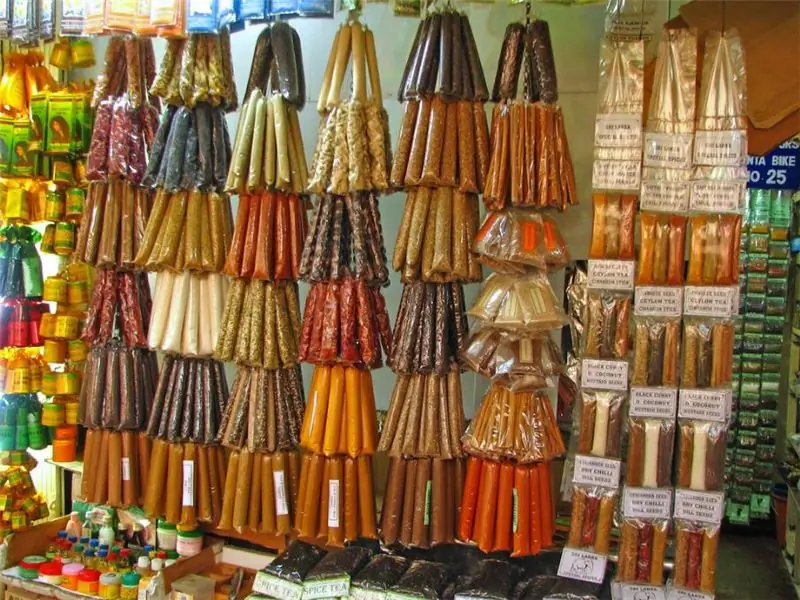 In Sri Lanka, shopping will not be shopping in the usual sense. But the first and obligatory item of the shopping program will, of course, be tea. Since 1972, the island has not been called Ceylon, but the name has been preserved in tea, its visiting card at all times. If there is an excursion to a tea factory, it is best to buy tea there - it is more expensive, but of better quality than in stores. And there is more choice. A two-hundred-gram pack of the most common Ceylon tea "Maskeliya" costs from a dollar, a tea better than "Mlesna" can cost from two dollars. Five varieties of tea in a gift box weighing 0.5 kg are sold for 5-7 dollars. You can buy not only traditional black, but also green, red and even white tea. Prices will be within the same range.
Since Sri Lanka is called the island of spices, it is logical that they will also be included in the list of souvenirs that must be taken from here. Cinnamon, cardamom, ginger, cloves, vanilla, turmeric, cumin, curry, various types of pepper, nutmeg are sold in small packages with a state registration number. A bag weighing 300 g costs from 1 to 3 dollars, depending on the set of spices. A kilo of dried cinnamon sells for $ 8-10.
Ayurvedic cosmetics, precious stones from local deposits and products from them are also brought from the island. Except for the last point, the purchase costs will remain at around $ 100.
What to bring from Sri Lanka
On average, excluding the cost of the flight, hotel accommodation with breakfast and visas, the cost of a ten-day trip for two will start from $ 600: three excursions, food and shopping. Of course, if finances permit, this figure can be doubled. But in the first case, the rest will be interesting, rich and memorable.
Photo