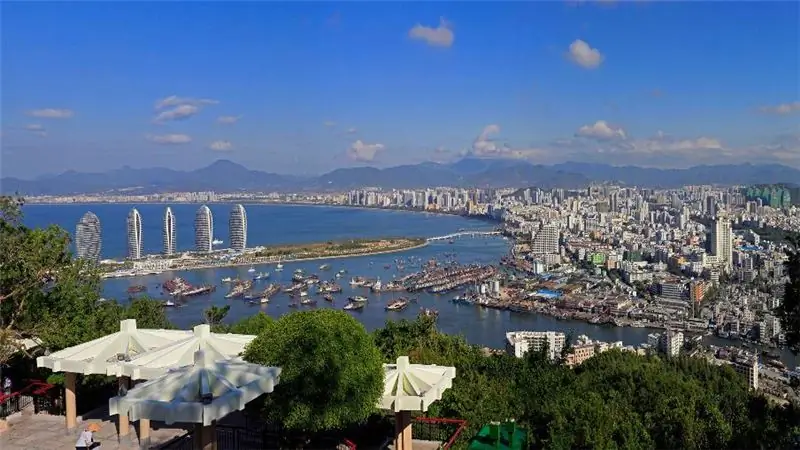 Accommodation
Transport
Souvenirs
Entertainment
Nutrition
Hainan is a tropical island that is part of the People's Republic of China. The high season here starts in November and ends in May. In summer, there is a stifling heat and frequent showers. And although Hainan was only recently opened to European tourists, many travelers, including those from Russia, have already fallen in love with it. There is even a separate "Russian" resort on the island on the shores of Dadonghai Bay. The staff of hotels and restaurants here knows a few words in Russian, which makes life much easier for our compatriots.
Hainan is very popular with beach lovers. There are spacious, pristine beaches washed by the waters of the warm South China Sea, hotels, restaurants, shops, markets - in general, everything without which a modern tourist cannot imagine his vacation. Hainan also offers excellent opportunities for sightseeing tourism. Those who want to get medical treatment in medical centers that use water from local thermal springs also come here. How much will a trip to a Chinese island cost, how much money to take to Hainan - these are the questions that many tourists ask.
All settlements on the island are made in RMB. In 2019, 1 dollar is equal to 6.7 yuan. It is more profitable to come to Hainan with dollars, they are exchanged for yuan at airports (there is the most favorable rate), in banks, exchange offices, at large hotels. It will become easier to navigate the prices if you know that 1 yuan is equal to 10 rubles.
Accommodation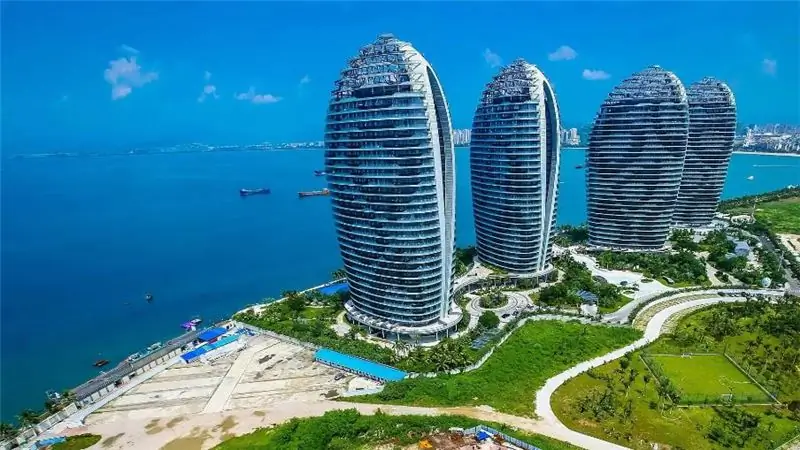 There are no All Inclusive hotels in Hainan. This is due to the fact that hardly any of their vacationers would think of sitting in a hotel without leaving and not leaving it until the end of their vacation.
Most of Hainan's hotels are for Chinese tourist groups. Recently, hostels have appeared on the island, but many of them are all the same Chinese hotels, which simply changed their names. The cost of living in such hotels will be from 100 to 200 yuan per room. You can always try to bring down the price. These hotels only fill up during National Chinese Holidays. The price of a bed in a hostel's dorm room will be around RMB 30.
In Hainan, you can find more decent housing:
4 star hotels. They are located far from the sea. These are modest hotels that are not suitable for those who like a comfortable stay. For a room designed for one or two people, they will be asked from 250 to 600 yuan;
5 star hotels. There are a lot of such hotels on the island. Most of the holidaymakers arriving in Hainan choose them to stay. A room in them will cost 670-4000 yuan;
apartments. It is beneficial to rent them if you are traveling in a large company. The apartments are designed for a maximum of 10 people and are rented out for RMB 200-1000 per day.
Be prepared for the fact that upon check-in you will be asked for a deposit of $ 100-200. This money will be used to pay for phone calls, minibars and other hotel services provided to the guest. Upon check-out, the balance or the entire amount will be returned to the guest. Therefore, it is better to pay this deposit in cash so that there are no problems with the return of funds.
Transport
There are two airports on the island of Hainan that receive international flights. Charters from Moscow usually arrive at the Sanya airport.
Public transport on the island is buses, trains, cable cars, rickshaws. Within the city, for example, the most popular resort of Sanya, people usually travel by bus. The public transport ticket costs 2 RMB.
You can get to another city from your resort by train (the journey will cost 50-100 yuan) or by bus (50-70 yuan). From Meilan Airport to the island's capital, Haikou City, you can take a bus (ticket - 30 yuan) or taxi (about 80 yuan). There is a bus from Phoenix Airport to Sanya (the fare is 5 yuan). A taxi will take you to Sanya for 60-100 yuan.
Tourists also like to ride taxis that are owned by private services. There are no private traders here. Taxi drivers charge only by the meter. You can see the rates on the glass of any taxi car. On average, taxi drivers ask for 40-48 yuan for the first 4 km of the journey, add a landing fee to this amount - about 10 yuan. Each subsequent kilometer is estimated much cheaper - about 2 yuan. Taxis are usually found at luxury hotels or at special parking lots.
Rickshaws are only suitable for short-distance travel. The fare may even be higher than a taxi ride. Renting a car will cost at least RMB 500 and a scooter at RMB 100. The bike is much cheaper.
Souvenirs
The best gift from Hainan Island is earrings, rings or beads made from local pearls. To protect yourself from counterfeits, which can easily get caught on street stalls or in beach shops, it is best to go to one of the local farms for the cultivation of these beautiful pearls to purchase jewelry. The cost of pearls depends on their size and color. Larger pearls are more expensive than small ones; black pearls will ask for more than cream ones. A ring with a pearl costs 650-1500 yuan, earrings - 500-1300 yuan, a string of sea pearls will cost 700-1000 yuan.
Many tourists bring coffee from Hainan, the plantations of which are located right there on the island. You can try local coffee before buying in special coffee shops. There are especially many of them in Haikou. A half-kilogram pack of coffee in a supermarket or coffee house costs about 50 yuan. There is also coffee in tourist shops, but they are asking for 55-65 yuan for it.
Local aromatic spices will be a wonderful souvenir from Hainan. White and black peppers are especially good. A pack of pepper will cost 20 yuan.
There are many shopping malls on Hainan Island selling shoes, clothing and even mink coats. Fur products start at RMB 6700.
Entertainment
On the island of Hainan, as, indeed, on the territory of the rest of China, they like to charge an entrance fee to any, even an insignificant monument, so the lion's share of the budget can be spent on paying for visiting attractions.
Set aside $ 200-300 for an excursion in Hainan, unless, of course, you are planning something grandiose, for example, a four-day excursion to Beijing with flight and accommodation. The price for such a tour varies from 900 to 1100 dollars, provided that there are at least two tourists.
What is a must-see on the island itself? All tourists who have visited Hainan are advised to see the Monkey Island Park, which is home to 2 thousand miniature macaques. You can get there by funicular. The cable car and park entrance fees will be around RMB 100.
The trip to the park, where the statue of the Big Buddha is installed, will also be interesting. Bus number 25 goes there from Sanya. They are allowed to enter the park for 150 yuan. A ticket to the Deer Turned His Head Park will cost 42 yuan.
With children, you should go to the water park, which is part of the Mangrove Tree Resort World Sanya Bay hotel complex in Sanya. The entrance ticket for an adult costs 280 RMB, for a child 200 RMB.
A trip to the coral island of Sidao will cost RMB 180 per person. This is a 2 hour group tour.
A sightseeing tour of the sights of the city of Sanya with a Russian-speaking guide costs 215 yuan.
Hainan landmarks
Nutrition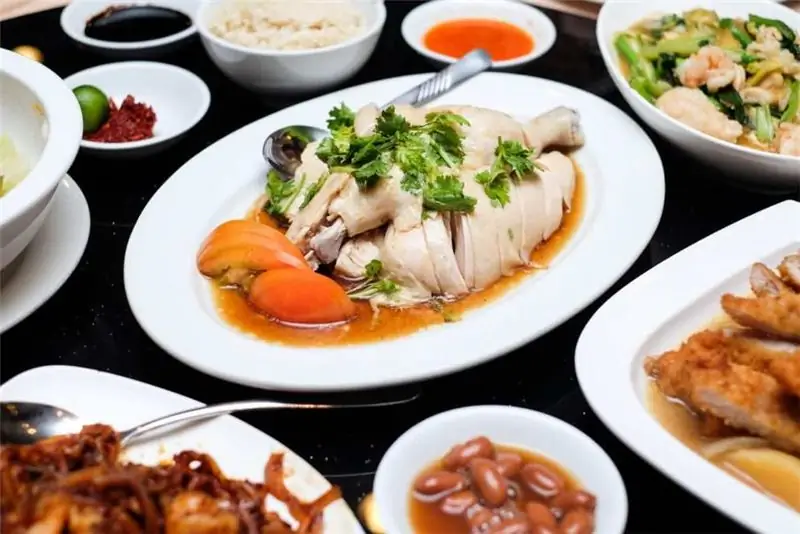 There are a lot of places to eat on Hainan Island. These include:
restaurants at hotels. All large hotels, and here they are mostly marked with five stars, have their own restaurants. For the guests of this particular hotel, the presence of decent restaurants nearby is a big plus. Want to experience Chinese food? This is the place for you! Food prices start at RMB 35. For example, a portion of dumplings will cost 40 yuan, duck with spices - 100 yuan, etc. Freshly squeezed juice in hotel restaurants will cost about 10 yuan;
middle class cafes and food service outlets in shopping centers. The price of second courses (side dish plus meat) in such establishments will cost 25-60 yuan, chicken kebabs will cost 10 yuan, a portion of tofu at 8-10 yuan, ice cream and non-alcoholic cocktails - 18-20 yuan;
fast food restaurants like McDonald's. We recommend going to the not well-known McDonald's, where, however, you can also have a delicious lunch of rice and vegetables, but visit the restaurant of the Dicos chain. The average check here is about 35 RMB (duck dish, drink). A visit to the Hainan McDonald's will cost the same;
food in the markets. The cost of delicious take-away meals at local bazaars will be three times less than in an ordinary city cafe.
Once in Hainan, you need to lean on local exotic juicy fruits, which in our latitudes are either too expensive or are delivered to us green. It is best to buy them not in supermarkets, but in the markets. 1 kg of pineapples will cost 8-10 yuan, 1 kg of mango - 10-12 yuan, 1 kg of pitahaya - 8 yuan, 1 coconut costs 10 yuan.
So, you should not expect that you will be able to relax in Hainan at the prices of Thailand or the Philippines. China is a fairly expensive country by Asian standards.
A budget tourist will spend at least 200 RMB per day or 1400 RMB per week in Hainan. This amount includes payment for a place in the hostel, the cost of street food and travel by public transport or a rented bike.
From 200 to 1000 yuan per day will be spent by a tourist who stays in an inexpensive hotel, will eat in ordinary restaurants, sometimes have a drink in a bar and take a taxi.
More than 1,000 yuan a day will be required for a traveler who chooses a fashionable hotel for accommodation, goes to a performance at a Chinese opera (1 ticket costs 150 yuan), buys goods in expensive boutiques and eats in respectable restaurants.
Photo