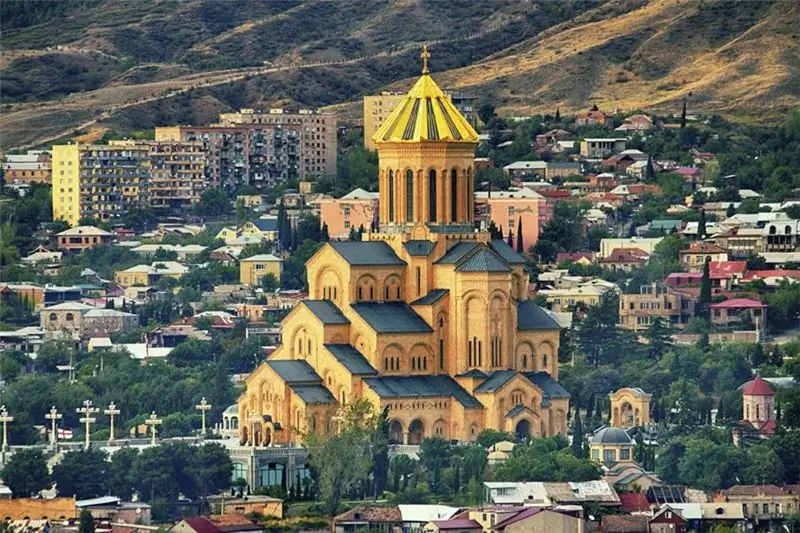 Lodging
Nutrition
Excursions
Transport
The capital of Georgia, Tbilisi, amazes tourists with an amazing combination of antiquity and modernity. Here, historical houses that remember the times when the city was called Tiflis, side by side with ultra-modern buildings made of glass and steel. It is better to come to Tbilisi in spring, when the air is filled with the aromas of flowering trees, and young greenery is set off by the snow-capped peaks of the nearby mountains.
You can fly here for a weekend to see only the most important sights, or you can fly here for a week to feel the atmosphere of Tbilisi and definitely want to come back here. After all, as the Georgians themselves say, it is impossible to fully understand this city. In any case, you need to at least roughly imagine how much money to take in Tbilisi to be enough for travel, accommodation and small joys of life in the form of delicious dinners in restaurants, wine tastings and entrance tickets to more than 20 museums. In 2019, in Tbilisi, $ 100 is exchanged for 265 Georgian laris, 100 euros - for 304 Georgian laris.
Prices in Georgia have increased significantly over the past decade. Here there appeared luxurious hotels of world chains, fashionable restaurants, fashionable shops. The Georgians realized that tourists began to visit them, so the cost of souvenir products also increased several times. Nevertheless, Georgia can still be called an inexpensive country where any budget tourist will feel comfortable.
Lodging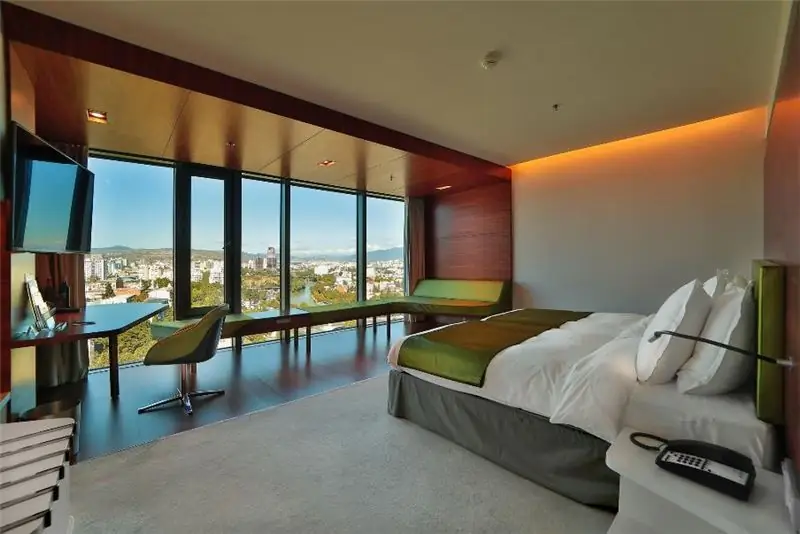 In an unfamiliar city, it is always better to settle closer to the main tourist sites. In Tbilisi, these are located in the districts of Mtatsminda and Abanotubani. A room in a four-star hotel costs from 120 to 240 GEL, accommodation in a 3-star hotel will cost 36-80 GEL. On the outskirts of the city you can find hotels offering rooms for 25-35 GEL.
There are also hostels in Tbilisi where active youth prefer to settle. A double room in a European-style hostel will cost 40 GEL, for a place in a dormitory room they ask from 9 GEL.
Renting an apartment or a guesthouse would be a great option for any traveler. There are many excellent, comfortable apartments for rent in Tbilisi right in the city center, for which they want 100-130 GEL per day. Usually apartments have all the amenities, including hot water and wi-fi. Renting an apartment is beneficial if you come to Tbilisi with your family or a group of friends. It is better to take care of finding an apartment in advance, a month or two before arriving in Tbilisi. The earlier you book a hotel or apartment, the cheaper it will cost to stay in them.
Nutrition
A tourist in any country in the world, especially one who does not stay in a hotel, but in a rented apartment with a kitchen, always makes a choice: go to a restaurant or save a little on food, cooking for himself and eating street fast food. In Tbilisi, if you refuse full meals, there will be no savings. Because you will have to pay about the same amount for the groceries in the supermarket required to prepare a particular dish as for ready meals in a restaurant. Therefore, you should not deny yourself the pleasure of trying all the famous masterpieces of Georgian cuisine.
How to find a decent restaurant in Tbilisi where delicious food is served? Locals have their own criteria for evaluating restaurants. It is necessary to choose the institution that serves not factory-made wine in traditional bottles, but the so-called "homemade" wine in jugs. Previously, the jugs were ceramic, now everyone has switched to glassware, but the quality of the divine drink has not changed from this. For a bottle of wine in a restaurant they ask from 20 GEL, homemade will cost about 10 GEL. Moreover, the tasting is generally free of charge. For a person to taste, they pour a whole glass.
In Tbilisi, you should definitely try:
kharcho (from 4 GEL). Georgians eat kharcho to put their bodies in order after a stormy evening, where chacha flowed like a river. Magnificent kharcho is served in the Mukhambazi restaurant on Leselidze. In general, in the neighborhoods closest to this street there are many interesting authentic establishments, where there is always a table for a tired traveler;
khinkali. This traditional Georgian dish is sold by the piece. 1 khinkali costs about 50-60 tatri (kopecks). In the same restaurant "Mukhambazi" khinkali are beyond praise;
pasties (2-3 GEL). A real cheburek plant still works in Tbilisi. It is located near the baths in the Abanotubani area;
khachapuri and lavash (from 2 GEL). There are shops, mini-bakeries where incredibly tasty pastries are made and sold hot, in Tbilisi you can find at every step. Every batch of baked goods is dispersed instantly. She is taken to nearby restaurants and hotels;
meat dishes. Prices for a portion of barbecue, ojakhuri with meat, chakhokhbili, kebab, abkhazuri (fried sausages) start from 7 lari. On average, you need to count on 12-15 GEL. You can try national dishes both in budget cafes "for locals" and in luxurious restaurants on Baratashvili Avenue.
Excursions
You can just walk around Tbilisi, looking into all the oncoming courtyards, turning into side streets, exploring the city from the inside, getting to know it and trying to make friends. When you get tired of walking, take the City Sightseeing tourist bus, which takes everyone to the main sights of the Georgian capital. The ticket costs 55 GEL.
The question of what to see in Tbilisi can be asked to any Georgian you come across. None of them would refuse advice and would certainly recommend:
climb to the Narikala fortress, which stands on Mount Mtatsminda. In the past, people walked to this historical monument. Now everyone is transported by a funicular (fare - 5 GEL) or a cable car (1 GEL). The fortress was built in the 6th century, withstood many invaders, but suffered during an earthquake in 1827. Now it has been restored and opened to the public. By the way, there is an observation deck and an amusement park on Mount Mtatsminda;
visit the sulfur baths. Rest in the sulfur baths, which are built right above the hot springs in the Abanotubani area, will please any tired tourist. The first baths appeared here in the 16th century. The oldest baths of the city are Iraklievsky ones. All steam rooms are located underground. At the level of the sidewalk, rounded roofs have been created, on which you can walk absolutely free. For 3 GEL for an unlimited time, they are allowed into the common "steam room", for 15-120 GEL per hour - in separate booths. The cost of staying in the VIP-bath is 150 GEL per hour. The massage will cost about 15 GEL;
go to several museums. Entrance tickets to the National Gallery and the City Museum cost 7 GEL. The rest of the museums are admitted for less.
There are many Russian-speaking guides in Tbilisi who offer a variety of excursions, including one-day trips to attractions that are located outside the Georgian capital. A four-hour walk through the Old Town of Tbilisi will cost GEL 76. For 180 GEL, tourists are ready to take tourists around Tbilisi in a private car, making stops in especially interesting places.
From Tbilisi you can go to the city of Mtskheta, where there are very revered temples and monasteries, including the famous Jvari, mentioned by Lermontov in the poem "Mtsyri". An individual excursion there will cost 334 GEL. A nine-hour trip with a guide along the Georgian Military Highway, which connects Tbilisi with Vladikavkaz, costs approximately GEL 500.
Transport
Since the 60s of the last century, a metro has been operating in Tbilisi, consisting of only two lines. Metro stations are conveniently located: an underground train can drive up to many local attractions, thereby saving on taxis. Inscriptions in the metro are found in two languages: in Georgian and, especially for tourists, in English. You can pay for travel by metro, bus, fixed-route taxi or cable car using a special Metromoney card, which costs 2 GEL. You need to put a small amount of money on it. For each trip by public transport, the ticket price will be deducted from it, and this is 50 tetri (in the metro and bus) or 30-80 tetri (in minibuses). If by the time of departure from Tbilisi you do not have time to spend all the money from your Metromoney card, then you can return it to the metro ticket office and receive your remaining funds. The cost of the card will be returned to you, that is, 2 GEL.
There is a local bus station near Didube metro station. Regular buses run from here to different parts of Georgia, for example, to Borjomi, Kutaisi, Batumi. Those who prefer to travel around the country by train should get to Square 1 station to get to the main train station. Traveling by bus or train from Tbilisi to another city is inexpensive. For example, a train trip to Batumi will cost only 23 lari, which is one and a half lunch in a Georgian restaurant with average prices. The cars are clean, comfortable, with free wireless Internet.
Buses and trains run from the airport, which is 15 km from the city center, to Tbilisi (travel costs 50 tetri). You can also hire a taxi. The fare will be about 35 GEL.
***
Set aside about 70 GEL for meals for the day of your stay in Tbilisi. This amount includes lunch and dinner, a pitcher of wine and the cost of snacks outside. For a week, you need to allocate about 500 GEL for food. One or two excursions outside the city will cost around 600-800 lari. Transportation costs will be about 4 GEL per day. For a week's vacation in Tbilisi, you should take about 1300 lari (approximately $ 500 or 425 euros). Add to this amount the cost of hotel accommodation and funds for the purchase of souvenirs. Cute little things with the symbols of the city cost from 6 GEL, a bottle of good wine - from 10 GEL, sweet from churchkhela nuts - 1.5 GEL.
Photo