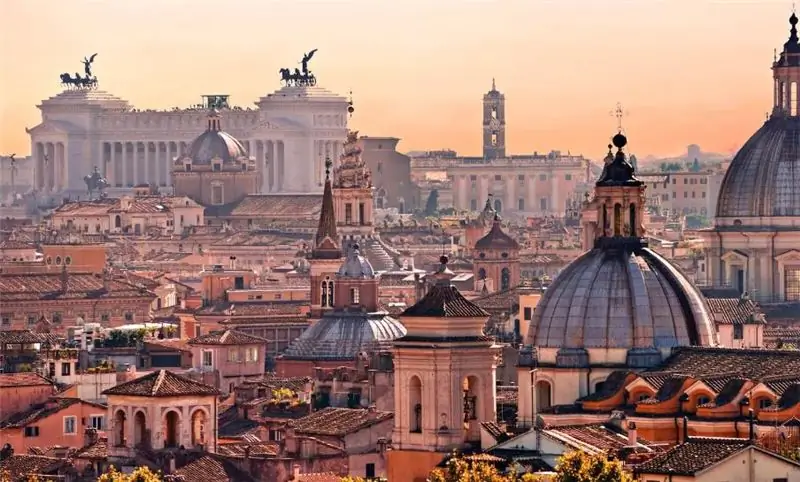 Accommodation
Transport
Museums and excursions
Nutrition
The capital of Italy The eternal city of Rome, like the universe itself, was created for endless walks. You can go wherever you look - and be sure to meet a beautiful church, a magnificent fountain or another ancient ruins, or you can arm yourself with a guidebook and discover the city purposefully, looking for picturesque masterpieces hidden in temples, photographing bridges, arcades, palaces, people on scooters, tourists eating ice cream, Italians condescendingly looking at the crowds of visitors. Are there not enough subjects for shooting? Some tourists, fearing to miss something interesting, hire guides and book the most exotic excursions in Rome - along the "tasty" points on the map, along the night streets, in the best fashionable shops, etc.
Rome is not as expensive as cities in Central and Northern Europe. Tourists who have already visited Italy answer the question of how much money to take to Rome in different ways. Most travelers walk around this city, which means they save on transport. Bottled water is bought once - for the sake of plastic containers, and then during the whole vacation it is filled with water from special drinking fountains. Also savings, especially if you imagine how hot it is in Rome from May to October. Most of the budget allocated for recreation, people spend on accommodation, meals and entrance fees to museums.
In Italy, the euro is used. It is not worth coming here with rubles or dollars: a very low, unprofitable exchange rate. It is better to buy euros at home and go to Rome already prepared for any expenses.
One day in Rome will not be enough. It is better to come here for at least a week in order to slowly get around all the sights.
Accommodation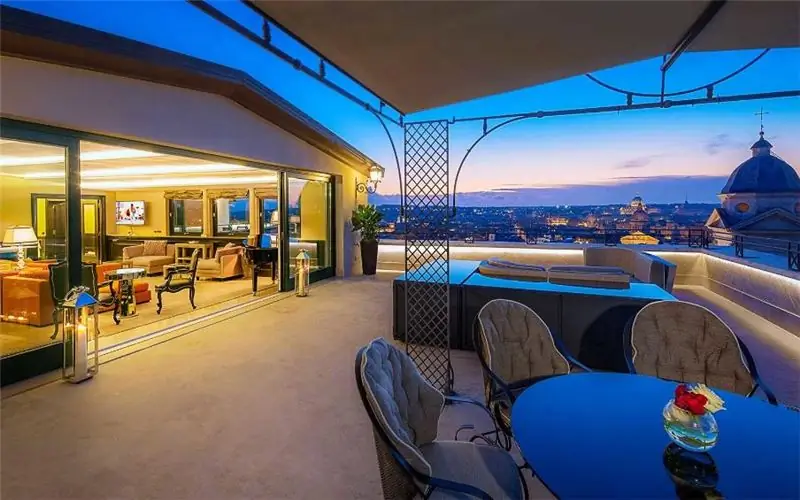 They say renting a decent hotel in the Italian capital a week or two before the trip is a real feat. The search for suitable accommodation should be done at least a month before your trip. The cost of living directly depends on the proximity of the hotel to significant historical sites and on the season. The majority of tourists, and therefore those who want to rent a hotel room, are from the end of April to the end of May, as well as from the beginning of September to the beginning of November. The low season is late winter and early autumn.
There are many hotels in Rome. In the low season in 2019, the average price for the most ordinary room, without any special frills in the form of a gorgeous view from the window, in a three-star hotel will be 80-100 euros per person. If you book your accommodation in advance, you can find interesting options for 60 euros. There are also cheaper hotels, but the living conditions in them will cause many complaints.
4 star hotels in a great area of Rome offer rooms for 120-150 euros per night. Room rates in five-star hotels start at 200 euros. During the high season, all house prices are automatically increased by 20%.
If you are planning to travel to Rome with friends or a large family, then you should consider renting an apartment with a kitchen and several bedrooms. Two- and three-room apartments for rent in the city center are much cheaper than two or three hotel rooms. For example, there are apartments with 3 bedrooms for 120 euros per day. What pitfalls can travelers expect when renting an apartment in Rome? Apartment owners often want a one-time supplement of around € 50 for cleaning. If the trip lasts more than a week, then the overpayment will not be critical, but if you come to Rome for a weekend, then this money can be spent profitably elsewhere.
Transport
In any city, it is better to settle in the city center in order to avoid unnecessary spending on public transport. In Rome, this rule also applies.
In the capital of Italy, you can move around:
Metro. The city is built on ruins. In Roman houses, during repairs in basements or laying sewers, every now and then they stumble upon the still unexplored remains of ancient houses, pavements, etc. The metro was built here by some miracle. It's small. Tourists practically do not use it, although it is possible to drive up, for example, to the Colosseum;
on buses. A very convenient form of transport in Rome. At each stop, information about the routes of passing buses is posted. Some stops are equipped with special boards indicating the time of arrival of the next transport;
on trams. They run away from the historic center. Sometimes a tram will reach the desired place faster than a bus, as it does not stand in city traffic jams. Boarding trams and buses is carried out through the door near the driver; you need to get off through other doors so as not to interfere with those who sit down;
by taxi. This type of transport is quite convenient. Taxis can be called by phone or stopped right on the street. Be prepared for the fact that it will be impossible to catch a taxi in the rain or during rush hours. The fare is made up of a fixed fare for a passenger's boarding (it is about 3, 25 euros) and the actual fee for each kilometer traveled (1, 1-1, 6 euros).
The same tickets are provided for all types of public transport. They can be purchased at kiosks selling newspapers or tobacco, or in special vending machines at metro stations. The ticket must be validated before boarding. Without this, it is considered invalid, and the passenger runs the risk of receiving a large fine for travel without a ticket. One ticket is for a journey of 100 minutes. Its price is 1.5 euros. With this ticket, you can change from the metro to the bus and back. There is also a daily pass for 7 euros, a 2-day ticket that costs 12, 5 euros, for a week (24 euros).
Museums and excursions
If you have little time to walk around Rome, but you want to see all the most interesting in the city, then you should buy a sightseeing tour with a Russian-speaking guide. An individual tour of Rome will cost 100-150 euros and more. A group excursion, when at least 10 people gather for a walk, will be more affordable: for it, they will ask for about 60 euros from each participant. Romans who speak Italian and know a few words of English can show all local attractions for 20-50 euros.
Some tour operators offer organized excursions from Rome to other Italian cities, such as Naples and Pompeii, Pisa, etc. These trips start at 110 euros.
The cost of a city tour is just a payment for the services of a guide. All entrance tickets to palaces and museums must be purchased independently and paid for separately. A tour guide can also help with buying tickets. This is especially true in the high season, when huge queues line up at the box office of the most popular tourist sites.
In Rome, must-see:
Colosseum, Forum and Palatine. This can be done with a single ticket, which costs 12 euros. If you don't want to wander around the Roman ruins for a long time, you can look at them from above - from the observation deck, where the street San Pietro in Carcere leads;
The Capitol and its museums. This hill is located next to the Roman Forum. You need to climb it up the majestic staircase by Michelangelo himself. A ticket to the Capitoline Museums will cost 12, 5 euros. Statues, mosaics, icons, paintings - in the three Capitoline museums you can spend the whole day and get fed up with art for a week in advance;
Vatican. One of the dwarf European states is located in Rome. This is the Vatican - the patrimony of the Pope. The entrance to the main temple of the Vatican - St. Peter's Cathedral - is free. A ticket for 17 euros is bought to get to the Vatican Museums and the famous Sistine Chapel.
Nutrition
In Rome, the rule is: get away from the tourist routes and find decent trattorias with low prices, where Italians themselves eat. The prices in such restaurants are set low, and the food is very satisfying and tasty. A meat dish will cost about 15-20 euros, pasta will cost about 8-12 euros. An alternative to trattorias can be Chinese restaurants, where they will serve food for about the same price. In order to save time, we recommend eating pizza on the run, which is sold by numerous pizzerias. An impressive slice of pizza costs 4 euros, a whole pizza can cost about 10.
Gelateria, small cafes selling exclusively ice cream, are ubiquitous in Rome. For a portion of ice cream, they want from 2, 5 euros and more. Experts recommend trying ice cream with ricotta or fruit ice cream - with lemon or melon flavor. Roman desserts shouldn't be discarded either. Krostata is especially good - a shortbread cake with different fillings, decorated with a dough net on top. Its cost starts from 16 euros per 1 kg.
There are also pretentious restaurants in Rome, where the average bill is a hundred euros and more, and cafes where you can order a cup of coffee at the bar. In this case, the drink will cost 1-2 euros. If you sit down at a table, then they will take 5 euros for coffee. There are several reasons for this. One of them - cafes are often small, they fit only a few tables, so for the right to occupy it, please, pay.
Sly tourists in Rome find an opportunity not only to drink, but also to have a snack. In the evening, it is fashionable to go to restaurants for an aperitif. When ordering one cocktail, the prices for which start from 7 euros, the visitor receives a plate with a snack.
***
Imagine that on one day in Rome, a person visits two museums, travels by public transport, and dines and dines in taverns or inexpensive restaurants. Then he will spend about 80 euros. Expect about this amount if you are not going to buy souvenirs and clothes. For purchases, add about € 300-400 to your budget. The cost of staying at the hotel is not included in this amount.
Photo