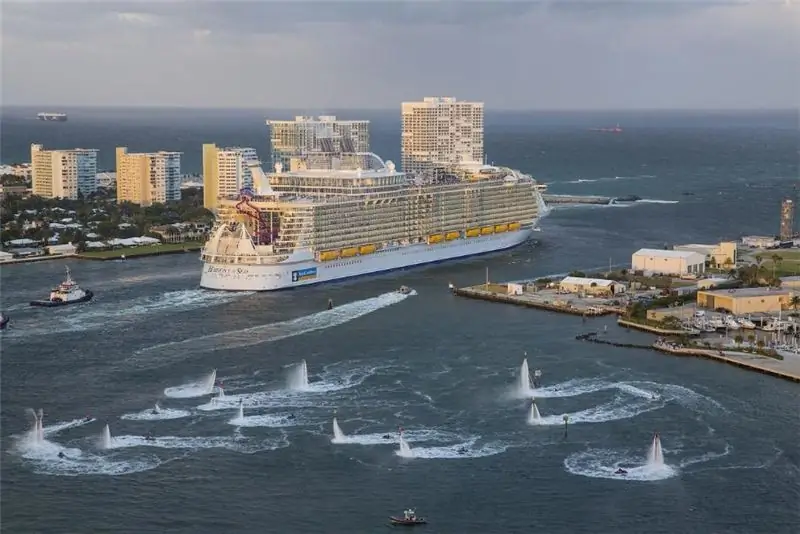 Cruise Center "Infoflot" has prepared an overview of New Year's leading cruises for the current season 2019/20. According to the company, every year more and more tourists choose cruises as an alternative to regular New Year's tours, because this allows them to visit several countries in one trip, guaranteed high service and an extensive excursion program. So, in 2018, tourists began to book New Year's cruises in February, that is, a month earlier than in 2017.
Mostly New Year's cruise products are booked by families with children, as well as couples aged 40-50 and older. The most popular in terms of duration are travel - for 7 days. "The average check per person on New Year's cruises this year is 75,000 rubles for 8 days. We also offer cruises with flights and transfers - the cost of this option starts from 83,000 rubles per person, which is comparable to the price of a regular New Year's tour with accommodation in a hotel, for example, in Southeast Asia, Europe or the United Arab Emirates (per person). The commission to agencies from the Cruise Center Infoflot is up to 15% for New Year products,"emphasizes Andrey Mikhailovsky, General Director of the Cruise Center"Infoflot".
According to the company, in the TOP-6 leaders for the New Year and Christmas holidays: cruises along the Persian Gulf, to the Caribbean Islands, along the Mediterranean Sea, along Southeast Asia, along the Baltic, as well as along European rivers - the Rhine and Danube. We will tell you more about each of these options (prices are indicated for 1 person per cruise).
Unforgettable Baltic cruises
Cruises on the 11-deck ferry Princess Anastasia from St. Petersburg continue to attract a lot of attention this year. The first six-day holiday cruise in the Baltic on the Princess Anastasia ferry will start on December 30, 2018, and the final one on January 4, 2019. That is, the entire cruise program falls on the New Year celebration. On six-day cruises, Riga is included in the visit program, although the passenger ferry does not enter Riga on regular regular flights. This is a great opportunity to see the ancient, most beautiful and largest city in the Baltics.
"The festive atmosphere is already felt at the Marine Station of St. Petersburg. Tourists when boarding the ferry are greeted by buffoons and Santa Claus. A real Russian New Year with sparklers, champagne and Olivier awaits them on board. Another big plus of such a cruise is the ability to travel around Europe without a visa, if you have a valid passport. But, of course, a tourist who has chosen this option will not be able to go on excursions and go out in ports. This is especially true for short cruises,"says Andrey Mikhailovsky, General Director of the Infoflot Cruise Center.
It is worth noting that the New Year's product on the Princess Anastasia ferry is the most budget-friendly option for a holiday cruise vacation for Russians - travel prices start at 22,241 rubles per person in a 4-bed cabin. This price includes an entertainment program on board, port dues, breakfast buffet, a visit to four countries in one cruise (6 days) - Latvia, Sweden, Finland and Estonia. All flights start in St. Petersburg, which is also convenient for tourists.
New Year and Christmas in the Mediterranean
The cost of a cruise for 8 days from Costa Cruises starts at 26,000 rubles. In a week, your travelers will visit Barcelona, Rome, Marseille, Palma de Mallorca, Savona and Palermo. The cruise price includes: port taxes, food, entertainment on board.
Visa Free Gulf Cruises
This relatively inexpensive option is offered by Costa Cruises. The cost of a trip, during which your tourists visit the UAE and Oman, lasting 6-8 days with Russian groups starts from 27,000 rubles. The cruise price includes: port taxes, food, entertainment on board.
Luxury cruises to the Caribbean
Another leader of the season is MSC's 8-15-day visa-free cruises in the Caribbean. Depending on the duration of the trip, your tourists visit from 4 to 6 regions in one trip. Including Cuba, Belize, Honduras, Mexico, Jamaica, Cayman Islands. The cost starts from 36,500 rubles. This includes: port dues, food, entertainment on board.
Exotic New Year in SEA
Royal Caribbean International invites your tourists to go on a long exotic journey. A cruise for 8 days starting from Singapore costs from 42,500 rubles. In a week, your clients will see three beautiful countries: Singapore, Malaysia and Thailand. The cost of the cruise includes: port taxes, food, entertainment on board.
Romantic travel along the Rhine and Danube
The leaders of the season are also the joint New Year's cruise product of the Cruise Center Infoflot and CRUCEMUNDO S. L. - flights on comfortable 4-deck motor ships Bellejour, Fidelio and Alemania along the Rhine and Danube.
On all flights, guaranteed Russian groups are formed with escorts from Infoflot, excursions, menus and an on-board newspaper in Russian and other additional services. It is important to note that Vienna and Dusseldorf (ports of departure) are very convenient, since these cities are connected with Russia by many direct flights.
For the convenience of tourists, there are three options for the dates of the start of the cruise. The first - for 6 and 8 days, starts on December 20 and 22, 2018, which will allow your tourists to enjoy the atmosphere of Catholic Christmas, European Christmas markets, and be in the heart of holiday sales. The second one falls directly on the New Year holidays - from December 27 to January 3. And the third - from 3 to 10 January - takes over Christmas.
On river cruises on the Rhine and Danube, prices start at 54,000 rubles (on the Bellejour 4 * motor ship) per person in a double cabin. This price includes: 3 meals a day, welcome cocktail, gala dinners, three excursions (in Rotterdam, Amsterdam and Antwerp), entertainment on board.
Depending on the duration of the voyage, tourists visit 3-4 countries during the cruise. So, for example, on a 15-day cruise, starting on December 27 from Dusseldorf (Germany), the participants of the trip will visit German cities: Koblenz, Mannheim, Boppard, Speyer, Mainz, Bonn, Cologne, as well as in Arnhem (Netherlands), French Strasbourg, Amsterdam and Rotterdam (Netherlands), Belgian Ghent, Brussels and Antwerp (Belgium).
Announcing the 2019/20 season
We add that the depth of sales for cruise products, including New Year's, is on average 1.5 years, so the sales of New Year's tours for 2019/20 at the Infoflot Cruise Center are already open. "Among other things, our new product is open for booking - a combined tour"Three Continents"with a cruise on the liner of the Greek cruise company Celestyal Cruises - Celestyal Crystal.. The first flight will take place on December 30, 2019. The tour includes Egypt, which Russian tourists have missed. Tour participants fly from Moscow to Athens, from where they arrive by liner to Alexandria. From there, guests are taken to Cairo, where an exciting excursion program is provided. Further, tourists visit the cities of Port Said (Egypt), the largest port city in Israel - Ashdod, Cyprus Limassol, Rhodes and Kusadasi. The most important thing is that within the framework of these tours we form Russian groups. Throughout the trip, including on excursions, tourists are accompanied by an employee of Infoflot, adds Andrey Mikhailovsky.
According to him, the product has several significant differences from the usual cruise format. First of all, this is the All inclusive system: direct flight from Moscow on the wings of Aeroflot, meeting at the airport, accommodation in a 4 * hotel, transfers, buffet (including local alcoholic drinks), excursion programs included in the price, and the lack of gratuities and port charges. At the same time, convenient flights are provided for all programs.
Photo