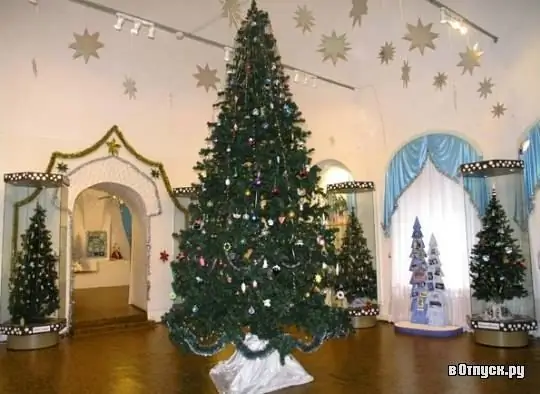 Description of the attraction
The Museum of New Year and Christmas Toys has been operating for over 10 years, since 1998. The museum displays a huge collection of domestically produced Christmas tree decorations and toys. There are few places where you can see such a large number of simultaneously decorated Christmas trees. Despite the fact that there are quite a few trees here, each of them is decorated with decorations dating back to a specific time: early 20th century, 1930s, 1940s, 1950s. Visiting the museum, one can be convinced that the historical development of the country can be traced through the Christmas tree decorations. The museum also displays New Year and Christmas cards, Snow Maidens and Santa Clauses, children's toys and porcelain figurines, as well as photographs of the past. Considering all these specimens, one can not only remember, but also learn a lot of new things.
In the Museum of New Year and Christmas Toys, you can learn about how the very first Christmas trees in Russia looked like, why you need to decorate a Christmas tree with toys every new year, what gifts children want to receive for the long-awaited holiday, for which you need at least one new toy to appear as their own you can make a unique toy with your hands.
In a separate room, exhibits are exhibited that can tell about the celebration of the New Year and Christmas in various countries of the world, because despite the fact that these holidays are especially loved and long-awaited by everyone, each nation spends New Year's fun in different ways, as well as at different times of the year. Here you can learn about the most interesting Christmas and New Year traditions of various countries, and some of the traditions of the Russian New Year will seem more understandable. You can get to know the Christmas wizard Santa Claus in more detail, as well as learn more about his place of residence. In addition, it will be very interesting to find out why Santa Claus prefers to leave his gifts not under the tree, but in shoes or in socks.
Everyone knows that New Year and Christmas are amazing holidays that bring love, happiness and fun to your home. In the museum, you can learn about many ideas on how to make the holiday more colorful and memorable. After visiting the museum, many try to arrange unusual New Year's events at home and decorate their homes as, for example, it is done in Japan. The idea of an unusual congratulation of your loved ones or friends may come, or it will be possible to present a gift for a holiday that will attract wealth and prosperity to the house, which is especially popular in China. Relatives and friends can also be pleased with an attractive Christmas calendar, which can be independently made based on the calendars of Finland and Germany, presented in the museum.
Gifts and souvenirs presented for the New Year always have a touch of magic, like a Christmas tree shimmering with lights or the long-awaited winter holidays themselves. Having visited the museum, you can fully verify this. The hall presents unique creations of wonderful and talented masters from all over Russia. Real miracles are created from wood, ceramics, birch bark, fabric and glass with skillful hands. Each creation has a piece of the soul of its creator.
In the Museum of New Year and Christmas Toys, you can find your favorite childhood toys and see many interesting things, as well as get acquainted not only with Russian, but also foreign traditions associated with meeting and celebrating the New Year and Christmas.
The collection of Christmas and New Year's toys, as well as postcards, can be safely called a real "collection of kindness", because the largest number of them were donated absolutely disinterestedly and from the bottom of their hearts by different people. The names of the donors are entered in the "Book of Donors".
Reviews
| All reviews 5 isilgan 2013-30-06 14:39:16
Photo report: Museum of New Year and Christmas Toys. Photo report: Museum of New Year and Christmas Toys. Great Ustyug.
Photo