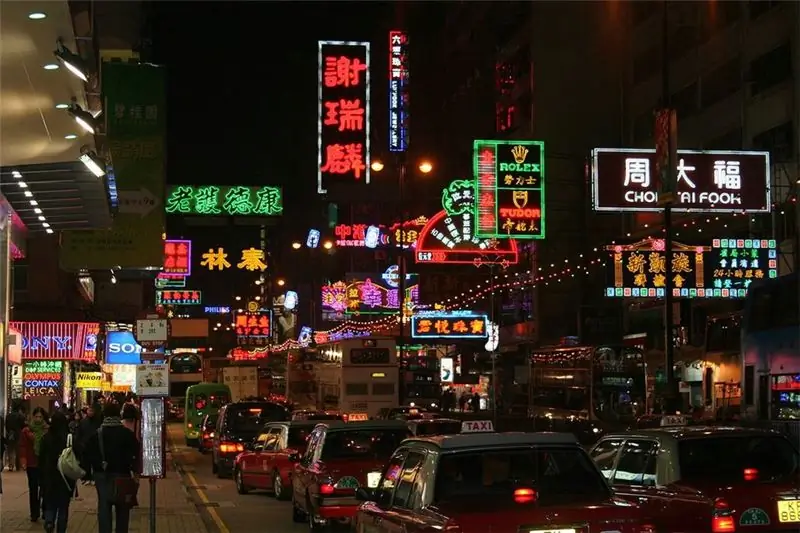 What to visit in Hong Kong in one day
Hong Kong and its temples
Museums and their treasures
On the one hand, Hong Kong is officially considered part of the territory of the People's Republic of China, on the other hand, this region has a special position. And it is always perceived as a separate independent state. What to visit in Hong Kong - this question is not often asked by tourists, because there is usually no time to sit and discuss this topic.
Actually, you can go to the Macau resort, with all the famous beach pleasures and entertainment. You can choose to visit the island of Cheung Chau to try to find the cave in which the most famous pirate of Asia kept the stolen treasures. Or stay on the very island of Hong Kong to feel at the very epicenter of events.
What to visit in Hong Kong in one day
One day to explore all the sights of Hong Kong is clearly not enough. What you can visit in Hong Kong on your own is the bronze Buddha. He is a kind of record holder - the largest in the world among the sculptural compositions of a deity depicted in a sitting position.
A trip to Otpora Bay can be interesting: firstly, this is one of the most picturesque beaches in Hong Kong, secondly, there is a lifeguard club here, the building looks like traditional Chinese buildings, and thirdly, in this beautiful bay there are several statues worthy of attention of a guest from Europe. The list of attractions and interesting places in the region can be continued endlessly, for example, the following points can be added: Hollywood Road; Upper Lascar Row (Kotov Street); Aberdeen Harbor.
The most interesting thing is that Hollywood Road has nothing to do with the famous American district of the film industry. The name of the street dates back to the 19th century, when people were just dreaming about cinema. The street got its name in honor of the English estate of the Governor-General of Hong Kong, that's such nostalgia.
Both Hollywood Road and Upper Lascar Row are equally known to all lovers of antiques, as this is where the busiest buying and selling of things with and without history takes place. By the way, the avenue of stars has appeared here, it has the same prints, only left by local film industry stars who received their analogue of the Oscars. The harbor has also become a kind of "specialty" of Hong Kong, because thousands of people live right in junks, without the opportunity to build houses on land.
Hong Kong and its temples
Religious buildings, temples, temple complexes, religious monuments can be seen in different parts of Hong Kong, they are interesting for guests in terms of architecture, history, culture, art. For example, the Man Mo temple is dedicated to two gods at once - Manu, the god of literature, and Mo, the god of war. The incense is amazing, suspended in the form of huge spirals over the heads of visitors.
Wong Tai Sin is another Hong Kong temple beloved by locals and tourists. It got its name from the name of a simple shepherd, who discovered an extraordinary gift of healing. Outwardly, this religious complex looks very solemn and magnificent, as it is built in the classical Chinese style - a fiery red pagoda, decorated with gilding.
Museums and their treasures
Hong Kong is famous not only for its religious buildings, but also for its museums. Moreover, there are very interesting museum institutions that distinguish it from other regions of the planet. For example, the Historical Museum can be compared with a pregnant woman, its collections grow every year, new ones are born from the depths of this museum. First, a science museum stood out, and then five more branches dedicated to one or another topic of history and culture.
Many people also dream of visiting the Hong Kong Museum of Art, it is quite young, but it already stores more than 15 thousand valuable exhibits, including ancient engravings, Chinese painting, calligraphy samples, and jewelry. The staff also selects masterpieces by contemporary Hong Kong and foreign artists.
Since Hong Kong is a dynamic, rapidly developing region, it is understandable why the Museum of Optical Illusions appeared here. Its employees guarantee visitors wonderful photos and a lot of positive emotions. Here photography is an important part of viewing the exposition, how else to preserve for descendants oneself standing in the palm of the Buddha, or dancing with the world famous ballerina.
This Hong Kong museum is interesting for both adults and children, you can find many other places to spend an interesting day with children. For example, go to the Ocean Park to get acquainted with the terrible and beautiful inhabitants of the deep sea, visit the reserve in which sea lions live. And in this park there is a huge number of attractions, in the form of various swing-roundabouts, towers. It will also be interesting in the Hong Kong Planetarium: a star map of the sky, an astronomical exhibition, exhibitions dedicated to the history of space exploration and a heavenly show.