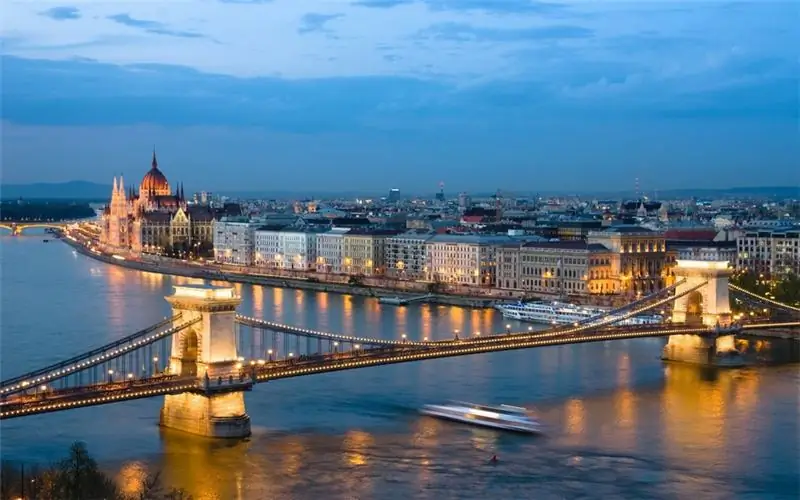 Planning to climb the observation decks in Budapest? From above, you will be able to admire Andrássy Avenue, the building of the Academy of Music, Varoshliget Park, Kodai Square, Margaret Island …
Observation deck at Liszt Ferenc Airport
You will be able to get there by going up to the 3rd floor of Terminal 2a - from the platform you can see passengers boarding, takeoff and landing of aircraft. Before entering the observation deck, you need to buy a ticket (its cost is 400 forints) from the machine (you can find instructions on how to use it on the side). It is worth noting that the platform is sometimes closed for visits, for example, while waiting for the arrival of political delegations.
Fisherman's Bastion
On the territory of the bastion, you can see the monument to Istvan I and the sculpture of St. George, and from its observation platforms, guests will be able to admire the Danube, the building of the Hungarian Parliament and the entire Pest side of Budapest. In addition, at the walls of the bastion you can buy souvenirs and listen to musicians' performances. Useful information: open for visits around the clock and daily, with the exception of the upper level (depending on the season, access is open from 09:00 to 18-19: 00); for adults, a ticket costs 700, and for children from 6 years old, students - 350 forints.
How to get there? Take bus number 16 to Donatiutca stop (address: Szentharomsagter 5; website link: www.fishermanbastion.com).
Mount Gellert
Being one of the best observation platforms (you can explore the local beauty through telescopes installed at the top of the Freedom Monument - you need to pay 50 forints for this), it invites guests to enjoy the view overlooking the Danube, Margaret Island, Buda Castle. Here, on the mountain, you can see a 40-meter monument of a woman and a citadel (construction of the 19th century), and at the foot of the mountain you can visit a bathing house. And since Mount Gellert is a large park, people flock here to have an active time.
How to get there? From Moricz Square Zsigmondkrt take bus no. 27.
Basilica of St. Stephen
The cathedral in the neo-Renaissance style (stained-glass windows with images of saints act as decoration of its windows), more than 95 m high, has an observation deck (depending on the month, it works from 10:00 to 16: 30-18: 30), from where you can contemplate the whole of Budapest … In addition, guests are advised to visit the museum and the organ concert (duration - 70 minutes, cost - 15 euros). Information on prices: adult ticket - 1600 HUF (entrance only to the dome - 1100 HUF); ticket for seniors and students - 900-1200 forints.