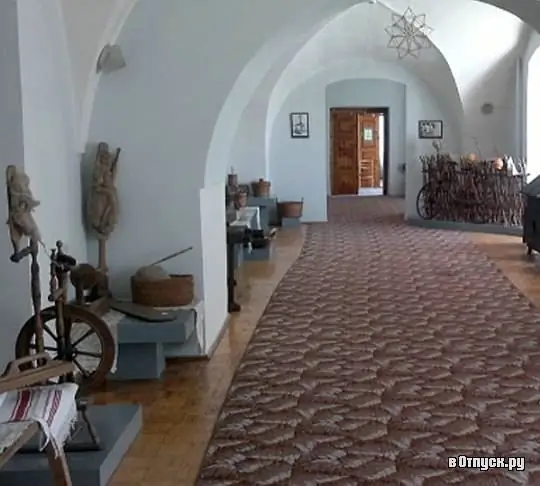 Description of the attraction
The Museum of Belarusian Polesie in Pinsk is located in a building of the 17th century, which previously housed the Jesuit collegium and the Epiphany brotherly monastery.
The museum was opened to visitors on July 1, 1926 as a regional museum of local history. At that time it was the territory of Poland. His collections contained interesting archaeological and ethnographic finds, numismatic collections of the Belarusian and Ukrainian woodlands, poets of Beresteysky voivodeship. According to reports, as of January 1, 1937, 3287 exhibits were already collected in the museum.
During the Great Patriotic War, the building of the former Jesuit collegium, where the museum was located, was badly damaged. After the end of the war, the new authorities decided to demolish the objectionable church building. The building was saved by the bureaucracy. So many organizations proliferated within the monastery walls that it was difficult and costly to evict them from there. It turned out to be much easier to restore the former monastery. Restorers from the Soviet regime taught to play the monastery clock a new melody for them: "Where are you friends, fellow soldiers …", they brought out the Jesuit chimes.
Unfortunately, it was not possible to save the unique Jesuit church and shopping arcade - an architectural monument of the 19th century from destruction. In the early 50s of the XX century, they were blown up.
In 1965, the richest art gallery in Belarus was located here. The collection included pearls from the collection of paintings by the Radziwills, paintings by Aivazovsky, Shishkin, Vasnetsov, Konchalovsky.
In 1980, the building of the former Jesuit collegium was completely transferred to the Museum of Belarusian Polesie and closed for reconstruction. The museum reopened only in 1996. Now the museum has the richest collection - more than 60 thousand museum exhibits. Among them are a collection of works by famous painters, a huge numismatic collection, ceramic tiles of the 11th-12th centuries, an ethnographic collection and an exposition of native nature.
Photo