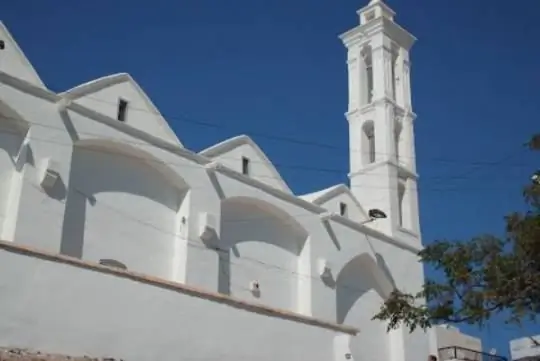 Description of the attraction
Not far from one of the oldest and largest fig trees of Kyrenia, near the city harbor, is the Orthodox Church of the Archangel Michael - a snow-white building, built in 1860. Previously, there was a tower in its place, which was part of the fortified city wall. Later, a high bell tower was added to the church, and the money for the purchase of a large bell for it was allocated by a Turkish merchant, who was friends with the then rector of the church.
After the end of the civil war in Cyprus, when some Orthodox churches were closed in the northern part, the icons that had been stored in them before were brought to the Church of the Archangel Michael. Although many of the most valuable specimens were secretly taken out of the island and sold on the black market. So, according to the most rough estimates, dozens of frescoes and more than 20 thousand icons were illegally sold to private collections. Fortunately, some of them, such as the fresco depicting the Last Judgment, were returned to the island's authorities.
But still, most of the values and art objects were preserved, and as a result, in 1990, a museum was created in the temple of the Archangel Michael with one of the richest collections of icons in all of Cyprus. Some of them were written at the beginning of the 18th century, while most date back to the 19th and 20th centuries. So, among them there is an icon of St. Luke and the famous icon of the Beheading of John the Baptist (Baptist). In addition, several rare editions of the Bible can also be seen there.
This wonderful collection will help you learn more about the history and art of Cyprus, plunge into the amazing atmosphere of bygone eras.
Photo