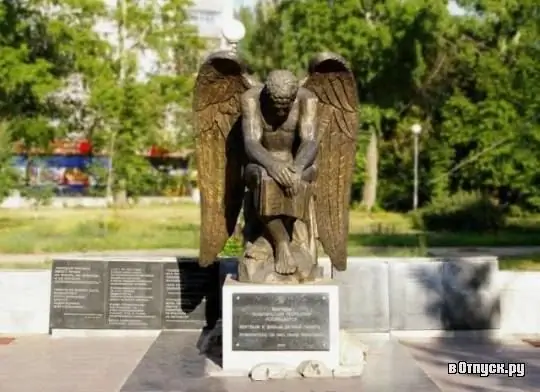 Description of the attraction
In the city park of Togliatti there is a sculpture, which is impossible to pass by indifferent. The Mourning Angel is the name of the monument to the innocent victims of political repression, erected on October 30, 2006. 2.5-meter high angel, cast in bronze, with an open memory book in his hands, makes an indelible impression. The author of the sculpture was I. S. Burmistrov, who never lived to see the opening of the memorial. The author-designer of the project, a member of the Union of Artists of Ukraine and Russia - IN Prokopenko and VA Fomin completed the work of Igor Stepanovich, presenting a wonderful monument to the city.
"Ten years without the right to correspond" is a sentence that from 1917 to 1956 meant execution for 171 residents of the Stavropol Territory, as well as for all victims of political terror, the exact number of which no one will ever know. For children and relatives of the repressed and those who died in the dungeons of the camps, who do not even have information about the place of burial, this is the only place where you can light a candle, lay flowers and honor the memory of their ancestors.
The sculpture "Mourning Angel" is surrounded by granite slabs with carved names of the victims and an excerpt from the declaration of human rights. Lanterns and benches are installed next to the monument. The paths lined with paving slabs in red and white tones in three directions from the monument form a sculptural composition.
The Grieving Angel Memorial is an immortalized memory of the millions of innocent victims of political repression.
Photo