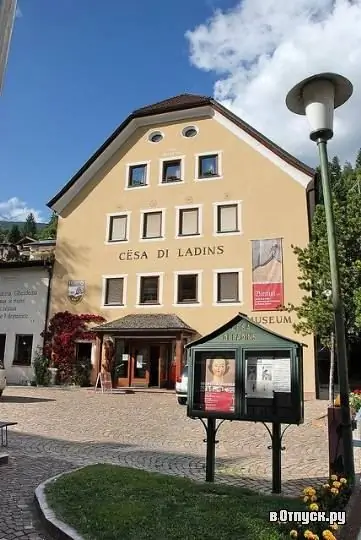 Description of the attraction
The Gerdein Museum of Local Heritage was opened in the town of Ortisei in the Val Gardena ski resort in 1960. It is located in the Cesa di Ladin building, which belongs to the Union of Ladin of Gerdeina, a cultural organization dedicated to the protection of the rare Ladin language and Ladin culture in Val Gardena (Gerdeina is the German name for Val Gardena). There is also a library in this building, where you can find books and other publications in the Ladin language.
The collections of the Museum of Gerdeina introduce visitors to the natural and cultural heritage of the Val Gardena. The exhibits on two floors are, first of all, the famous local wood carvings of the last three centuries, old wooden toys, a collection of paintings by local artists, archaeological artifacts, fossils, minerals and samples of local flora and fauna. At the entrance to the museum you can see the Crucifixion from Serazass by Baptist Walpot and Vincenzo Peristi, oil paintings by Joseph Moroder-Lusenberg and canvases by contemporary artist Franz Noflaner.
The first exhibition hall is dedicated to the original sculptures from the Church of St. James in Ortisei, the creation of which is attributed to Melchior and Cassian Winacer, representatives of the local dynasty of woodcarvers. An altarpiece depicting the Virgin Mary with the Child was brought from the same church.
The second exhibition hall is dedicated to the art of sculpting and introduces visitors to traditional Val Gardena woodcarving. Here you can see the works of the first famous dynasties of woodcarvers - the Trebingers and Winazers, sculptures of the 20th century and small figurines of the 18-20th centuries - clocks, cartoons, allegorical figures, cradles, animal figurines, etc. Special attention should be paid to 120 statuettes carved from wood - the work of Albin Pitzheider.
The third room of the Gerdeina Museum is dedicated to natural history. It is here that visitors can get acquainted with the evolution of the geological structures of the Western Dolomites, view the collection of fossils, minerals and fossils. Among the exhibits in this room are fish fossils, colonies of ancient corals, prints of various gastropods and a reconstructed ichthyosaur skeleton. In the same room, an exposition dedicated to the local flora and fauna is open - there are stuffed albino roe deer and alpine birds, a collection of butterflies and herbariums.
A separate room is dedicated to the prehistoric era of Val Gardena, and on the second floor of the museum there is an exhibition in memory of Luis Trenker, a writer, actor, director and climber born in Ortisei.
Photo