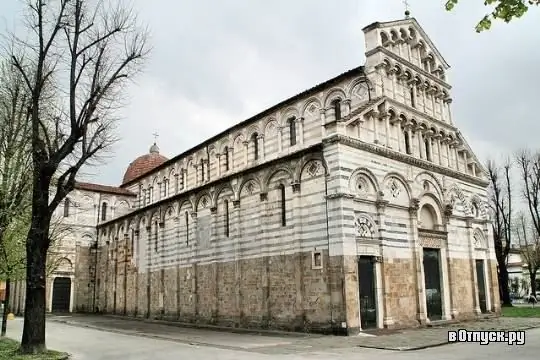 Description of the attraction
San Paolo a Ripa d'Arno is a church in Pisa, located, as the name suggests, on the banks of the Arno River. This is one of the most prominent Romanesque churches in Tuscany. Locals often call it Duomo Vecchio - Old Cathedral.
The first mentions of the founding of San Paolo date back to the first quarter of the 10th century. It is reliably known, however, that it already existed in 1032. In 1092, the church was attached to the Vallombrosian monastery, and half a century later - to the hospital. In the 11-12 centuries, the building was significantly rebuilt, giving it a resemblance to the Cathedral of Pisa, and in 1148 it was re-consecrated in the presence of Pope Eugene II. Since 1409, the church was under the control of Cardinal Landolfo di Marramauro, then, in 1552, it became the property of the Griffoni family, and finally, after 1565, it was in the hands of the knightly Order of St. Stephen. After its abolition in 1798, San Paolo a Ripa d'Arno became a parish church.
In the second half of the 19th century, significant restoration work was carried out in the building under the direction of the architect Pietro Bellini, who converted the church in the Romanesque style. During the Second World War, the temple, like most other buildings in Pisa, was seriously damaged. The restoration of the historical monument lasted from 1949 to 1952.
The façade of San Paolo, designed in the 12th century but completed only in the 14th under the direction of Giovanni Pisano, is divided into two parts by pilasters and decorated with blind arches, marble inlays and three rows of loggias at the top. Inside, the church has the shape of a Latin cross in plan with a central nave, side chapels, separated from each other by columns of granite from the island of Elba, an apse and a dome at the intersection with the transept. It houses a 13th-century Crucifixion, frescoes by Buonamico Buffalmacco and a depiction of the Madonna and Child by Turino Vanni (14th century). But perhaps the main attraction of the church is the 2nd century Roman sarcophagus, which was used as a tomb in the Middle Ages.
Behind São Paulo a Ripa d'Arno is the small chapel of Agatha, built around 1063 by the monks. It was once connected to the church with the help of auxiliary buildings, but after the Second World War, these buildings were demolished. The octagonal brick chapel is decorated with pilasters, arches, vaulted windows and an unusual pyramidal ledge. Inside there are excellent 12th century wall paintings.
Photo