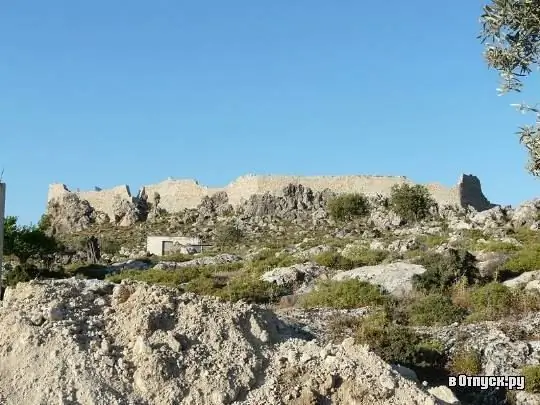 Description of the attraction
The picturesque town of Archangelos is located 30 km south of the capital of the island of Rhodes, on its eastern coast, at an altitude of 160 m above sea level, surrounded by orange and lemon plantations, olive groves and vineyards.
Numerous small settlements have existed in this region since the Hellenistic era, and most of them were located on the coastal area. In the 7th century A. D. due to the frequent raids of pirates, the inhabitants of coastal villages moved to safer places inland. Over time, they united, and the settlement of Archangelos was formed.
Since 1309, the Knights Hospitallers, also known as the Knights of Malta and the Knights of the Order of St. John, have dominated the island of Rhodes. After the fall of Constantinople in 1453, the knights decided to build a fortification on the top of one of the hills surrounding the city. Most likely, there was an older acropolis on the hill, presumably of Byzantine origin, or rather its ruins. Despite the fact that the knights owned the island since 1309, the need to strengthen the city was not given much importance for a long time. In 1467, the castle of St. John was built here, the massive walls of which were designed to protect the village from Turkish invaders. Unfortunately, until our times, only the ruins of the outer walls have remained from the once majestic structure.
The sunny island of Rhodes and its picturesque town of Archangelos annually attract a huge number of tourists from all over the world. While here, you should definitely visit the medieval ruins of the knight's castle, from the top of which you can enjoy stunning panoramic views.
Photo