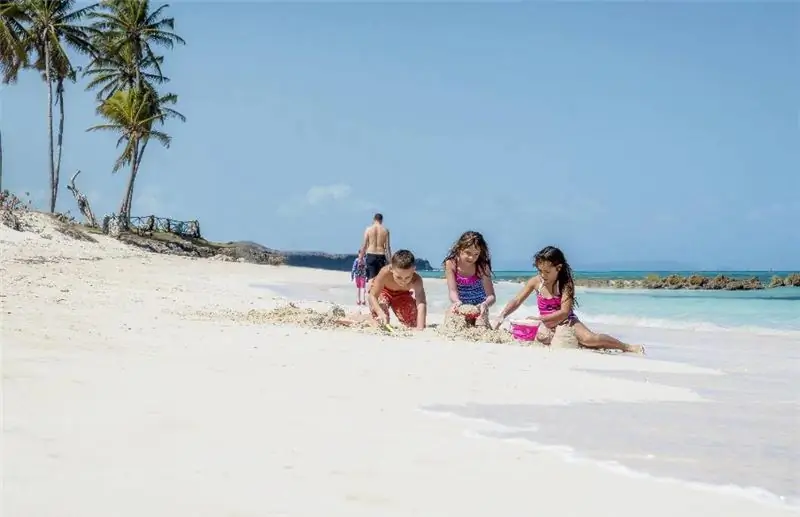 When planning a family vacation, we first of all think about whether the chosen destination is suitable for our children. Will they be comfortable and fun? How will they cope with the flight and climate change?
Holidays on Liberty Island with children will not give you any difficulties. Of course, flights can be long (about 13 hours) and grueling. But you can always find a way out of the situation! Let your child watch your favorite cartoon, draw together, after which he will probably get tired and fall asleep. And you won't even notice how much of the flight is already behind. Be sure to take your tablet on the road!
Upon arrival in Cuba, you can enjoy the mild, warm climate and sea air with the whole family.
Cuba is a favorable place for a vacation with a child for several reasons at once. Firstly, this country is full of attractions and different types of leisure activities. Secondly, almost all hotels here are designed for families. And of course, parents cannot but rejoice at the reverent attitude of Cubans towards children.
A pleasant bonus will be the fact that some hotels offer large discounts for visitors with children under 12 years old. But it also happens that the hotel administration warns in advance that children cannot be accommodated in the rooms. Others offer a discount on child sharing with parents. But there is also a little trick here: the parameters of the "children's age" in hotels can be different. In Melia hotels, children (CHILD) are considered to be from 3 to 13 years old. But up to 3 years old, a child is still considered a "baby" and can be accommodated in a room with parents for free. At Iberostar hotels, the discount is only available for children between 2 and 12 years old.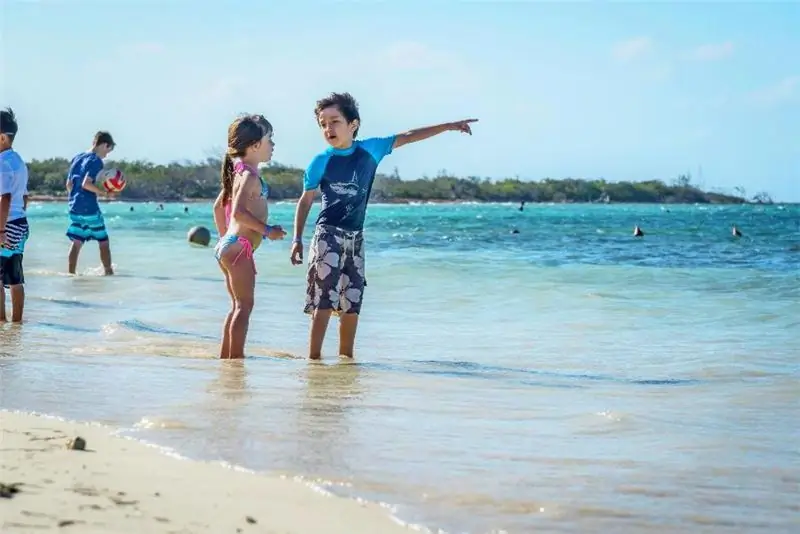 Before you start planning your trip to Cuba, it is worth choosing the season that is most favorable for tourism in advance. Usually, tourists prefer to take vouchers from November to May. The weather at this time is excellent - the air temperature is about 30 ° C, and the water warms up to 25-28 ° C
Cuba has many gorgeous Bounty beaches, but if you are traveling with children, you must choose not only beautiful but also safe places for swimming. The first on the list of recommendations, without a doubt, will be the Varadero beach. Its entire coastline is covered with fine white sand, there are no sharp cliffs in the depths of the ocean, so your children can frolic in the water. It should be noted that there are direct flights Moscow-Varadero. If you are traveling with children, the ability to reach your destination directly is an important criterion for choosing a vacation destination.
If you prefer a more active vacation and want not only to lie on the beach, but also to visit with children the "city of the rooster" Moron, the lagoon of La Redonda and find yourself in "sea beds" (a large coral barrier), the islands of the "Queen's Gardens" archipelago are suitable for you - Cayo Santa Maria, Cayo Ensenachos, Cayo Coco and Cayo Guillermo. For families with children, choose hotels that provide access to the beach with a gentle entrance to the water and a coast guard, so you will not be overly worried about their safety. A pleasant bonus to your holiday in Cuba is that most of the beaches here are equipped with new sun loungers and umbrellas that will hide you and your children from the scorching sun.
Children constantly need movement, it is almost impossible to keep them in place, and it is not necessary. Cubans, with their love of fiery music and fun dancing, will not let your child get bored. The hotels have animation for any age. For children from 4 to 12 years old, various activities are provided, which are carried out under the supervision of experienced animators: discos for toddlers, handicraft classes, drawing and outdoor games. For older children, there are classes in gymnastics, team sports, dance master classes and much more.
You, of course, care about the safety of your children, but in Cuba you will not have to worry, because it has one of the lowest crime rates in Latin America. You can safely walk with your children even in the dark along the central streets of Havana. In general, the people of Cuba are distinguished by their benevolence and hospitality, as in many other warm countries.
Choosing Cuba for families with children, you can count on excellent service, safety and picturesque nature. By planning your trip with a trusted tour operator in advance, you will not only replenish your emotional and physical strength, but also spend an unforgettable vacation with your family.