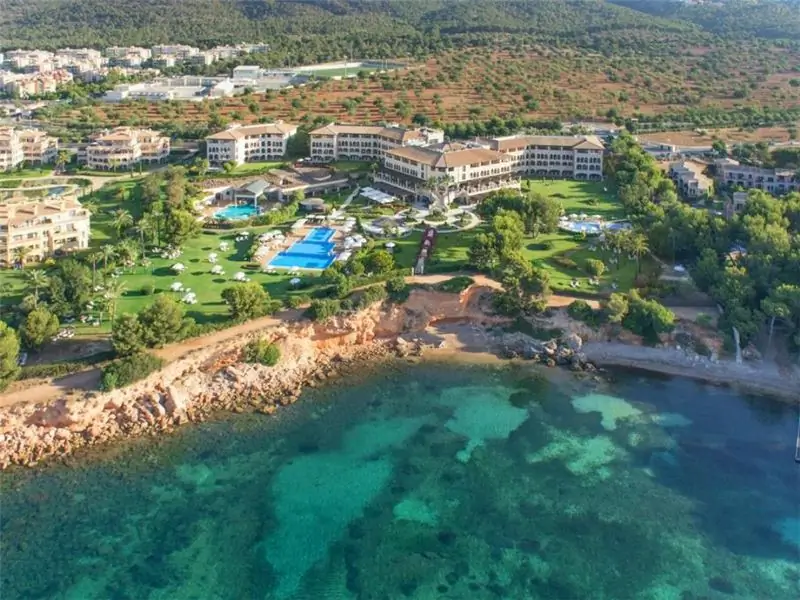 Districts of Mallorca
Metropolitan area
central District
Southern region
Northern region
Western region
Mallorca is a large island that is part of the Balearic archipelago and belongs to the territory of Spain. Throughout its long history, the island has belonged to different states, thanks to which a unique and colorful culture has developed. Tourists come to Mallorca for the warm sun, picturesque landscapes, clean beaches and a peaceful atmosphere. If you decide to go to the island, then it is worth deciding in advance where to stay, as Mallorca is popular at any time of the year.
Districts of Mallorca
Officially, it is customary to divide the island into several districts, each of which has its own flavor and characteristics. The choice of an area for living directly depends on your individual preferences, as well as financial capabilities. Locals identify seven well-maintained districts of Majorca, where you can stay at any time of the year.
The most popular among tourists are:
Metropolitan;
Central;
Southern;
Northern;
West.
Some vacationers prefer to rent a car and move from one area to another during their vacation. Such a trip brings not only a lot of new impressions, but also allows you to get to know the culture and customs of the island from different angles. In order to make your trip comfortable, you should take care of choosing a hotel or apartment in advance. This can be helped by specialized sites that detail free dates for check-in, cost, possible accommodation options and other important information.
Metropolitan area
Palma de Mallorca is the capital of the island and is home to most of the cultural heritage sites, as well as the seat of the royal family. This area is always filled with lively noise, and life is in full swing here. It is worth noting that the capital has several beaches with well-developed infrastructure. Showers, changing areas, food court areas, toilets, lifeguards, sun loungers and outdoor pools can all be found on the beaches. In addition, additional services include sports equipment rental and a trial diving or surfing lesson.
You can live in the metropolitan area both in Palma de Mallorca itself and in its surroundings. At the same time, in the capital in the summer, the thermometer rises to +34 degrees, so people who do not tolerate the heat are better off staying in hotels located in the suburbs. For example, about 10 cozy and modern hotels were built relatively recently near the Cala Major beach. In addition to the beach, there are attractions, shops of famous brands, numerous beauty salons and restaurants.
If you live in the capital itself, then be prepared for the fact that the prices for living here are higher than in other areas of the island. Most of the hotels stretch along the coastline, however, their number is constantly growing in the center of Palma de Mallorca. Choosing an accommodation option in the central part of the capital is the best option for those who like to be in the center of events. So, in autumn and spring, you can take part in colorful festivals and carnivals, which are organized by local authorities. For these events, thousands of tourists from all over the world come to Palma de Mallorca. It is worth considering the fact that during the holidays, prices for accommodation almost double.
In the area of the coastline, you can easily rent apartments, living in which you get several advantages. Firstly, you can cook whatever you want on your own, and secondly, take advantage of the free parking and organize excursions.
Hotels and apartments for accommodation: Protur Naisa Palma, The Magic Hotel by Grupo Cappuccino, Saratoga, Costa Azul, Palma Bellver, Remolars3 - Turismo de Interior, Fil Suites - Turismo de Interior, Posada Terra Santa, Es Princep, Be Live Adults Only Marivent, HM Jaime, Sant Jaume, Convent de la Missio, Sheraton Mallorca Arabella Golf, Art Palma.
central District
The suburb, located at a distance of about 30 kilometers from the capital, is considered the central region. Living in this part of Mallorca has several advantages:
the proximity of the capital;
lower housing prices;
an abundance of almond orchards, green pastures, olive fields;
the ability to quickly reach anywhere on the island.
Mostly tourists prefer to stay in the cities of Inca and Sineu. Inca is famous throughout Europe for the production of high quality leather goods. In city shops you can not only buy a variety of goods made of leather, but also stroll along the cozy streets and feel the spirit of the real Mallorca.
Sineu attracts tourists, first of all, with its amazing old churches, the former residence of the royal family, as well as an original fair. On it, tourists are invited to take part in a carnival procession, get to know the culture and traditions of the local population and appreciate the skill of artisans.
There are plenty of accommodation options in this part of the island. The most popular are hotels and apartments, the cost of which is cheaper than in the metropolitan area.
Hotels and apartments for accommodation: Es Moli, PortBlue Club Pollentia, Js Cape Colom, Bonita Sencelle, Santuari de Cura, Sol Santa Eugenia, HSM Lago Park, Mar de Portals, Sa Vinya des Convent, Finca Cas Sollerich, Finca Can Joanet, Ca Na Antonia, Finca Es Cortó, Finca Sota.
Southern region
The pride of this part of Mallorca is its endless beaches, characterized by gentle entry into the water and white sand. It is here that the longest beach of the island, Es Trenc, is located. Tourists constantly flock here who want not only to enjoy a peaceful vacation, but also to learn the basics of diving or snorkeling.
These areas of tourism are actively developing on the southern beaches of the island. To this end, almost every beach has specialized centers that provide their services. If desired, each tourist can take courses under the guidance of an experienced instructor and receive an appropriate certificate.
Another of the attractions of the southern region of Mallorca is the presence of a large water park nearby, so couples with children often settle in the south. This is the best solution for such tourists, as the southern hotels and apartments are cheaper than in other parts of the island. The water park has a well-developed infrastructure and a high level of security. On its territory there are more than 20 fascinating attractions: "Ocean Waves", "Sound of the Sea", "Pirate Bay", "Ship of Happiness" and others.
Most of the hotels and apartments are located along the coastline or in the city of Arenal. The cost varies depending on the season, hotel level and availability. The apartments are occupied by those who prefer to independently plan their trip. In each apartment, the compulsory set of services includes cleaning, the presence of household appliances, dishes and other things necessary for the rest.
Hotels and apartments for accommodation: Sol by Meliá Alcudia, Iberostar Albufera, Park Mariners, Son Galcerán, Rooms Can Moreno, Rooms Can Moreno, Ses Roquetes, Sentido Punta del Mar - Adults Only, Pinos Playa, Can Serrete, Sa Baronia.
Northern region
The pearl of these places are picturesque landscapes combined with numerous unique natural sites that constitute a separate attraction. The highest point of Mallorca is also located here: Cape Formentor. You can get to it with a guide. Climbing Formentor, you will be amazed by the most beautiful views around. Also noteworthy are caves, waterfalls and coniferous forests.
It should be noted that it is in the northern region that European "stars" of show business prefer to buy luxury villas. In this regard, the cost of living may seem high compared to other areas, but you can always find a budget option. Many locals rent out their comfortable apartments. It is considered especially popular to live in the north in small cozy houses with a farm nearby. Firstly, this is a great opportunity to get acquainted with the life of the inhabitants of Mallorca, and, secondly, to learn how to cook and taste national dishes.
Hotels and apartments for accommodation: Continental Valldemossa, Blau Punta Reina, Casa Muralla, Marblau Mallorca, Ferrer Janeiro, Finca Son Guardiola, Can Pere Bou, Hospes Maricel, Zafiro Palmanova, Almudaina, Ca'n Pep.
Western region
The western region can be divided into southern and northern parts. South is considered the most populous. Tourists with children often come here, as there are not only beaches nearby, but also interesting sights. Also in the southern part there are luxury hotels and golf courses that belong to the Bendinat club. Accommodation here is not cheap and must be booked in advance.
As for the northern part of the western region, the landscape here is strikingly different from the rest of the island. Misty mountain slopes and stunning coastal views are the main reasons why tourists choose this part of the island. In addition to hotels and apartments, you can stay in a townhouse located on the beach. This option is suitable for large companies or couples.
Hotels and apartments for accommodation: Es Princep, Vista Club, Finca Can Tomeu, Inturotel Sa Marina, Innside by Meliá Palma Bosque, Niza Apartments, Be Live Costa Palma, Riu Palace Bonanza Playa, Amic Horizonte, Honor Vell, Inturotel Cala Azul Park.