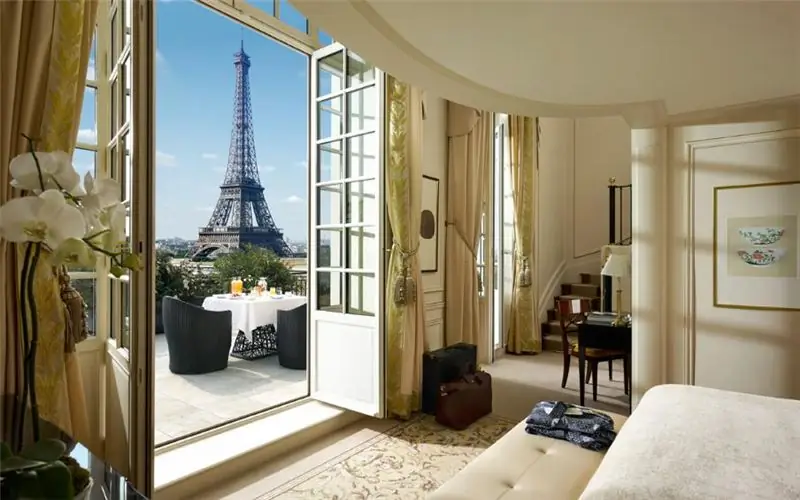 Hotels
Paris hotels by categories
Boarding houses
Hostels
Tourist geography of Paris
Paris is not only the capital of romance and fashion, but also a modern European metropolis, with hundreds of streets, alleys, in which a tourist is no wonder getting lost. The whole subsequent rest depends on where you settle, since each area has its own character, atmosphere and tourist charms. Travel expenses, living conditions and rest in general depend on where to stay in Paris.
Places where you can stay in Paris for a vacation can be divided according to two principles: by the type of institution and its level, and by location. So, the most expensive were and remain the areas of the Louvre, the Eiffel Tower, as well as the main tourist streets, shopping avenues and quarters in which famous sights are located. Living near the Palace of Versailles or Notre Dame de Paris is, of course, convenient and prestigious, but you will have to pay for the convenience, and pay a lot.
Budget-constrained and simply thrifty tourists should pay attention to the outskirts of Paris, where housing, perhaps, is not so remarkable in terms of architecture and historical value, but it is adequate in cost and convenient.
And lovers of glass and concrete, the height of skyscrapers and the quirks of modern architecture will undoubtedly prefer the La Defense district - a kind of new Paris, a quarter of business activity and newfangled buildings. If in the historical part of the city, and this is the lion's share of the territory, high-rise buildings are prohibited, in Défense everything is possible, if you are looking for where to stay in Paris of the future - this is the place for you.
In addition to geography, when choosing housing, its specifics are also important, whether it will be a luxury five-star hotel in the city center, an inconspicuous hostel or an apartment. Based on these criteria, the places of residence of tourists can be divided into several types: hotels, mini-hotels and boarding houses, hostels, private apartments.
Hotels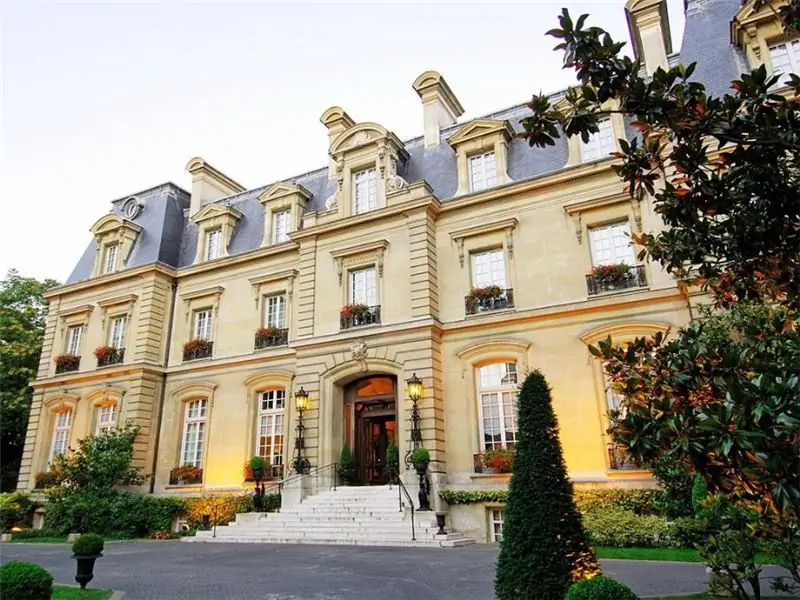 Parisian hotels are distinguished by the high quality of service, regardless of the star level. Even when choosing an establishment with two stars, you can count on a clean, tidy room, a polite and attentive attitude, and impeccable cleanliness in the premises.
Due to the specifics of the city, most of the hotels are located in historical buildings, the most expensive ones have taken away palaces and mansions of counts and dukes.
When choosing a place to stay in Paris, it should be borne in mind that many hotels have a small area of premises, and not only rooms, but also common areas - foyers, halls, lobbies. Real estate in Paris is very expensive and every square meter counts here, you have to come to terms with this. The exception is the leading 5 * hotels - here you will be offered both spacious rooms and multi-room apartments, however, the price will be merciless.
All hotels in the capital operate on a breakfast-only system, you will not find "all inclusive" here. In 4 * and 5 * establishments, full meals can be purchased for an additional fee.
Breakfast also varies depending on the level. If in 2 * you are offered coffee and croissant with confiture, in higher class establishments you can count on cereals, cereals, scrambled eggs, scrambled eggs, ham, bacon and other culinary delights. And in premium hotels you can order whatever your heart desires.
The main difference between Parisian hotels is the service and choice of services. Standard establishments 2 * and 3 * offer small, cozy rooms and breakfast, and this, as a rule, is where their possibilities end. Price tags start at 50 € per day. Hotels with 4 * offer an extended service package, which may include a pool, room service and more. The average cost of a room is 200 €.
The most comfortable and customer-oriented 5 * establishments please guests with massages, saunas, their own spa salons, gourmet restaurants, swimming pools, jacuzzis, etc. The price for a room in a thousand euros per night is not the limit.
For connoisseurs of aristocratic luxury, castle hotels are open. They are located on the outskirts of Paris and are set up in real castles from different eras. Here, like nowhere else, you can experience the historical charm of France and feel like a medieval lady, knight or princess.
Paris hotels by categories
Where to stay in Paris and what level of service to expect depends on the financial capabilities and the final goals of the visit, but ordinary tourists usually have enough 2-3 star hotels, where reasonable prices are combined with good conditions.
Hotels 5 *: Le Royal Monceau Raffles, Mandarin Oriental, Park Hayatt Paris Vendome, Shangri-La, Le Royal Monceau Raffles, Scribe, Marriott Champs Elysees, The Peninsula, Plaza Athenee, D'Aubusson, George V, Best Western Premier Opera Liege, Sofitel Paris Le Faubourg, Majestic Spa, Montalembert, Du Louvre a Hyatt Hotel.
4 * hotels: Concorde Opera, InterContinentalle Grand, Napoleon, Daniel, Raphael, Warwick Champs Elysees, Balzac, Lutetia, W Paris Opera, Keppler, La Placide St. Germain des Pres, Francois Ier, Le A.
Hotels 3 *: Crayon Rouge by Elegancia, Academie Saint Germain, Residence Foch, Ekta Champs Elysees, Villa des Ambassadeurs, Mistral, Holiday Villa Lafayette, Vic Eiffel, Le Relais Saint Honore, Citadines Louvre, Helussi. The leaders of the three-star segment are the establishments of the Novotel, Mercure and Best Western chains.
Hotels 2 *: Alexandrine Opera, Le Relais des Halles, Darcet, Agora, Oceanic - Grands Magasins, Eiffel Turenne Bellevue Saint-Lazare, Verlaine, District Republique, as well as all Ibis hotels that guarantee high quality.
Castle hotels: Chateau d'Esclimont, Cazaudehore Et La Forestiere, Abbaye des Vaux de Cernay, Chateau d'Ermenonville, Chateau De Brecourt, Domaine De Belesbat.
Boarding houses
Pensions are more modest establishments with fewer rooms and a cozy atmosphere. Often they are located right in a residential building or a private cottage. Of the places to stay in Paris, they are more affordable and of equal quality. Most are located on the outskirts, since the center was occupied by hotel giants.
Tour operators do not work with such establishments, so getting here by buying a ready-made tour or booking a room via the Internet will not work. You can rent a room already having arrived at the place and armed with tourist brochures and advertisements.
Hostels
These establishments need no introduction, they are in optimal demand among tourists, offering the lowest prices - 20-30 € per night, which is very cheap in local realities.
Top hostels: Le Village, Generator Paris, Beautiful City, St Christopher's Inn Paris, Le Montclair Montmartre, Arty Paris Hostel & Budget, Woodstock Montmartre, Young & Happy, Du Globe.
Parisian hostels differ in that each institution has its own rules and characteristics. Somewhere in addition to beds and amenities, food is provided, somewhere there are age or gender restrictions, some hostels have a curfew, and others have their own bar where residents can have fun. Some establishments set a limit on the maximum time spent in them. But considering how many such establishments there are in the city, this is not a problem, and standard tours to Paris rarely exceed one or two weeks.
Tourist geography of Paris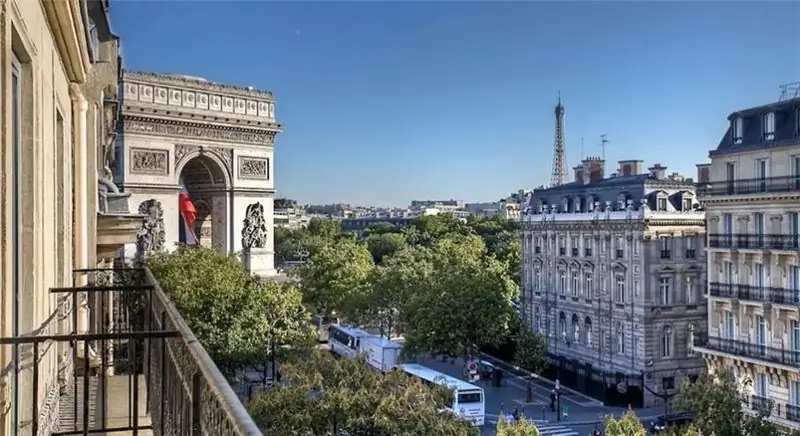 The famous river Seine flows through the city and divides Paris in half. Most of the sights, and with them the hotels, are located on the right bank. Hence the high prices, round-the-clock excitement and excitement. It makes sense to settle here if you come for an excursion, active vacation and want to constantly be in the center of events.
The left bank has a quieter atmosphere and restraint, but it is here that you can feel like a native Parisian.
The most prestigious districts are the 1st, 4th and 7th arrondissements. Located in the heart of the old town and full of legendary landmarks. Notre Dame Cathedral, Eiffel Tower, Palais Royal, Tuileries, Louvre are located right here. Nearby is the 8th arrondissement with the Champs Elysees.
Districts No. 2, 3, 5 and 6 are adjacent to the center, but here it is a little cheaper, besides, there are no less cultural monuments. You can see the Pantheon, the Luxembourg Palace and walk around the Latin Quarter. But it is better not to count on affordable prices in these areas.
The 15th and 16th arrondissements are the best places to stay in Paris. They are adjacent to the central 7th district, but they themselves do not belong to the historical center, due to which the prices in hotels are close to adequate, and the center can be reached in 15-20 minutes.
The 11th arrondissement is known for being close to the center, active nightlife and an abundance of hot spots. From the memorable places can be noted the Bastille square. The area has a well-developed transport network, making it easy to get to the historic quarters. The prices are quite reasonable.
Inexpensive quiet rest and accommodation, plus excellent conditions for shopping - all this is the 9th arrondissement, albeit devoid of famous tourist sites, but rich in inexpensive hotels, a calm atmosphere and space for measured walks.
If you are looking for where to stay in Paris without overpaying for prestige and enjoy all the delights of local life, you should take a closer look at districts 12, 13 and 14. There are no outstanding objects on their territory, but a huge number of inexpensive hotels and hostels are open, plus there are many cafes and bars with affordable prices, and you can always go to the center by bus or other transport.
Cheap accommodation in the periphery - 17th arrondissement. It is quite far from the center; even by transport, the road will take a lot of time. But it is these quarters that offer cheap housing without risking your well-being - the atmosphere is quite quiet, and there is no increased criminal activity either.
The rest of the districts of Paris cannot be called tourist, since they are unattractive for guests by the lack of interesting places, these are typical sleeping areas that you will find in any city in the world.
Photo