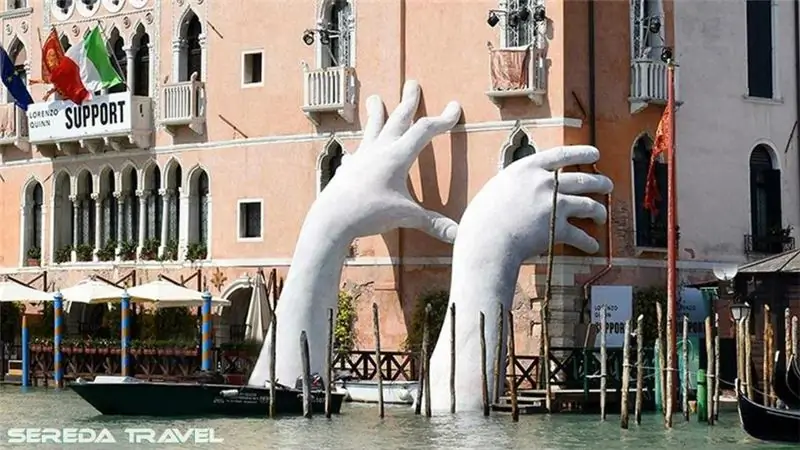 San Marco
San Polo
Santa Croce
Dorsoduro
Cannaregio
Castello
Seeing Venice is the dream of millions, and probably everyone who has ever heard of the magical city on the water would like to live here. A trip to the most beautiful Italian city gives you the opportunity to visit luxurious palaces and villas, feel nostalgia for bygone eras, cross the city on a gondola and drink aromatic coffee under the measured lapping of waves. Almost every second iconic building in the city of the Doge is now adapted for a fashionable hotel, so where to stay in Venice will definitely not be a problem if you are not short of money.
Thrifty tourists will have a harder time - finding inexpensive housing in the city is not so easy, but it is a feasible task, if you do not apply for elite apartments in the former chambers of the rulers or their nobles.
Venice and its geography
Classic Venice is located on islands cut off from each other by water canals; you can move along them by river trams or gondolas, or on foot across hundreds of bridges. This is the historical center of the city, the same one described by the masters of literature and painting.
Mestre is the mainland of Venice, more modern and comfortable, but far from architectural beauty and bohemian luxury. Accommodation in Mestre is significantly cheaper and ideal for budget accommodation. Here you can find a hotel of any level, up to hostels, whose hospitality will cost a symbolic price. But it will take a long and tiring journey to get to the historic quarters - 20 minutes by bus each way - the prospect is not the most joyful.
The historical part of the city on the water is much more attractive, both by the abundance of attractions and by the general surroundings. Its palaces have inspired artists and poets, monumental cathedrals exude grandeur and splendor, and bridges have heard millions of the most fervent confessions and oaths. Where else can you find such a concentration of romance and spirit of history? But for such a neighborhood you will have to spend a lot, because housing in island Venice is expensive. And on where to stay in Venice, the conditions of rest depend, and how much your wallet will lose weight.
The insular territory of Venice is divided into six main districts or, in the local dialect, sestiere:
San Marco.
San Polo.
Santa Croce.
Dorsoduro.
Cannaregio.
Castello.
It is within these estates that the famous riches of the city are located, embodied in carved stone laces, arched loggias and lush facades of buildings. It can take a whole day to get to know each area, and even more if you go to local museums and galleries. So a week in Venice may not be enough.
San Marco
The very heart of historic Venice, one of the most lush, pompous, colorful and expensive areas. It starts from the eponymous square, where the grandiose cathedral is located in honor of the patron saint of the city - St. Mark. This also includes the miniature islet of San Giorgio Maggiore, which stands apart from the rest of Venice.
San Marco is home to the largest number of attractions and the most famous sites in the tourist environment. Doge's Palace, Column of St. Mark, Palazzo Contarini, Fortuny Museum, La Fenice Theater, Palazzo Grassi, Palazzo Dandolo, plus many churches, basilicas and simply beautiful places.
The area is optimal for sightseeing holidays, there are many restaurants, cafes and pizzerias, where you can always have a bite to eat in between intellectual impulses.
Prices in mid-range hotels start at 200 €. For a more sophisticated setting, you will have to pay 400-500 € and more. You can also find small, unassuming hotel rooms with rooms for 90-100 €, but during the tourist season, prices increase several times.
When choosing a hotel where you can stay in Venice, it is better to give preference to an institution remote from Piazza San Marco, since there is almost always noise and excitement here, and prices bite especially painfully.
Hotels: Torre dell'Orologio Suites, Corte Di Gabriela, San Marco Palace Suites, Hotel Orion, Hotel ai do Mori, Cavalletto & Doge Orseolo, Hotel Concordia, Hotel Royal San Marco, Albergo San Marco, Torre dell'Orologio Suites, Hotel Dona Palace, Antico Panada, Locanda Orseolo, Hotel Colombina, Baglioni Hotel Luna, Hotel Montecarlo.
San Polo
San Marco is adjacent to the San Polo district - another place where the glorious history of Venice and its cultural heritage began.
Many sites, like the Church of San Giacomo de Rialto, are not much younger than the city itself. The first inhabitants of the future Venetian kingdom settled here, today the folk life is in full swing here, consisting of markets, gatherings in cafes, walks along the Grand Canal, which very conveniently crosses a considerable part of San Polo, carnivals and street festivities.
That there is only the Rialto Bridge, which sheltered merchants of souvenirs under its carved arches. Continuing the trading theme, the eponymous market is located nearby, offering goods for any request and wallet. With all the diversity and variegation, San Polo is a small area and everything is close to home here, so living in it is convenient and comfortable.
The range of prices is large, you can stay in a room for 200-300 € or find a room within 100 €, albeit with more modest conditions. In general, there are a lot of places to stay in Venice in the Sister San Polo, since the area is lively, with dense buildings. Along with standard hotels, there are many private pensions and apartments.
Hotels: Hotel L'Orologio, Residenza Laguna, Hotel Palazzo Barbarigo Sul Canal Grande, Ca 'San Polo, Locanda Sant'Agostin, Palazzetto Madonna, Sogno di Giulietta e Romeo, Hotel Marconi, Residenza Corte Molin, Polo's Treasures, Affittacamere Alla Botta, Ca 'Angeli, Pensione Guerrato, Residenza Al Pozzo, Apartment Paradiso, Locanda Armizo, Cà Dorin San Polo Apartments, City Apartments Rialto Market, Rialto Bridge Luxury apartment.
Santa Croce
Along with San Polo, the district was the first to appear on the map of the future city and made its foundation. Here is the building of the former Turkish courtyard of Fondaco dei Turchi, the sensual Ca Pesaro, the Church of San Simeone Piccolo, the "bridge of barefoot" Scalzi. There is also the Roman Square, where, among other pleasures, you can ride a car if you suddenly miss the roar of the engine and the aroma of exhaust gases.
The area, despite its impressive wealth, is quite quiet and excellent for living. At night, it revives and delights guests with the aromas of restaurant masterpieces, musical routines and an atmosphere of general relaxation. The waters of the Grand Canal have reached here, too, so you can ride a gondola or take a sightseeing cruise around the quarters of Venice in the sestier.
Hotel prices start from 80 € per day.
Where to stay in Venice in Santa Croce: Hotel Santa Chiara & Residenza Parisi, Al Duca di Venezia Apartments, Palazzo Odoni, Hotel Arlecchino, Rialto Deluxe Apartments, Al Duca di Venezia Apartments.
Dorsoduro
Nice southern area, which can be reached from San Marco via the Accademia walkway. The Grand Canal is replaced here by the water network of the Giudecca Canal, and the revitalization and gloss of the center is the serene nobility of the architecture of the past.
The central place is the Academy Gallery, which contains the best works of the masters of painting. Canvases by Tintoretto and Bellini coexist with paintings by Carpaccio, Titian and other geniuses. There is also the Guggenheim gallery and other exhibitions. Ca Rezonico, Palazzo Cini, Ca Foscari constitute the architectural framework of the quarters.
Dorsoduro is more of a dormitory area, so there is a calm atmosphere, which is completely replaced by peace and quiet at night. To have a rest after an active tourist day - the very thing, especially since the prices in the sestier are more moderate.
Hotels: Charming House, Guesthouse Ca'del Gallo, Hotel Antico Capon, Ca 'Turelli, La Residenza 818, Madame V Apartments, AI Pugni, Corte Dei Servi, The WaterView, Apartment Crosera, La Galea, SHG Hotel Salute Palace, Casa Renata, Oriente.
Cannaregio
An area where parties, parties, and other entertainment take place. The most populous of Venice's districts, Cannaregio invites you to experience the bustling, holiday-like city life.
The area is adorned with the churches of Madonna del Orto and Sant Alvise, Palazzo Matelli, Palazzo Labia and the crown of palace architecture - the Golden House of Ka'd'Oro. The Jewish ghetto is also located in Cannaregio, where the first skyscrapers appeared.
The area is inhabited by dozens of nightclubs, pubs, trattorias and restaurants, and after sunset, life does not end here, flowing into a different quality. It is quite logical that there are an incredible number of places to stay in Venice, from hospitable and democratic to luxurious and respectable.
Hotels: Venice Halldis Apartments, Hotel Abbazia, Hotel Belle Epoque, Eurostars Residenza Cannaregio, Hotel Florida, Hotel Universo & Nord, La Locanda Di Orsaria, Hotel Principe, Hotel Continental, Antico Panada, Palazzo Cendon Piano Antico, Carnival Palace Hotel, Times Venice Hotel, Foscari Palace, Hotel Arlecchino, Hotel Adua.
Castello
The area is adjacent to the Sister San Marco on its eastern border and is the most diverse, contrasting and diverse. There are many buildings of various eras, diluted with picturesque squares and charming walking streets. The area benefits from an abundance of verdant gardens and flower beds, while churches and palace silhouettes give it an unmistakable antiquity character.
You can find out that you are in Castello by the high hulk of the Arsenal, which dominates the area. You can also see the Cathedral of San Giovanni e Paolo, Scuola Grande San Marco and the Church of Santa Maria Formoso.
Castello is the best place for walking around Venice, with the main "glossy" boulevard Via Garibaldi and the picturesque Riva degli Schiavoni avenue. The quarter is quite democratic, it is possible to find hotels for 80-100 €.
Hotels in Castello where you can stay in Venice: Locanda Cavanella, Casa Santa Maria Formosa, Hotel Gabrielli Sandwirth, Hotel Santa Marina, Casa Nicolò Priuli, Hotel Nuovo Teson, Hotel Campiello, Ruzzini Palace Hotel, Al Bailo Di Venezia, Apartment Vittoria House Venezia, Antica Riva B&B.