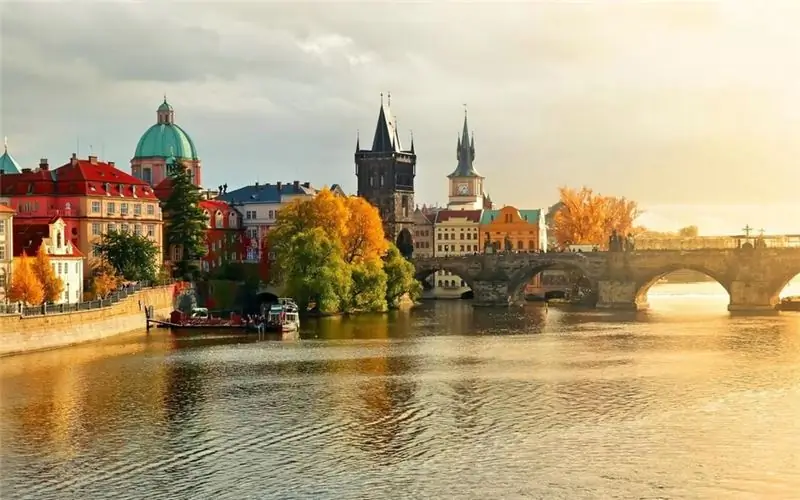 Accommodation types in Prague
Central districts of Prague
Periphery of the city
The most relevant topic for thought when planning a trip to the Czech Republic is where it is better to stay in Prague. The vacation budget and the comfort of the entire voyage as a whole depend on this. Fortunately, the loving and invariably hospitable Czech capital is always ready to offer thousands of options for every taste and bank account size.
Accommodation types in Prague
First of all, you should decide where you plan to spend your upcoming vacation. In Prague, the tourism sector is represented by the following establishments:
Hostels are the most affordable option, but you can forget about home comfort, luxury and even more privacy.
Hotels are a classic type of accommodation, the level of comfort and service depend on many factors, including the number of stars and prices. But even the most modest hotels in Prague offer decent quality rooms and services.
Pensions are homely inns, usually with lower prices and less formal furnishings. The conditions depend on the specific institution, but in general they are comparable to the hotel, the infrastructure is also present. An excellent option for a family stay or a quiet measured vacation in any company.
Private sector - apartments, mansions, villas and other objects that can be rented. You can rent a small apartment on the outskirts, or you can stay in a luxurious apartment located in an old palace in the historic center. In this case, the question of where to stay in Prague is limited only by your financial capabilities and household requirements.
When choosing an institution, guests of the capital are usually guided by many nuances and the star level is not the main one, since even unassuming 1-2 star hotels are able to provide high-quality unobtrusive service and acceptable conditions for a carefree vacation.
The availability of food is also not a reason to dwell on a specific option, since you simply will not have time to return to the hotel every time for lunch or dinner. It is much easier to do this in the city without interrupting the fascinating acquaintance with the treasures of old Prague.
But if everything is clear with institutions that are ready to become a second home for a while, it is worth dwelling on the geographic side of the issue in more detail.
Central districts of Prague
Geographically, Prague is divided into several administrative districts, interconnected by a dense network of transport links, so getting from one part of the city to another is not a problem. Nevertheless, tourists who are hungry for spectacles and suffering from an eternal lack of time usually do not want to waste time on the road. It is more logical to look for a place to live, based on your plans, in order to be closer to the main objects of desire.
Why it is worth staying in the central districts of the city:
proximity to attractions;
always lively, cheerful life;
a variety of bars, restaurants and entertainment;
saving money on transport;
saving time;
the ability to stay in the center of events around the clock;
the largest selection of hotels and apartments;
the opportunity to live in historic mansions, villas and palaces.
Prague-1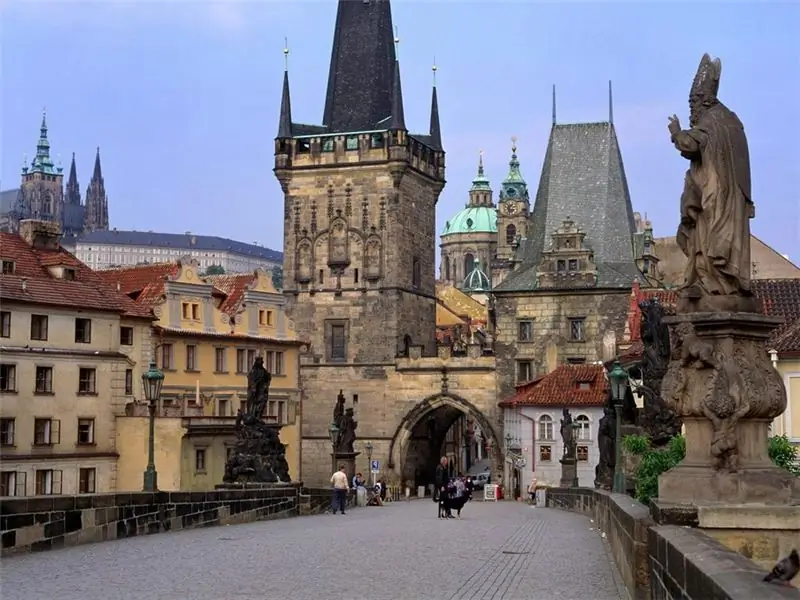 Prague-1
The most tourist area and at the same time the heart of the city, its historical and administrative center is the Prague-1 district. Here are the key sights of the capital and the most significant cultural sites, as well as government agencies. Staying here, you do not have to travel around the city in search of impressions, even an ordinary exit to the store here is, in fact, a full-fledged excursion, because you will be walking among the medieval town halls, Gothic cathedrals and magnificent palaces.
The district includes Hradcany, Stare and Nove Mesto, Mala Strana and other outstanding quarters, so if we consider the problem of where to live in Prague for a tourist from this side, the answer is unequivocal.
The most expensive and luxurious hotels are located in Prague-1, and although the officially declared cost of living is from 50 €, in reality you will hardly find such prices, much closer to the reality of the price of 100 € per night per person and above. To find a room for 60-70 € per day, you will have to try pretty hard, or book accommodation several months in advance.
Compensation for the high prices is the proximity to the architectural and historical treasures of the city - Tyn Church, Old Town Square, Town Hall with Clock, Strahov Monastery, Prague Castle - these and dozens of other priceless objects will become your neighbors.
Prague-2
Prague-2
Another elite fashionable area, but, in comparison with Prague-1, it is quieter and more peaceful. From the architectural heritage, you will have at your fingertips the famous Vysehrad Citadel, the Dancing House, several ancient squares and many buildings of the 18th century. Once upon a time, the local nobility settled here, from which the district inherited many luxurious houses. Many of them are now converted into luxury hotels and offer accommodation in rooms comparable to the royal chambers.
Accommodation prices start at 40 € per day, which applies to both hotels and apartment rentals. It is reasonable to live here for reasons of economy - the historical center is very close, while the prices for living space are noticeably lower. There are also transport interchanges and stops, so that at any time you can quickly get to anywhere in the city.
The main disadvantage is the increased attention of tourists and, as a result, the lack of housing, in order to guarantee a room, it makes sense to make a reservation 5-6 months before the trip.
Prague-3
The eastern part of Prague 1 borders on the Prague 3 district, designated by the Zizkov, Strasnice, Vinohrady and Vysočany districts. The main advantage of the area is affordable prices with maximum proximity to the center: you can rent a house here for 40-50 € per day, and if you try, then for 35 €. If you want to combine an intense sightseeing vacation with economy, then there is no better option where to stay in Prague.
The area is very picturesque due to the many parks and squares, a great option for families with children, and for romantic vacations, especially in the spring and summer.
Prague-4
Despite its location practically in the center of the city, Prague-4 cannot be called a completely historical area, since a large part of it is built up with modern residential buildings. The area attracts tourists with relatively low prices for accommodation (from 35-40 €) and picturesque streets along which it will not be boring to walk on a fine Czech evening.
From the historical heritage, worthy of attention are the Vysehrad fortress, whose complex partly belongs to the district, Nuselsky Most - a notorious refuge for suicides, several old mansions. And if you dreamed of staying in Prague in an ancient castle, then you are always welcome, there is a real neo-Gothic castle in the area, turned into a hotel with the light hand of the owners.
It is easy to reach the historical center from Prague-4 on foot in a matter of minutes, and the transport branch makes this distance even symbolic.
Prague 5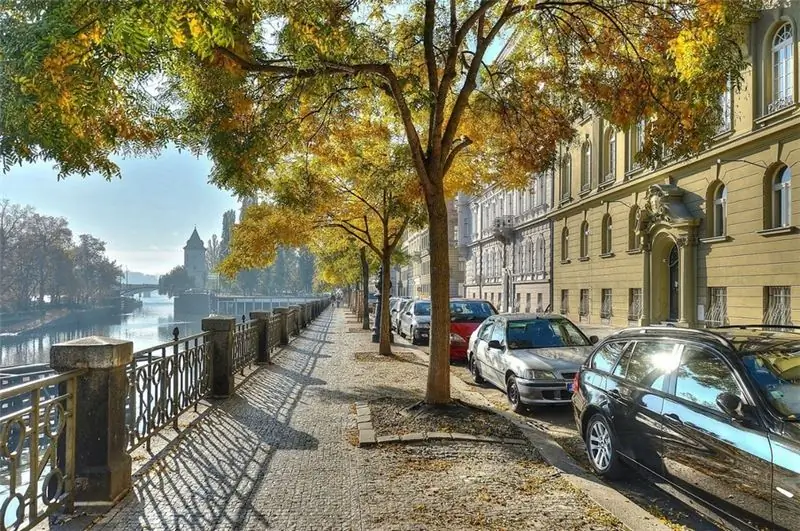 Prague 5
Nice area where you can find relatively inexpensive housing and excellent infrastructure. From a tourist point of view, the area is interesting for the Staropramen brewery and the Church of St. Wenceslas, the Mozart Museum, the Kinski Summer Palace, there are several lesser-known attractions, many cafes and promenades. The area is located on the left bank of the Vltava, from where you can admire the historic center while walking slowly along the embankment.
Hotel rates start at 40 € per night, rental housing will cost a little less - from 30 € per day. The private sector offers apartments both in old houses and in new buildings, so guests of the capital have plenty to choose from.
Prague-6
Sprawling freely on the left bank of the Vltava, the area is considered another haven of luxury and prestige, since it is its quiet streets that embassies of many countries, as well as universities, exhibitions and other important institutions have chosen as a haven. Finally, the area literally consists of old mansions, so that even ordinary residential buildings here are easily confused with the palaces of the aristocracy. Due to this, as well as due to the proximity to Prague-1, housing prices here are not cheap and start from 50 € per night, if you look carefully, you can find private apartments for 40 €, and if you are looking for where to live in Prague for a long time and without devastating budgetary implications, hostels can be used.
The Old Town can be easily reached in 15-20 minutes, or check the comfort and convenience of the capital's transport, which actively runs between the main quarters of Prague.
Prague 7
Prague-7 seems to be specially created for tourists with children. There is a botanical garden, a zoo, singing fountains, an aquarium, museums and galleries, a picturesque promenade, parks and charming cafes, nightclubs and discos for young people … In a word, everything to feel like a local and enter the measured pace of Czech life.
And democratic prices for accommodation, which start from 35 €, both in hotels and when renting apartments, will help in this. The price range is very diverse and can reach 100 € per night for a hotel located in an exquisite mansion built a couple of centuries ago.
As an area with a rich history, Prague-7 simply cannot but possess architectural wonders, the main one of which is the Troja Castle with an adjoining park.
Prague-8 and Prague-9
These are undoubtedly the areas of Prague where it is better to live if you are staying for a long time. This part of the city is maximally adapted for housing - parking is equipped, there are many inexpensive cafes and restaurants, there are shopping and entertainment centers, swimming pools, fitness clubs, parks, playgrounds, shops, cinemas and much more.
These are amazing areas, where historical buildings peacefully coexist with modern structures of glass and concrete, a place of contrasts and fascinating discoveries.
There are not so many hotels in the districts, but there are plenty of offers from private owners, you can rent accommodation for every taste and potential, from modern studio apartments to luxurious apartments, in new buildings and in villas sophisticated by centuries of experience. And due to the distance from the center (which is easily fixable with the help of buses and metro), the prices for accommodation here are more than attractive.
Tourist interest is usually riveted to the Musical Theater, the Church of Cyril and Methodius, the 14th century Liben castle. There are also the Old Bridge, the City Museum, the Church of St. Wenceslas, etc.
Without exaggeration, these quarters can be called the area where it is better to stay in Prague during the high season, because even at this time there is always a free place for a comfortable stay and at a reasonable price.
Prague 10
Prague 10
The area is a whimsical mixture of old buildings and modern housing estates. The 12th century cathedral and the 18th century Baroque chapel easily coexist here, but the main point of attraction for tourists and residents of the capital is the Hostivar Park with the reservoir of the same name and a magnificent beach.
Prague-10 is a fairly young area, where active development is still underway, so the price claims of local hotels and apartments are much more modest, renting a house for 30 € per day or even cheaper is quite realistic here. This is the place of small hotels, located in cozy cottages.
The infrastructure of the area is represented by dozens of cafes, bars, taverns, pubs, restaurants, shops. A favorite place for Prague citizens and tourists is a huge water park with many attractions, saunas and spa.
Periphery of the city
The beauty of Prague is not limited to the first ten districts, but its other districts are considered the periphery with all the ensuing consequences.
First of all, this is reflected in prices, which are several times cheaper, but there are not so many offers for rent, local real estate owners prefer to rent apartments for a long time to townspeople or their compatriots from other regions.
If you think about where it is better to settle in Prague for a tourist, it would be more far-sighted to take a closer look at the central districts with their gloss, an abundance of spectacles and entertainment.
Due to low demand, there are hardly 4-5 star hotels and establishments of large hotel chains, and the luxury of historical buildings is replaced by the same type of brick new buildings and panel boxes.
Transport in residential areas is not so developed and it can take about an hour to get to the center. However, if you are looking for a quiet, calm and inexpensive life in Prague, strive to feel the city, see its non-touristy sides - the outskirts will be an excellent haven.
Photo