Accommodation
Purchases
Excursions
Nutrition
Transport
The island of Cuba is a great holiday destination any time of the year. True, in summer there are dangerous hurricanes, and in winter the air temperature can drop to +17 degrees, which can interfere with a beach holiday. Then it's time for excursions.
Trips around Cuba will allow you to get better acquainted with the local exoticism - that is why thousands of tourists from all over the world come here every year. They still honor fiery revolutionaries, drive flamboyant convertibles, smoke thick cigars, drink fiery rum, dance to guitar tints, wear ruffled dresses, and view every foreigner as a means of enrichment. You shouldn't blame the Cubans for this: an adult here earns no more than $ 20 a month.
But readers were overjoyed early on when they imagined a cheap Caribbean paradise. The answer to the question of how much money to take for Cuba will be unexpected. The fact is that on the island, settlements are carried out in two national currencies. One, Moneda National, which is abbreviated as CUP, is considered the local currency. It is used exclusively by local residents. For 1 dollar they give 25 pesos. The second, called the peso convertible, or CUC (cook), was created specifically for foreigners and is tightly tied to the American currency. That is, 1 dollar is almost 1 (in 2019 - 99.56) cookies.
Cubans have found their own way to "fight" America and its money. When exchanging dollars for cookies, all tourists lose about 15-20% of the amount, since such transactions are taxed. At the same time, when exchanging euros for cookies, the guest of the country will be given the entire amount up to a penny.
Moneda National is also useful for a traveler in Cuba. You will need it when paying for travel on non-tourist buses. And in areas remote from the center of the same Havana, pesos are accepted in all shops and cafes. You can exchange cookies for pesos at any bank branch.
Accommodation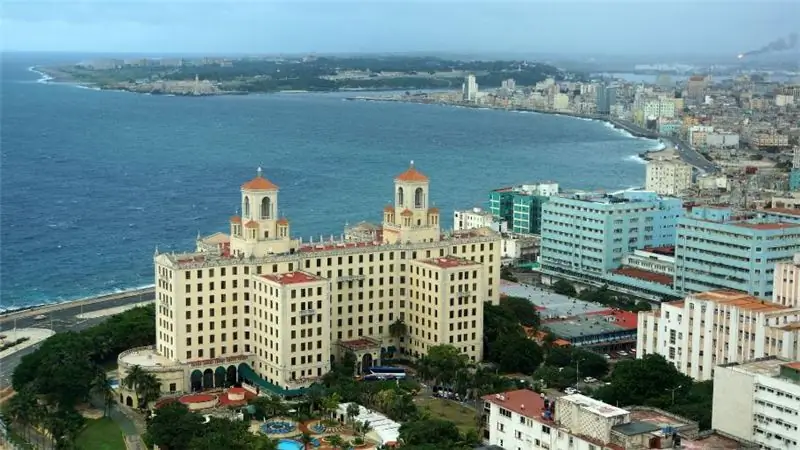 Accommodation options in Cuba are few. All of them can be divided into several categories:
hotels familiar to us. The star marking for the level of service is noticeably lame in Cuba. A four-star hotel may turn out to be an ordinary walk-through hotel, which would not even be 3 stars in Europe. Standard hotels, which our tour operators send package tourists to, are located in popular beach resorts such as Varadero. It is there that most of our compatriots who have come to get acquainted with the Freedom Island stay. 3-star hotels in Cuba cost about 70-80 cookies for a double room. For example, in Baracoa on the east coast of Cuba there is quite a decent Hotel El Castillo (82 cookies). The cost of a room for two in a 4 star hotel starts from 140 cookies. In Havana, we recommend the Hotel Inglaterra (254 cookies), marked with four stars. A room in a five-star hotel will cost at least 300 cookies for two. In Varadero, this category of hotels includes, for example, the Meliá Las Américas (325 cookies);
casa particular, that is, private apartments rented by Cubans to foreigners. This became possible quite recently - in 2012. The rental prices for these apartments have been kept at the same level for a long time, since their owners pay the same tax to the country. You can rent an apartment for 30 cookies, a room in an apartment for 20 cookies a day. The best area to live in a private apartment in Havana is called Vedado. On houses where apartments are officially rented to foreigners, you can see a blue anchor;
apartments whose owners do not pay tax. These apartments can be found for less than 30 cookies per day. You can find out that there is accommodation for tourists in a particular house only from the locals themselves. Owners working without a hotel license can be in serious trouble, but many Cubans deliberately take such risks to feed their families.
Purchases
Tourists vacationing in the resorts of Cuba do not even need to look for souvenir shops. On any local beach there will be a kiosk on wheels where you can buy all sorts of souvenirs and beach accessories. Standard T-shirts with the image of Che Guevara, magnets, plates are inexpensive, especially if you start bargaining with sellers. Much more money will be required for authentic gifts from cuba - coffee, cigars, rum.
Coffee plantations in Cuba appeared in the middle of the 18th century. They were smashed on the mountain slopes. Several varieties of coffee are produced on the island. You can try them before buying at Casa del Cafe in Havana. The cost of a half-kilogram pack of ground coffee is about 12 cookies. 0.5 kg of grains will cost less - about 8-10 cookies.
After returning from Cuba, you start to love rum. This drink is offered to you everywhere here, and it is impossible to refrain from tasting it. Tourists especially like serving rum mixed with coconut milk in pineapple, free from pulp. A bottle of the renowned Cuban rum is a great gift for friends and colleagues. Rum prices start at 10 cookies.
Cigars are no ordinary souvenir. Not every friend or acquaintance will appreciate it. If you do decide to buy a box of Cuban cigars, then remember that something that costs less than 20 cookies is a fake. You can buy cigars by the piece. In this case, 1 cigar will cost 4-5 cookies.
Excursions
Varadero, where most Russian tourists stay, is ideal as a starting point for several very interesting one-day excursions. The cost of these trips starts from 50 cookies in travel agencies or from 30 cookies when ordering a tour from local residents. Private Cubans usually provide a car that can accommodate 3-4 people. Agencies organize comfortable buses carrying about 30 people on excursions.
Tours organized from Varadero are varied:
trip to Havana. It is a must to see the capital of Cuba. There are many historical colonial-style mansions, several museums, the beautiful Capitol, the Morro fortress, from the walls of which you can see the whole of Havana, a wonderful book and antique market;
a journey to the Sopato swamp to a crocodile farm. This is a great chance to learn how crocodiles are raised, taste dishes made from crocodile meat (about 15 cookies), buy souvenirs made from their skin;
visit to the Indian village of Guam. This is a village of the now defunct Taino tribe recreated for tourists. Stilt huts sit on islets on the river where crocodiles live. You need to move between the houses along flimsy bridges. The center of the village is the shaman's hut. In it, tourists are met by the shaman himself, who conducts various mysterious rituals for happiness and good luck, and beauties who fascinate with their dances. For the pleasure delivered, they will require a separate payment in the form of a couple of cookies.
From Havana, in 5 hours and 50 cookies by taxi or much cheaper by train, you can get to the town of Santa Clara, where the mausoleum of the local favorite Che Guevara is located. They are allowed inside free of charge. A visit to Santa Clara is included in a day tour of three cities in the center of the country. Besides Santa Clara, people also visit Cienfuegos and Trinidad. The price of such a trip is 89 cookies.
Experienced tourists recommend going to the El Nicho waterfalls, which are located not far from the already mentioned Cienfuegos. The entrance ticket to the territory of the natural park will cost 9 cookies.
Nutrition
Once out of your hotel in the city, do not miss the opportunity to visit a restaurant or cafe to taste Cuban cuisine. The most acceptable food option would be dinners in family restaurants, which are open on the ground floors of ordinary residential buildings. The average bill in them starts from 10 cookies. A two-course lunch, one of which is meat, and a drink will cost 16 cookies. For the same money, you can order a lobster, which will be served with delicious cold beer. Crocodile dishes are often found on the menu. They cost about 15-18 cookies.
While in Cuba, you should definitely try lobster. It is served in 3-10 cookies per serving. Pork dishes cost 8-10 cookies. Especially delicious is ahiato - pieces of pork stewed in a delicious sauce.
It is much cheaper to eat in restaurants for locals, where prices are indicated in Moneda National. A portion of rice with chicken will cost 60 pesos, a slice of excellent pizza - about 20 pesos.
Rum cocktails should be tried in bars. The cost of one serving will be about 6-7 cookies.
Vegetables and fruits in Cuba are sold both in supermarkets and in numerous vegetable shops, and in markets, and right on the street on the shelves. 1 kg of oranges costs 0.7 cookies, apples are more expensive - about 4 cookies.
Top 10 Cuban Must-Try Dishes
Transport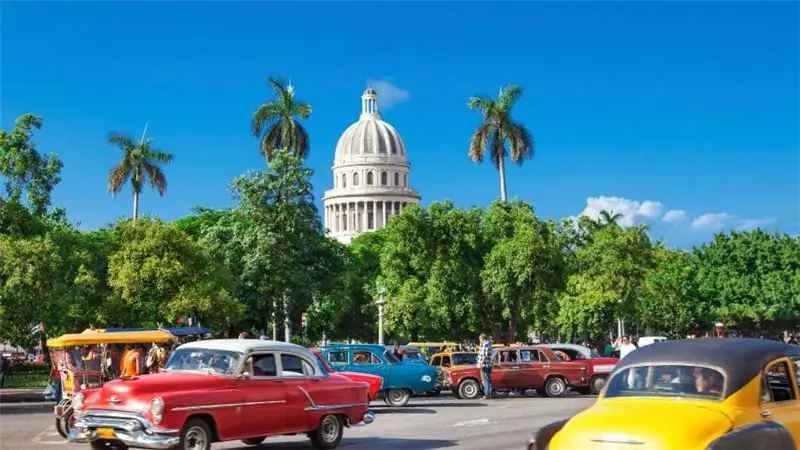 You can get around Cuba by buses, trains or taxis. In any more or less large city there is public transport. There are few buses on the routes, they run not according to the schedule, but as the driver wants, there are always enough passengers in them. True, travel on such regular buses costs very little - 0.35 cook. But there is always a way out for tourists. You can travel around Havana between attractions on the HavanaBusTour double-decker tourist bus. A ticket for it costs 5 cookies. There are also tourist buses in Varadero and Trinidad. The fare for them is 3-5 cookies.
Those who want to enjoy the city not from the bus window are driven in an open wheelchair pulled by a horse. A short ride in such a "carriage" will cost 50 cookies.
Travel on intercity buses and trains will cost from 15 cookies, depending on the remoteness of the desired settlement.
Long distances can be covered by rented transport. Bicycles and mopeds are very popular with tourists, which do not require a driver's license to operate. Bicycles are rented in many hotels (1 cook per hour). Some locals will also offer this type of transport to travelers. And in this case, you will have to pay the same 1 cookie for using the bike during the day. A moped can be rented for 25 cookies per day.
The difference in the level of prices set for local residents and foreigners leads to the fact that each tourist has to rely on at least 15-20 cookies per day. This amount will be enough for meals and travel on city buses in the city that you have chosen to stay. You will need about 100 cookies to buy souvenirs. Several organized excursions in a company with a guide will cost 150-200 cookies. If a tourist decides to discover Cuba on his own, he will be able to significantly save on paying for the guide's services.
Travelers who visit an all-inclusive beach hotel usually spend about $ 400 (cookies) per week on their spending.
Photo