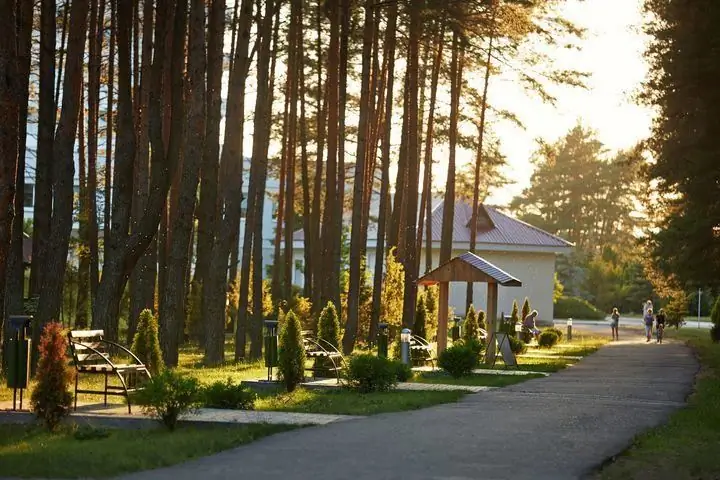 Does your child often have colds? Most often, the reason for this is lifestyle and weak immunity. School holidays are a great reason to spend time with your children and strengthen your immune system if you are relaxing in the Alfa Radon sanatorium. We have tempting suggestions:
Discount 30% for arrivals in the period from 16.02.2019 to 21.02.2019.
Discount 25% for arrivals in the period from 2019-04-08 to 2019-04-14.
Discount 20% for arrivals in the period from 2019-23-03 to 2019-31-03.
Read to the end and find out how to buy a ticket with an additional discount!
Alfa Radon is located in an ecologically clean region of Belarus, near the village of Boroviki, Dyatlovsky district. The well-maintained territory of the sanatorium beckons to take a walk. And the air, filled with the aromas of a pine forest, gives strength and vigor.
Meals in the sanatorium are organized according to the principle of a buffet. The children's menu always contains dairy products, cereals, omelets; steamed vegetables; mashed potatoes, rice, spaghetti, mashed soups, broths, meat and fish dishes from organic products.
From drinks - natural juices, fruit drinks of our own preparation and drinking water, which goes through a three-stage purification system. Desserts are always served with tea, but first of all, these are fruits. After all, it has been scientifically proven that excessive consumption of sweets leads to metabolic disorders, a decrease in the body's defenses. And there is nothing to say about tooth enamel. It is better to show your teeth to our dentist right away.
Our chefs often organize culinary master classes, in which the children themselves prepare pizza or cupcakes, and then happily eat the results of their creativity.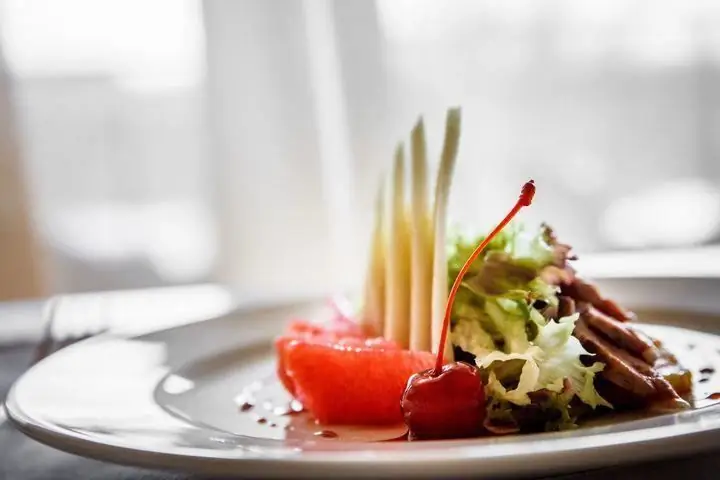 Alfa Radona animators love to hold competitions, active games and outdoor events. Clean country air increases the body's resistance to pathogens and cheers up.
If the weather is bad outside, in "Alfa Radon" you will be welcomed by two children's rooms equipped with toys and games for different ages. Children can be left here, because teachers and animators work in the rooms, who will draw, play, do gymnastics or watch a good cartoon with the children.
Older kids can go to the gym, swim in the pool and warm up in the hammam.
Come to "Alfa Radon" for any holidays: our friendly team has planned in advance entertainment programs and interesting events for every day for adults and children! In spite of everything, any basic voucher includes 3 meals a day according to the "buffet" system, a visit to the gym and aqua zone, and, which is important - examination and consultation with a doctor.
By the way, for those who do not know what to give for February 23 to your husband, grandfather, uncle or friend, we have a nice gift: a special program Defender of the Fatherland Day at Medical & SPA Resort "Alfa Radon" in the period 22-24 February (2 nights / 3 days) for 2 adults from 315 € + child 40 €.
Book a check-in directly on the website or call: +375 29 366 88 11, +375 29 686 00 99.
The desire of some mothers to fence off the child from all microbes in the world will play exactly the opposite effect. Alfa Radon provides daily housekeeping services. In addition, the furniture in the sanatorium is mostly wooden, and all bedding and bathrobes are made of natural cotton. For greater hygiene, upon the request of guests, we will provide a pot, a toilet seat cover, a highchair, a bathtub.
The heart of a caring mother always senses if something is wrong. But only a qualified doctor can find this "something" and correctly level or cure. The wellness program for children "Alpha Radona" includes several appointments of a pediatrician, who, if necessary, will prescribe tests and procedures.
The natural healing factors of Alfa Radon are radon waters and sapropel mud. On the recommendation of a doctor, your children can be prescribed: mineral - pearl, radon or pine baths, inhalations, magnetotherapy, exercise therapy, massages and other procedures.
It has been proven that positive emotions strengthen the immune system. You can feel the rush of positiveness at the spa treatments of the sanatorium. Specialized children's programs include massages, baths.
Or go a more familiar path and have fun with all the heart during the evening entertainment programs, master classes, scientific and neon shows, karaoke.
Alfa Radon is madly in love when the whole family comes to visit us with the younger and older generation of relatives.
Our WellnessWeekend program is one of the most enjoyable occasions to meet and spend time with the whole family at Alfa Radon.
The tour program includes: 3 meals a day, an appointment with a therapist, fitness, a visit to the aquazone, and other wellness procedures, procedures for Dad and Mom, as well as massage, baths, oxygen cocktail for children and adults.
Attention! Make a reservation in the sales department of the sanatorium, on the website or by phone +375 29 366 88 11, +375 29 686 00 99, +8 (495) 721 84 85 call the promo code "AR2019" and get a 3% discount!
Tips, at first glance, are very simple, but happiness loves simplicity. Enjoy your holidays, vacations and be healthy with Alfa Radon!