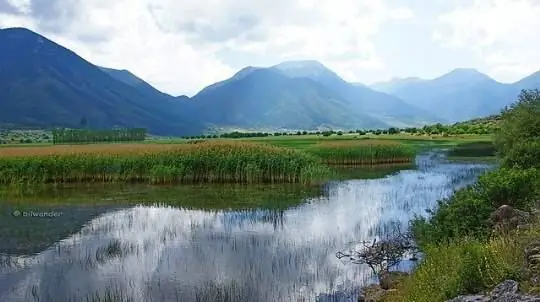 Description of the attraction
Lake Stymphalia lies in the northeastern part of the Peloponnese (prefecture of Corinthia) on a mountain plateau between Mount Kilini and Oligirtos at an altitude of 600 m above sea level. The lake is located about 42 km from the city of Corinth and is considered the largest lake in the Peloponnese.
The lake and its surroundings are mentioned in Greek mythology. According to legend, it was here that the legendary Hercules performed his third feat and destroyed the Stymphalian birds. The lake got its name in honor of the character of ancient Greek mythology Stymphalus, the son of Elat.
Since ancient times, the lake and its karst springs have played an important role in the supply of water to the region and the irrigation of the surrounding valley, ideal for agricultural land. During the reign of the Roman emperor Hadrian, an aqueduct was built here, through which water from the lake was supplied to Corinth.
Today Stymphalia is a swampy lake and a significant part of its surface is covered with reeds. In the summer months, the lake dries up almost completely. In winter, when the lake is filled with water as much as possible, its area reaches 3.5 square kilometers, and the maximum depth is 10 m. The lake and its surroundings are famous for their rich flora and fauna. Stymfalia is of particular interest for birdwatchers, as it is home to many different species of birds, including quite rare ones.
The nearby Eco Museum of Stymphalia, which will introduce you to the history and inhabitants of the lake and its surroundings, is also worth a visit. It was founded in 2009 and its main goal is to show the importance of harmonious existence and interaction between man and nature.
Today the lake is under the threat of complete disappearance and is protected by the European organization NATURA 2000.
Photo