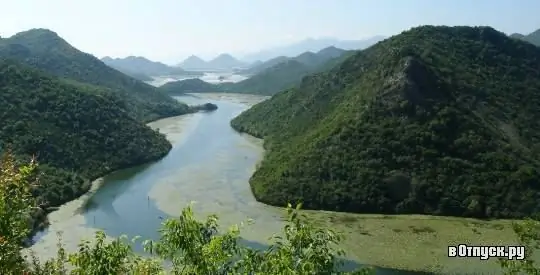 Description of the attraction
Skadar Lake is a tourist attraction and national park of Montenegro, located in the east, in the Zeta-Skadar valley, which is very close to the border with Albania (on the territory of the latter there is 1/3 of the entire lake). Lake Skadar is considered the largest not only in Montenegro, but also on the Balkan Peninsula - its territory occupies about 475 sq. Km. Most of the lake coast is now swampy.
It is believed that the lake was previously a gulf of the Adriatic Sea. Nevertheless, the lake is freshwater, and its reservoir is replenished thanks to the rivers Chernoevich, Morac and others, smaller.
The nearest settlement is the village of Virpazar, which was founded in 1242. During the Middle Ages, it was a key trade center, which was facilitated by its geographical position. Also, the village was one of the first to acquire a post station.
The climate in this area is typical Mediterranean, which is caused by the close proximity of the Adriatic Sea. This climate is characterized by mild rainy winters and hot summers. The water temperature in the lake can reach a maximum mark of +27 degrees.
Historically, Slavic tribes lived on the shores of the lake, and with the advent of Christianity, several Orthodox monasteries were built here (Vranina since 1233, Beshka, Starchevo, Morachnik, etc.). Also, the ruins of fortresses built during the period of opposition to the Turkish intervention have survived to this day: the remains of the former capital Zabljak (which was then moved to Cetinje), the Grmozur and Lesendro fortresses, which were built in the XIII-XIX centuries.
The flora and fauna off the coast of the lake is rich in unique species. Here are just some of the fish species that live in the lake: carp, mullet, bleak, rudd, salmon, roach. On the shores of the lake, you can observe at least 260 species of birds: ducks, pelicans, gulls, cormorants, herons, etc. Some of the bird species living here are rare, and for example, the black ibis or Dalmatian pelican live only here, in the region of Lake Skadar.
In addition, on the coast of the lake you can see thickets of water lilies and lilies, and on one of the islands there is a place where herring gulls nest - it is the largest in Montenegro.
Photo