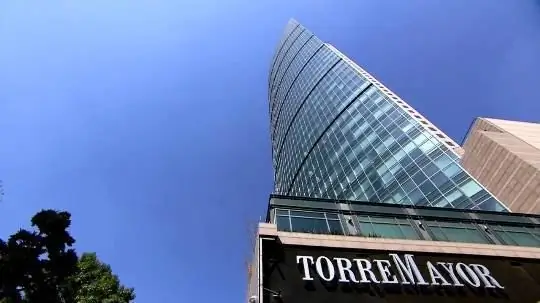 Description of the attraction
Torre Mayor (Torre Mayor) from Spanish is translated as "big tower". It was built in 2003. Torre Mayor stands out among the other buildings of Pase de la Reforma in Mexico City not only in height, but also in external fashion.
From the foot to the 55th floor, the building stretches towards the sky for 225 meters. For 7 years until 2010, this structure was considered the tallest in Mexico City and throughout Mexico.
Before the construction of Torre Mayor in Mexico City, the construction of buildings of more than 38 floors was prohibited, because the Mexican capital is located in a zone of high seismic activity. Among its high-rise counterparts, the building is considered one of the most earthquake-resistant. Its 46 cubic meter foundation is cemented, more than 21 tons of steel structures support the walls, and 98 hydraulic units provide stability to the majestic giant.
Torre Major was no exception for architects and builders, the rules were not violated. The permissible limits were expanded with special engineering ideas, using American technology to protect missile silos from a nuclear attack. The tower is insured against an earthquake with a magnitude of 8.5 points.
On the lower floors there is a shopping center and office elevator entrances. Inside the glass-concrete giant there are offices and small restaurants. On the 9th floor, you can have a snack in the dining room and go to the roof of a small annex, from where you can enjoy a panoramic view of the city. The next observation deck is located on the 20th floor, but it is glazed, but it overlooks the castle and Chapultepec Park. For lovers of height, there is another platform on the 52nd floor.
Photo