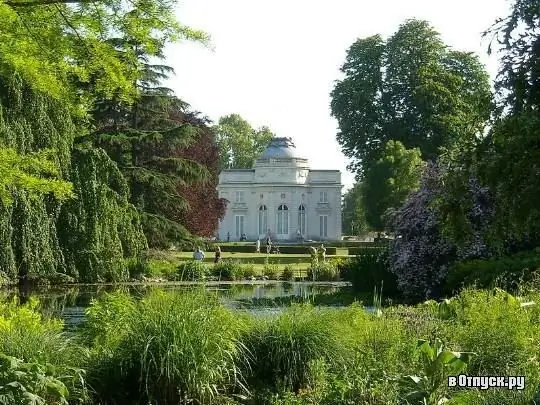 Description of the attraction
Bois de Boulogne is perhaps the most famous green area on the western outskirts of Paris, with a rich history. Today it is one of the "lungs" of the French capital, providing the metropolis with oxygen (the second "lung" is the Bois de Vincennes in the east of the capital).
The ancient oak forest of Rouvray, which once surrounded Lutetia, was first mentioned in the annals of 717: it is recorded that Childeric II of the Merovingian dynasty donated these lands to the Abbey of Saint-Denis. Four and a half centuries later, Philip Augustus Crooked bought the land from the monks for hunting. In 1308, another Philip - Handsome - married his daughter to the English king Edward. The wedding took place in the cathedral of the seaside city of Boulogne-sur-Mer. Returning, the king ordered the construction of the Small Cathedral of Our Lady of Boulogne in the forest. This is how the forest got its name.
In the Middle Ages, he had a dubious fame: during the Hundred Years War, numerous robbers settled here. Fighting with them, the Duke of Burgundy in the years 1416-1417 burned part of the forest. Louis XI planted it again. Under Francis I, the construction of the royal castle Chateau de Madrid was completed here, the hunting grounds were surrounded by walls. Henry IV tried to found a silk manufactory here, planting 15,000 mulberry trees. His ex-wife Marguerite de Valois, after the divorce, lived in the Château de la Muette located here. It was from here that on November 21, 1783, for the first time in the world, the scientist Pilatre de Rozier and the Marquis d'Arland took off on a hot air balloon. In 25 minutes they flew over the Seine and landed safely.
Since the beginning of the 18th century, the forest has become a favorite walking place for the nobility, but Louis XIV opened it to all walks of life. In 1775, the king's brother Philippe of Orleans, on a bet with his daughter-in-law Marie-Antoinette, built the Bagatelle palace here in just two months (in French, une bagatelle - "trifle"). The prince won the bet with 900 workers toiling day and night.
Napoleon III completely reconstructed the forest: he laid 80 kilometers of alleys, planted 400 thousand trees, made lakes and canals. The forest was landscaped under the leadership of the Prefect of Paris, Baron Haussmann. Now more than half of all the trees here are still oaks. There are 14 kilometers of bike paths and ten restaurants. In the northern part of the forest there is a children's park with a menagerie.
At the same time, the Bois de Boulogne has long had a reputation as a hot spot and retains it now - in the evening and at night, prostitutes work here.
Photo