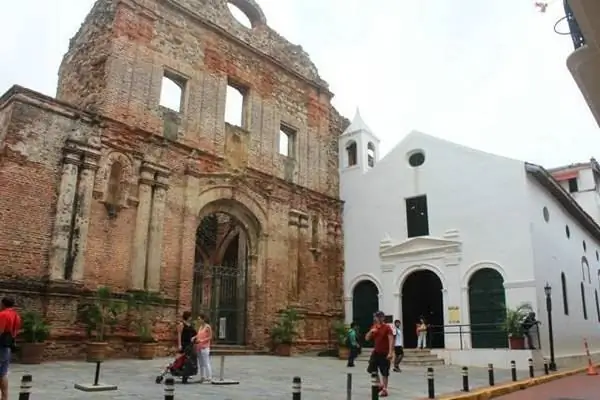 Description of the attraction
When the chapel of Santo Domingo de Guzman was built at the monastery of St. Dominic, and this happened in the 18th century, the city of Panama had existed for two centuries. At that time, it was not even possible to imagine that in a few centuries the chapel would be turned into the Colonial Museum of Sacred Art, where objects of religious worship that were kept in the richest churches and private houses of this corner of the New World are presented.
A small white chapel is located near the building of the monastery of St. Dominic - a once magnificent building, erected in 1678 and damaged by two fires that destroyed the tower and the interiors of the building. In the 19th century, after Panama gained independence, the building of the monastery was taken from the Catholic Church. It housed various businesses, such as a bakery and a carpentry workshop. There was a time when the monastery building was converted into public toilets. Before the construction of the Panama Canal, a number of engineers studied the monastery's arch, which became an example of an anti-seismic design.
The monastery chapel in the center of Old Panama was restored in 1974 and redesigned for the needs of the museum. Some of the items on display in the museum were produced by Spanish craftsmen. Others, created by American artisans, provide insight into the influence of South American art on traditional techniques and Old World styles. Many of the exhibits were produced in Quito or Lima and amaze with the sophistication of their decoration. The most interesting among visitors is the altar, which was saved from the pirates of Henry Morgan. A local priest, watching the pogroms and robberies in the city, decided to save the golden altar by painting it with black paint. The pirates did not notice the gold and did not touch the altar.
Photo