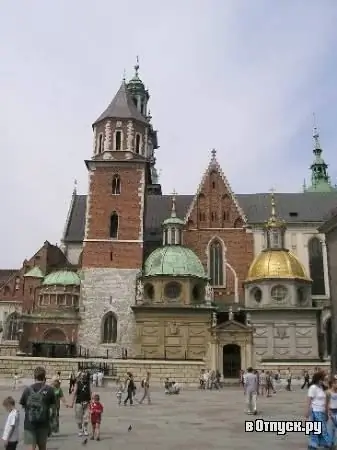 Description of the attraction
The first cathedral on Wawel was begun around 1020. Only the underground crypt of St. Gereon has survived from it. From the second, Romanesque cathedral, we have survived the crypt of St. Leonard, the lower part of the Silver Bells tower and the foundation of the Clock Tower. Construction of the current Gothic Cathedral of St. Stanislav and Wenceslas was started in 1320 under Vladislav Lokotka, and consecrated in 1364 during the reign of Casimir the Great. In subsequent centuries, it was expanded and rebuilt more than once. Since 1320, all Polish monarchs have been crowned in the cathedral, with the exception of the last, Stanislaw August Poniatowski. For many of them, the crypt of the cathedral became the final resting place.
In the rich interior of the cathedral, the first thing that catches the eye is the mausoleum of St. Stanislaus, which is of great religious and artistic importance. The silver shrine with the relics of St. Stanislav is a masterpiece of jewelry art of the 17th century. Sculpted in 1670 by the Gdańsk jeweler Peter van der Renner, it is adorned with 12 reliefs with scenes from the life of the saint. The marble canopy over the sarcophagus was executed in 1626-30 by Giovanni Trevano. The most outstanding ensemble of works of art are the tombstones of Polish kings and bishops of Krakow.
Photo