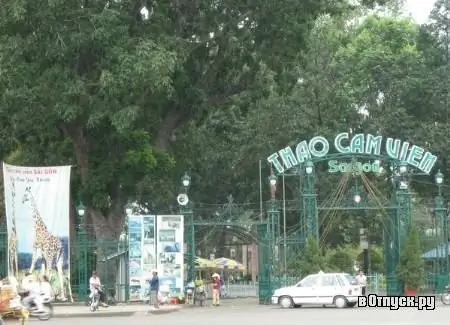 Description of the attraction
The Ho Chi Minh City Botanical Garden is one of the oldest in Asia. During the colonial era, it was founded by the French botanist Louis-Pierre at his own expense in 1864. Many plants and trees have been growing here since the day of foundation, that is, they have stepped over a century-old milestone in age.
The botanical garden together with the zoo is located in the city center on an area of 20 hectares. A very picturesque place - with beautifully decorated alleys, decorated with sculptures and flower beds of decorative sunflowers. Almost two thousand species of plants are collected here, not only from neighboring Cambodia, Taiwan and Laos, but also rare and exotic plants of the African and American continents. There are more than 30 species of cacti alone. The most beautiful collection of the orchid garden has over 20 varieties. The garden of dwarf trees looks quite unusual; these decorative mini-trees are presented in the fullest variety - 34 species.
The zoo fits perfectly into the landscape of the botanical garden. Some of the animals live in open spacious enclosures. Some, for example, tigers, leopards, cheetahs and lions have glazed aviaries. A separate paddock with a swimming pool is reserved for crocodiles. There are just over 500 animals, but there are all the main ones: black Asian bears, elephants, giraffes, monkeys, rhinos, hippos, deer, goats, etc. There are rare ones, for example, a white tiger.
The zoo is home to over 120 species of birds. Pink flamingos are especially gorgeous. You should definitely pay attention to the crested pheasants Agrus. First, they are very beautiful. Secondly, the zoo in Ho Chi Minh City is the only one in the world where it is possible to breed these birds in natural conditions.
All the inhabitants of the zoo look well-groomed, and the zoo itself and the botanical garden seem to be a cozy place to visit.
The botanical garden also houses a national museum and a monument to those killed during the war.