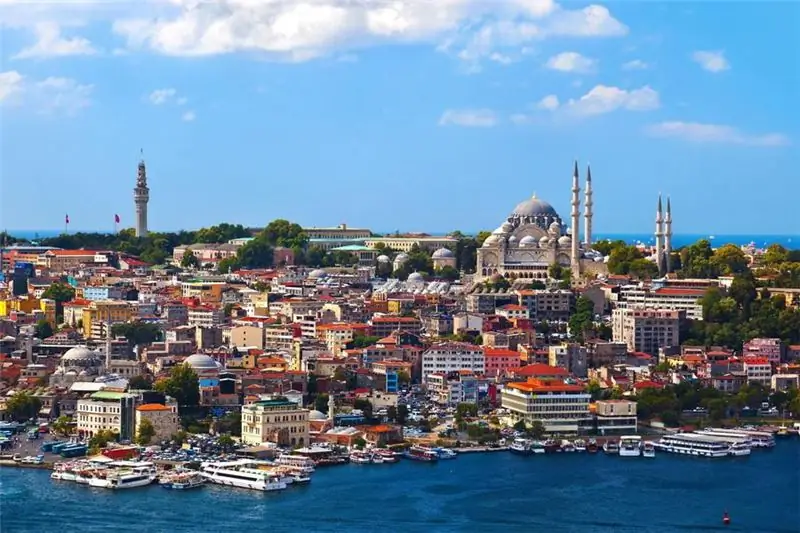 Accommodation
Transport
Nutrition
Attractions and entertainment
Purchases
A favorite vacation spot for Russians, Turkey, attracts with its beautiful nature, stable climate and gentle sea. And, most importantly, a relaxing all-inclusive vacation. However, more and more supporters of individual independent travel have appeared recently. The "own director" option has many advantages. The main thing is to properly plan your trip and calculate its budget.
You can go to Turkey with dollars, euros and even rubles. They can be easily exchanged anywhere for Turkish lira, and you can pay - both dollars and euros are in use here. If you are traveling to Istanbul, Izmir or Ankara, it is better to immediately exchange money for the local currency. In general, the lira can be called the most profitable currency - at the exchange rate, the prices in them are much lower. The exchange rate of the lira against the dollar floats from 5, 5 to 5, 7 at different times in different exchange offices.
The question of the total amount is, of course, subjective, depending on the individual needs and capabilities of each. But you can roughly plan how much money to take with you to Turkey for a good vacation. The amount is made up of the main costs.
Accommodation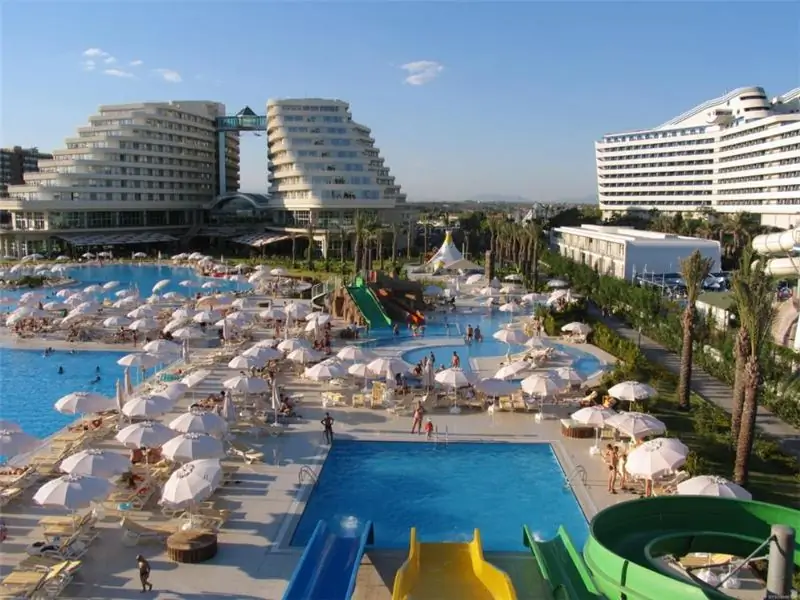 Self-travelers will be surprised at the variety of accommodation options in Turkey. Consider the cost of renting a home for a week during high season. At a low price, the price is reduced by forty percent. In the so-called middle season, you can expect a 20 percent price reduction. And, of course, the longer the rental period, the lower its price. Accordingly, the month is more profitable.
Alanya offers apartments from $ 330 to $ 450 per week, depending on the proximity to the sea and the number of bedrooms. Independent weekly accommodation in a five-star hotel will exceed a thousand dollars, the same in a "four stars" will cost 600-700 dollars, for a budget "three stars" you will have to pay about 300-350 dollars.
In the more expensive Antalya, for $ 300 - $ 400, it will be possible to rent only a one-room apartment. A two-bedroom apartment can be charged a thousand dollars in season.
Prices in Kemer will be even higher. There are many reasons: an abundance of natural attractions, a particularly mild climate, the incredible popularity of the resort, and the relatively small size of the town. For rent, mainly villas are offered, with a swimming pool, lawn and other pleasant additions. Weekly prices start at $ 1,000. The level of the villa and the range of services justify the high prices. For a company of seven to ten people it turns out to be acceptable. Don't forget about discounts in the middle and low seasons. If you book very early, you can find a guesthouse for $ 300 or an apartment between $ 100 and $ 400.
In Bodrum, renting a two-room apartment starts at $ 300. It is worth knowing that the standard apartments are quite spacious, and a family of five to six people can easily accommodate in two rooms.
When renting a home on your own, be sure to keep in mind that the transfer is not included in the price.
In Istanbul, it is better to look for a roof over your head in tourist areas where the infrastructure is adapted for guests, right down to the signs on the streets. The choice of hotels is sufficient, room rates in the summer start from $ 40-50. Early booking will allow you to rent a standard double room in Taksim or Sultanahmet for $ 15-20 per day.
Transport
In public transport, it is better to pay in local currency - change from dollars will always not be in favor of passengers. Therefore, we will indicate the cost in lira.
The most common form of public transport is, of course, buses. Travel in buses and minibuses is the same in almost all Turkish cities - three lira.
In Istanbul, the types of public transport are more diverse: in addition to the bus - metro, high-speed and regular tram, funicular, cable car. And also water transport - ferry, sea buses and small boats. Travel is usually paid with tokens, e-tickets or transport cards. The latter are more profitable - they can be replenished, used in any type of transport (except for a taxi), when passing through the turnstile, you can see the fare and the balance on the map on the screen.
Transport cards are sold in vending machines adapted for Russian-speaking tourists. It is better to immediately deposit 30 lire, from which the machine will deduct the cost of the card itself (six liras), the rest will be enough for free movement around the capital. For example, the fare will cost 2, 6 lira, for the first change the price will be 1, 8 lira, for the second - 1, 4 lira, the third change will cost about 1 lira.
The cost of travel by intercity bus depends on the carrier. If we consider Antalya as the starting point, then travel to Alanya ranges from 35 to 50 liras. A transfer from Antalya airport to Alanya will cost 140 liras. A bus trip to Cappadocia will cost from 90 to 110 lira, and in Pamukkale 50-55 lira.
Taxis are the only mode of transport that uses cash. The advice is the same: prefer the lira, you will pay in dollars at an unfavorable rate. Getting in a taxi will cost four liras, then - according to the meter, from 2, 5 to 3, 7 liras per kilometer. The last price is valid for the resort area. It should be borne in mind that in Istanbul, with its traffic jams, a taxi will not help save time. But for any transfer from / to the airport, especially with things and children, a taxi will become an expensive but irreplaceable means of transport.
Nutrition
In terms of mini- and supermarkets, Turkey is very comfortable, and prices are comparable to Russian ones. An exception is meat: prices for beef and lamb start at 62 liras per kilogram. The most budgetary is chicken meat. A whole chicken will cost around 12 lire per kilo, chicken legs - 16 lire. Chicken wings are more expensive - 20-22 lira per kilogram, and fillets can cost about 27 liras.
But here there are high-quality and inexpensive vegetables and fruits. The prices of the Turkish markets are simply pleasing:
a kilogram of cucumbers costs only two lira;
tomatoes - three;
sweet peppers, depending on the variety, cost from three to six lire;
apples - from two to four lira per kilogram;
for apricots and peaches they ask for seven lire;
for watermelons and oranges - four lira.
In supermarkets, their cost will be higher, but not much.
Of course, the country wants to try local alcohol. Moreover, Turkey is known for its berry and fruit wines - pomegranate, cherry, blackberry and even melon. A bottle of this wine can be purchased in supermarkets for 40-50 liras.
Still, the most popular food option in Turkish resorts is in restaurants, cafes or fast foods. Prices in them depend on the proximity to the sea or attractions. A visit to a cafe for two without alcohol will cost from 100 to 130 liras. If you decide to have a glass of wine and finish your meal with coffee and dessert, it will cost you 150 liras. The same coffee with dessert can be drunk in a coffee shop. In the usual area it will cost about six liras, in a tourist place - 25 liras. When visiting fast food, it is better to prefer Turkish - shawarma or kebab in a flat cake. It will come out no more than 23 lire for two. For a good restaurant dinner for two adults, you will need to pay from 200 liras.
A separate item of expenditure in hot Turkey is water. A half-liter bottle of water in a supermarket costs 1.25 lira, the same with a larger capacity up to three lira.
Top 10 must-try Turkish dishes
Attractions and entertainment
Turkey, the cradle of many civilizations, has an abundance of historical sites. If we add to this the unusual natural beauty, then it is obvious that it is simply impossible to limit ourselves to having a rest at the sea.
When traveling on your own, the choice of excursions is very important. The hotel will be more expensive with official tour operators, but with a guaranteed service in the form of a comfortable bus and a Russian-speaking guide. At the same time, imposed visits to shops with expensive prices await you along the way. And yet, for long-distance excursions or extreme entertainment, it is better to deal with official agencies. If your goal is a water park or a yacht trip along the coast, feel free to buy such tours from street agencies.
The following prices for entrance tickets will serve as a guideline:
Pamukkale - 50 liras.
Bath of Cleopatra - 50 lire for adults and 20 lire for children.
The cable car ride to the fortress in Alanya will cost 20 liras for adults and 10 liras for children (in both directions).
For a visit to the castle in Alanya, pay 20 liras.
And an excursion to the Damlatash cave - from seven lira for adults to four lira for children.
On an independent trip, such an item of expense arises as the rental of sun loungers and umbrellas on the beach, from which guests of all-inclusive hotels are spared. In Alanya, daily rent of a sunbed with an umbrella will cost 20, in Kemer - 15 liras. By the way, you can buy an umbrella in a store for 20-30 liras, and you can only rent a sunbed.
Showers and changing rooms on the beach are free everywhere. You will have to pay two lira for going to the toilet.
The cost of standard beach activities:
Riding together on jet skis - 300 liras.
Water skiing - from 180 liras.
For riding a banana, they will take a hundred lire per person.
On a catamaran - already 120 liras per hour.
A two-person flight with a parachute over a motor boat will cost 500 liras.
Purchases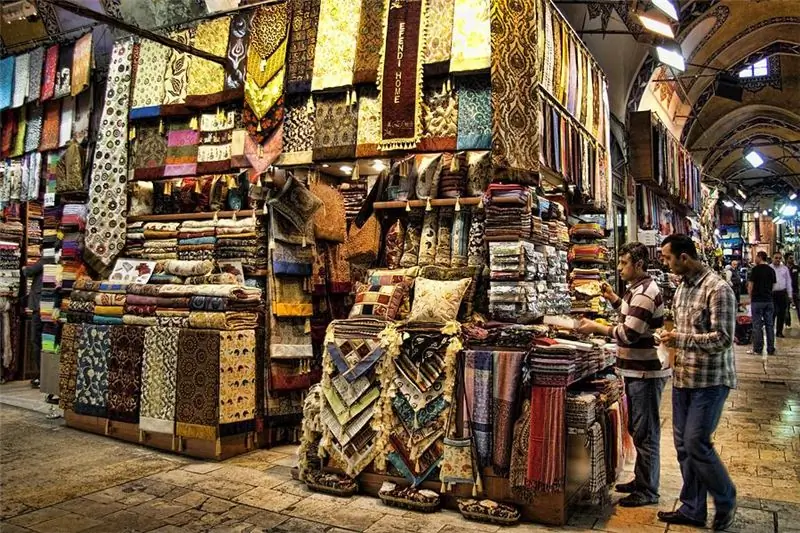 Shopping is the second goal of a trip to Turkey, which is famous for its quality items, from fur and leather to textiles and denim. Plus great souvenirs, jewelry, sweets and spices.
Before getting acquainted with the costs of shopping, you must bear in mind that there are so-called outlets - stores where you can find things from past seasons with discounts from 30 to 80 percent.
A cotton T-shirt for women costs an average of 25 liras, a T-shirt - 20 liras.
Prices for women's jeans depend on the brand, from 35 to 80 liras.
Likewise - for men's jeans, from 70 to 80 lire.
Denim shorts for ladies will cost 50-55 lire, for men - 40 lire.
The price for a woman's dress or sundress starts from 40 liras.
Children's dresses can be purchased for 30-35 liras.
Children's T-shirts cost from 25 liras, shirts from 40 liras.
Prices for genuine leather belts range from 140 to 670 liras. The difference is related to dressing, embossing, embellishment, etc. The cost of leather bags starts from 280 liras. A high-quality sheepskin coat can be bought for 1.5 thousand lire, and a leather jacket for 2-2.5 thousand lire.
These prices are rather arbitrary, because the Turks are very fond of bargaining. With certain abilities, you can reduce the price by a quarter or even half.
In short, excluding purchases of things, a week of independent stay in Turkey will cost at least 3.5 thousand Turkish liras - with excursions, beach activities, renting good housing and good "vacation" food.
Photo