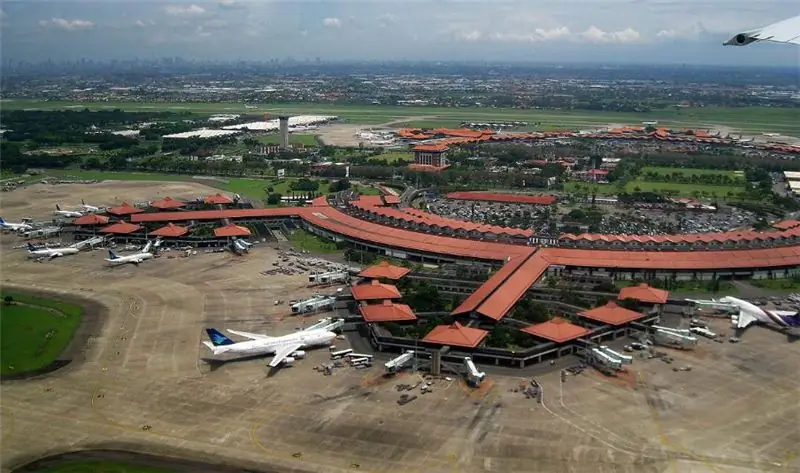 Airport history
How to get to the airport
Terminals
Additional services
One of the largest Asian airports is located 20 km from the city of Jakarta on the island of Java, named after two prominent local politicians who once stood at the head of Indonesia - Ahmed Sukarno and Mohamed Khatt. The second name of this airport, reflected in the official aerodrome code, is Chengkareng. This is the name of the area of Jakarta where the airport is located.
Suharno Hatta Airport is international and receives flights from many countries of the world. Basically, it is connected by air with the countries of East and Southeast Asia and the Middle East. Direct flights from Europe to Jakarta airport are carried out from Amsterdam and Munich. Sukarno Hatta Airport also accepts flights from Perth, Sydney and Melbourne. It also works with low-cost airlines flying mainly between the islands of Indonesia or to neighboring countries.
The airport has more than once been included by the local press and world tourism organizations in the lists of the most accurately operating and busiest airports on the planet. It currently hosts over 60 million people annually.
Sukarno Hatta airport scoreboard
Scoreboard at Sukarno Hatta airport (Jakarta), flight statuses from the Yandex. Schedule service.
Airport history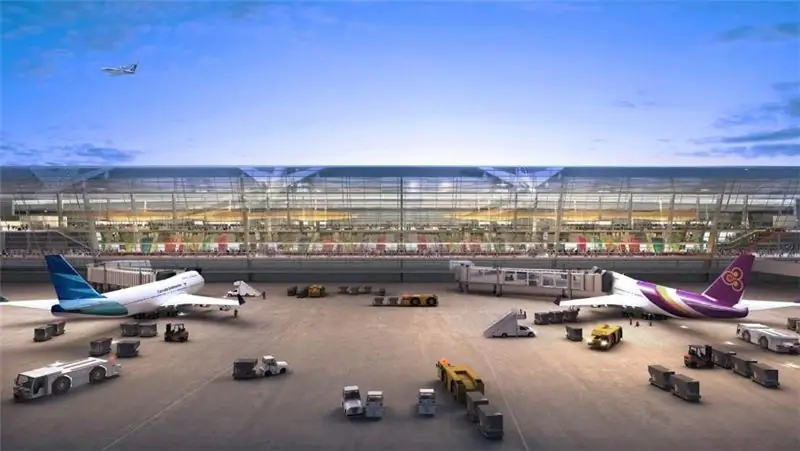 In the 1970s, the Indonesian authorities decided to build a new airport, as the existing Kemayoran airport near Jakarta could no longer cope with the influx of passengers. Sukarno Hatta Airport was completed in 1985. The terminals are decorated in the national Indonesian style, and the waiting rooms have been turned into tropical greenhouses, which makes the airport unique and delights not only among ordinary passengers, but also among specialists - designers and architects. The first terminal at the airport appeared in 1985, the second was built by 1991, the third was opened 18 years later. Another expansion of the airport is currently planned, which is expected to increase its capacity to 75 million passengers per year.
Jakarta International Airport has 150 check-in desks, 30 baggage claim lines, 42 airplane gates.
How to get to the airport
The easiest way to get to Sukarno Hatta Airport is with a rented car, which can be parked directly at the terminals at the offices of the Garuda Biru, Golden Bird and Trac rental offices.
Those tourists who do not know how or simply do not want to drive a car on vacation in an unfamiliar country can get to the airport as follows:
by bus of the carrier "DAMRI". The bus brings you to all terminals. It departs from various areas of the city including Ravamangun, Block M / Kebayoran, Gambir, Bekasi, Depok and Bogor. Passengers spend 60 to 80 minutes on the way, sometimes even more if the trip takes place during rush hour, when the streets are filled with cars;
by taxi. It can be ordered at special counters in the arrivals area. A taxi will take you to the city center in 30-45 minutes. You will have to pay about 200 thousand Indonesian rupees for travel. It is best to negotiate the fare before boarding;
on the Railink train, which stops at Sudirman Baru Station in the center of Jakarta, at Duru and Batu Ziper, which are closer to the airport.
Terminals
Airport with an area of 18 thousand square kilometers. consists of two runways, three terminals (the third is still under construction) and ancillary buildings.
Terminal 1 is designed to receive domestic flights operated by Indonesian airlines. If a tourist flies home from an Indonesian island via Jakarta, then his first connection will take place in this terminal. To travel further, for example, to Europe, you will have to move on a free shuttle to the second terminal, which is about one and a half kilometers from the first. Airplanes to Asia, Europe and Australia start from here.
The third terminal serves only flights of two air carriers - AirAsia and Mandala Airlines.
Additional services
Any airport, and Sukarno Hatta is no exception, resembles a small town. At Jakarta airport, you can spend several hours waiting for your flight and not be bored at all. The airport offers its passengers the following services:
currency exchange. Terminals 1 and 2 have bank branches, ATMs and several exchange offices;
luggage storage. There is a left-luggage office in Terminal 2, Zone D, where you can leave your luggage for a while. Lost baggage points are located in the arrival areas;
an opportunity to turn to God in silence and tranquility. Prayer rooms are located in Terminal 2.
All terminals have shops selling local and imported food and beverages. You can grab a bite to eat in numerous cafes and restaurants. Terminals 1 and 3 offer a wide variety of different retail outlets. Terminal 2 houses duty-free shops, a gift shop, a newsstand and a bookstore.
Photo