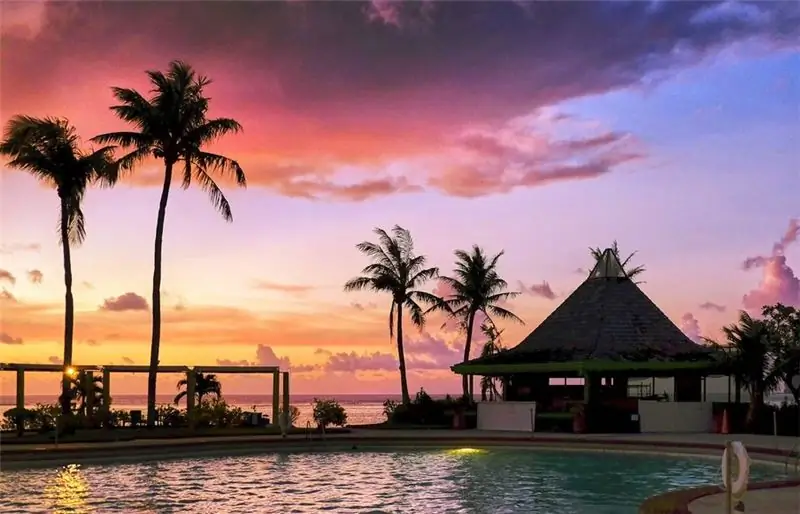 The name of this island sounds chanting and mellow, like a melody produced by a traditional instrument of the indigenous Chamorro people. Guam is located in the Pacific Ocean just west of the date line, and its inhabitants are among the first on the planet to celebrate a new day. Divers watch outlandish fish in the waters washing the island, fearless surfers bridle the ocean waves, and fans of the tropical sun find their best rest on the white beaches.
Travel to Guam
The island is an organized unincorporated territory of the United States and the rules of entry to Guam require a tourist or other United States visa. Russian citizens do not need a visa to stay in Guam for up to 45 days.
Flights to Guam International Airport are operated by United Airlines, Delta Airlines, China Airlines, Korean Air, Philippine Airlines, Cebu Pacific.
The hotel fund of the island is represented by nine thousand hotels.
The Tumon Bay International Airport is home to the world's major car rental companies. Traveling around the island by car to see all of its natural attractions is an excellent tour program in Guam.
As a duty-free retail zone, the island invites its guests to visit shopping malls, where there is an opportunity to purchase goods from both famous global brands and local designers.
Guam's tropical monsoon climate allows you to relax on its beaches all year round. Thermometer columns show approximately + 30 ° С in air and + 29 ° С in water both in summer and winter. Most of the precipitation falls in September and October, with a dry season set in December, lasting until June.
Your relaxation program
Five marine reserves and coral reefs provide excellent opportunities for diving and snorkelling enthusiasts. Guam's seven emerald golf courses await fans of the noble sport, both experienced and beginner. Three dozen waterfalls of Guam will not leave indifferent photographers, and a solid list of nightclubs, restaurants and disco bars will appeal to those who cannot imagine their vacation without a dance program.
Explorers of folklore and national traditions will love walks to the Chamorro ethnic villages, where the island's Aboriginal culture is presented in detail and engaging. Romantics will not miss the opportunity to meet the sunset on board a sailing ship, and lovers will take advantage of the offer of local wedding agencies and will hold a luxurious ceremony right on the beach on the happiest day of their lives.