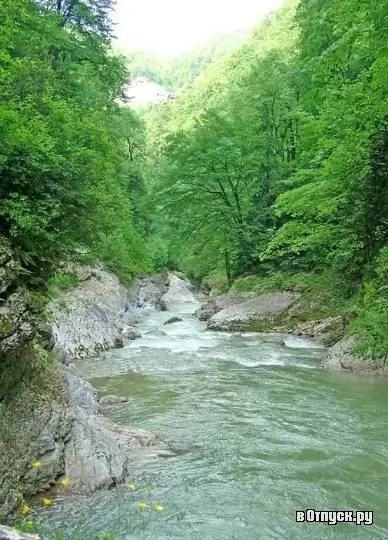 Description of the attraction
The Guam Gorge is located in the Absheron District of the Krasnodar Territory. This place amazes, inspires, enchants and scares at the same time. The route will appeal to lovers of nature, romance and thrills. The rocky terrace, which you have to walk through, passes high above the water stream - the Kurdzhips mountain river. Compressed by rocks, gleaming with turquoise, it plays merrily in the sun among the stones polished to a gloss, then it seethes menacingly, overcoming numerous rapids.
Impenetrable rocks rise to the right and left of the trail, sometimes reaching 400 meters in height. The slopes are concave in places, overhanging the river and the path. Waterfalls roll down the vertical slopes, scattering like a fan of spray. Mysterious gorges and grottoes darken. Boxwood bushes and carpets of creeping moss lurking in the crevices of the rocks add a special flavor to these places.
Photo