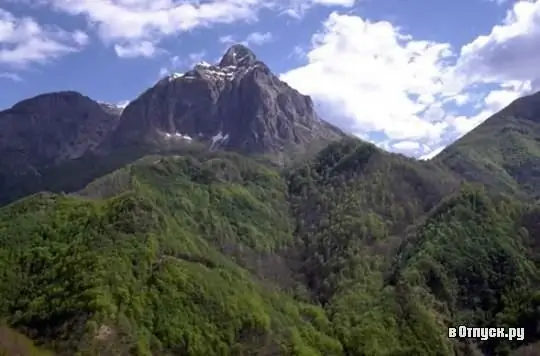 Description of the attraction
The natural park "Apuan Alps" is located in the Italian region of Tuscany - it stretches for 60 km along the coast of the Tyrrhenian Sea and occupies parts of the municipalities of Versilia, Lunigiana and Garfagnana. This is one of the most interesting mountain systems in Italy, not only for the variety of landscapes, but also for the richness of species of flora and fauna. In addition, here you can find traces of human activity, dating back to ancient times, monuments of history, culture and architecture. Moreover, the Apuan Alps are valued all over the world for their marble and other decorative and building stones (green Roman marble "Cipollino", cardoso, breccia).
Just a few kilometers from the coastal plain of Versilia, the Apuan Alps reach almost 2 thousand meters in height (Monte Pisanino - 1947 m). The entire mountain range is notable for interesting geological formations - moraines, erratic boulders, valleys and cirque glaciers formed during the last ice age. In the park, you can find deep chasms and gaps and incredible underground labyrinths and tunnels: for example, it is here that Antro del Corchia is located - the main system of underground tunnels in Italy and one of the largest in the world, which is about 70 km long and 1210 meters high. …
The vegetation of the park is very diverse - from typical Mediterranean shrubs at the foot of the mountains to oak and chestnut groves at an altitude of thousands of meters above sea level, from mountain pastures to rocky cliffs with very interesting flora. Here, in the mountains, bears, wolves, lynxes and deer live, and choughs, peregrine falcons, red partridges, swallows and alpine dunnocks soar in the sky.
Scattered across the Apuan Alps are numerous ancient villages that attract tourists with their colorful atmosphere and traditional way of life - Casola with an interesting museum, Montignoso with the castle of Aginolfi, Massa with a botanical garden, Seravezza with Palazzo Medicio and the Museum of Folk Traditions, Gallicano with the Rocca di Trassiliko. Equi Terme is famous for its thermal baths and the Solko canyon, in Carrara you can see the famous Museum of Carrara Marble, and in Camaiore - the archaeological museum. An interesting flour mill of the 18th century has been preserved in Vallico, and a unique Chestnut Museum has been created in Pescaglia.
Photo