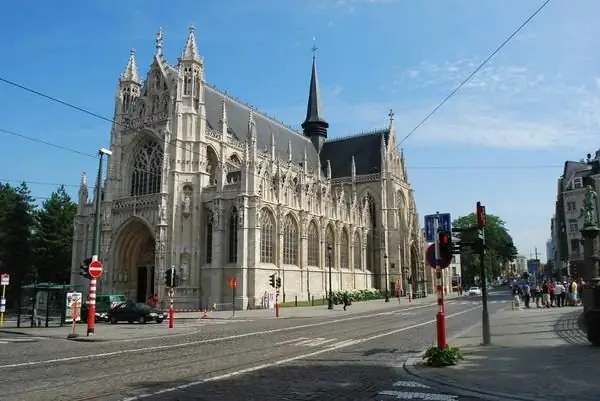 Description of the attraction
Opposite the Musical Instruments Museum, not far from Place Royale, there is the Church of Notre Dame du Sablon, or, as it is also called, the Church of Our Lady of Victory. For the construction of a small chapel in honor of the Mother of God, funds were allocated in the 13th century by the Guild of Archers. According to the urban legend, the Virgin Mary helped the crossbowmen win some kind of competition. Since then, they have considered Madonna to be their protector. In the XIV century, a valuable statue of Our Lady brought from Antwerp was installed in this temple. Many believers considered this statue to be miraculous and came to worship it.
According to one of the versions of historians, the temple is called the Church of Our Lady of Victory, in honor of the battle of 1288, when the dukes of Brabant became the rulers of Luxembourg.
In the 15th century, the church building was expanded. Moreover, several guilds financed this reconstruction at once. After the completion of the renovation work, altars appeared in the temple, installed in honor of the heavenly patrons of the guilds. By the way, the guilds were able to save their church from ruin and destruction during the Reformation.
The five-nave Gothic church is crowned with a low turret, which, due to lack of funds, was simply not completed during the entire existence of the church. Baroque chapels dating from the 17th century were built thanks to the Thurn y Taxis family. In one of the chapels, decorated with painted wooden details, there is the tomb of the representatives of this noble family, which established postal services in Brussels. 11 stained glass windows of the temple were created in the 19th century, as their predecessors have not survived to this day. The baroque pulpit is also noteworthy - a work by Marc de Vos, decorated with medallions and symbols of the four evangelists.
Photo